TrackR is a small, coin-sized device that easily attaches to your valuable items. When used with the free TrackR mobile app, locate any lost or misplaced item in seconds by ringing your missing keys, using TrackR's Distance Indicator or via Crowd GPS. TrackR uses Bluetooth LE to connect to a mobile app running on your smartphone. The smartphone app can monitor the distance between the phone and device by analyzing the power level of the received signal. This link can be used to ring the TrackR device or have the TrackR device ring the smartphone.

There are currently three form factors in the TrackR collection: Wallet, Sticker, and Bravo. Each product offers similar features in a technical sense, but differ in design concept and materials used. Wallet is an ultra thin device that can easily slip inside a wallet or be attached to any commonly misplaced item via lanyard. It has been designed specifically to comfortably fit inside any wallet and withstand being sat on continuously.

Sticker is their smallest TrackR device. For this reason, it is very multi-functional and can be attached to numerous items via adhesive backing or lanyard.
Bravo is thin like Wallet (about 1 mm thinner) and multi-functional like Sticker – the best of both worlds? It is also round and discrete so it can be attached or stuck to anything. In addition, Bravo is designed from the same aluminum as popular Apple products so it's very sleek and durable, and features an easy battery changing tray. However, Bravo is available in April so we will have an update once it ships.

Feature Highlights
Bluetooth Low Energy (LE)
Bluetooth LE consumes 50 times less power than the classic Bluetooth and that is how TrackR devices have a 1 year or longer battery life while maintaining its small size.
Distance Indicator
Hotter? Colder? The TrackR app displays the distance between you and your items thus letting you know how far those pesky keys are.
Item Ringer (Sound Alarm)
With a quick tap of your finger from the TrackR smartphone app, you can find your TrackR device by ringing it. Finding items like your keys has never been easier!

Smartphone Finder
Can't find your smartphone? Press your TrackR device's button to ring your smartphone, even if it's on silent! They make finding your smartphone easy too!
Separation Alert
Forgot your smartphone again? Custom 2-way separation alert notifies you before you leave items behind!
Crowd GPS
If you have lost something (the reason you bought TrackR to begin with), then you'll need TrackR's Crowd GPS network to help you find it. When another TrackR user is within range of your lost item, you will receive a GPS update. Once your TrackR device is farther than the 100 feet, the TrackR device will disconnect and record your last known GPS location on a map located in the TrackR app.

Crowd GPS uses the power of the existing cell phones all around us to help locate lost items. The technology works by having the TrackR device broadcast a unique ID over Bluetooth LE when lost. Other users' phones can detect this wireless signal in the background (without the user being aware). When the signal is detected, the smartphone records the current GPS location, sends a message to the TrackR server, and the TrackR server will then update the item's last known location in its database. It's a way that TrackR is enabling you to automatically keep track of the location of all your items effortlessly.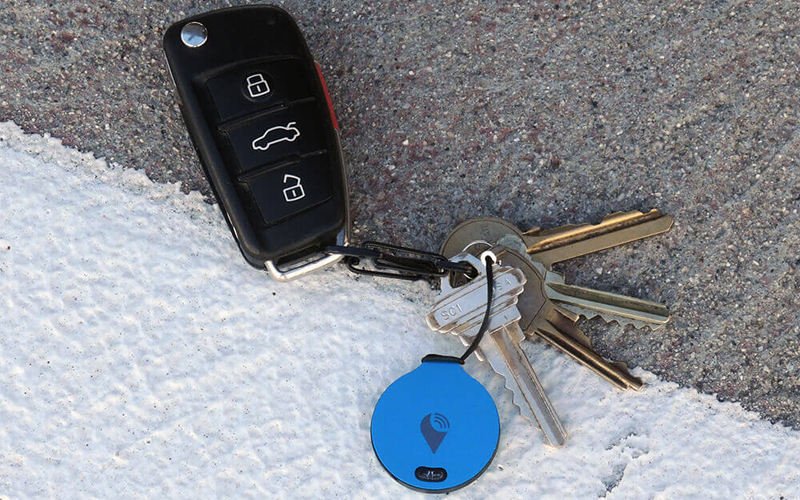 So how did the TrackR Sticker & Wallet perform?

Getting up and running with the TrackR devices including installing the TrackR iOS app and pairing with the devices is super easy. You can configure each TrackR device after pairing – naming, custom image, device alert settings, and iPhone alert settings. You can even connect to your NEST smart thermostat if you have one – allows you to disable separation alerts when home.
I did notice that the TrackR Sticker sometimes require at least two presses to activate or wake up manually. Once paired, we started testing the two main features: Sound Alarm and Locate TrackR.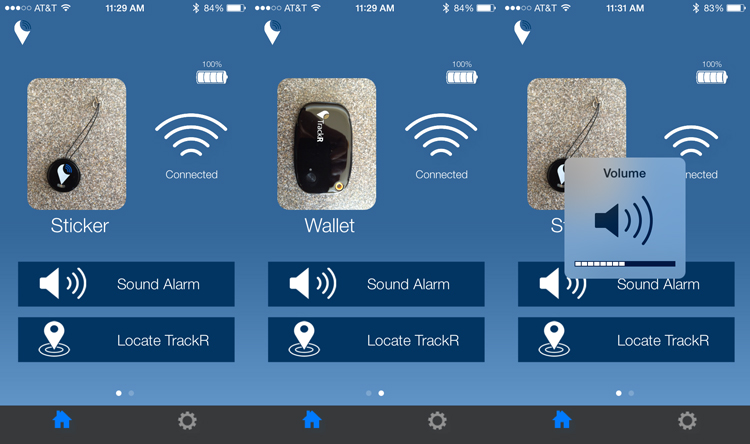 Sound Alarm worked like a charm on both TrackR devices. For the initial or first press, it takes about 5 to 10 seconds to activate or wake up the devices. After that, each press get an instant response – audible sound.
When connected to each TrackR device (within 100 feet of smartphone), the Locate TrackR works great. It will show the TrackR device "Connected" on a map. Additionally, we tested the Locate iPhone feature – it also works great on both devices. Your iPhone will ring (the Volume adjust dialog will pop up) with a default sound or you can customize with a tune of your own.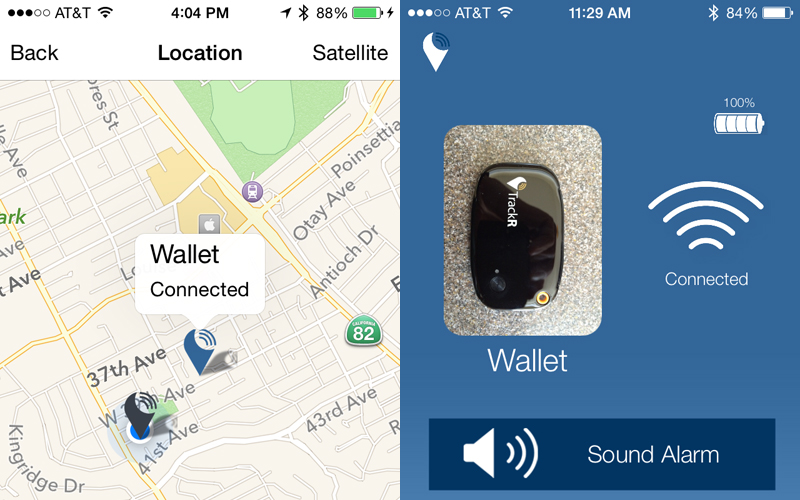 On a daily basis, you can check the two easy to view indicators on the iOS app: Bluetooth/Distance Status and Battery Level Indicator.
Note that TrackR devices will stay connected with your smartphone up to 100 feet, conditions may vary in range. After the 100 feet, the TrackR device will disconnect and record your last known GPS location on a map located in the TrackR app. The Crowd GPS feature enables you to find your items after they have been lost. When an item goes missing with a TrackR device attached, all TrackR enabled phones will begin to search for that item. When another TrackR user comes nearby the lost item, that user's phone will anonymously ping TrackR's server to update the items item's owner with new GPS coordinates of when & where it was last seen.
In order to test Crowd GPS, I disconnected my TrackR Wallet (shutting off Bluetooth and keeping my iPhone over 100 feet away). Then I have another iPhone with TrackR app running and paired to the TrackR Sticker. After I walked the TrackR Wallet nearby, it must have detected the device wirelessly and recorded the location onto TrackR servers. That is, the "Last Seen" location should update (which it did).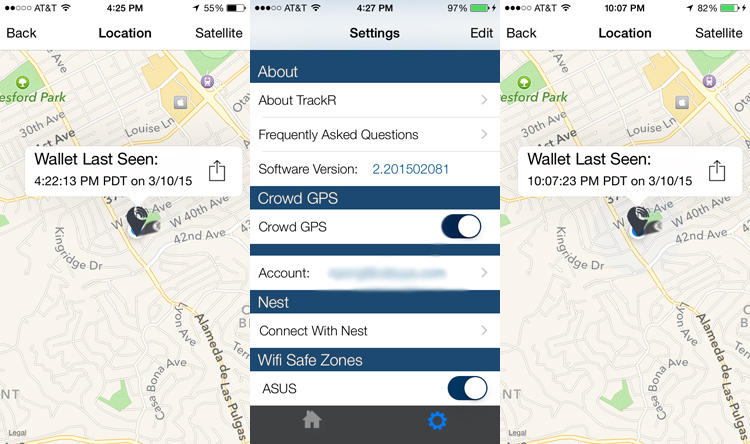 Some concerns:
TrackR requires the TrackR app to be running in the background with Bluetooth enabled. We're trusting TrackR programmers to minimize battery drain in this case…
The Separation Distance cannot be configured at this time – should be available in the near future.
Each TrackR device can only be paired to a single smartphone as it cannot connect to multiple devices simultaneously.
Bluetooth has a small detection radius which limit the scope of use and will most likely be highly dependent on Crowd GPS for anything lost outside the household.
Update (3/16/2015): TrackR confirmed with us that their mobile app uses up less than half the phone battery life of similar products
The TrackR collection of Sticker, Wallet, and Bravo (pre-order) devices are available at: TrackR, Amazon.
*Product provided by TrackR. CMP.LY/1 Review
If you have a product you'd like reviewed, contact me at info@weartested.org