Shoe Differentials – A Collective Summary
Here's my compilation of some of the traditional running shoes (includes trainers and racers) available today based on the shoe technical specifications provided by the footwear manufacturers where available. We are missing specs from Nike and New Balance. I've scoured the web for some of the numbers from other runners and web sites and they appear below (after my table) – no guarantee that they are valid.
Caveat: There is usually variations in the amount of elevation in the insole, strobel, outsole, or other parts of the shoe. But for the majority of running shoes, the differential stays the same. With some models from Saucony, Nike, and Newton, that may not be true.
Thanks to 'G' for pointing that out! (RSS)
Feel free to send errors and suggestions via our contact us page.
You can also download this shoe differential table in PDF format.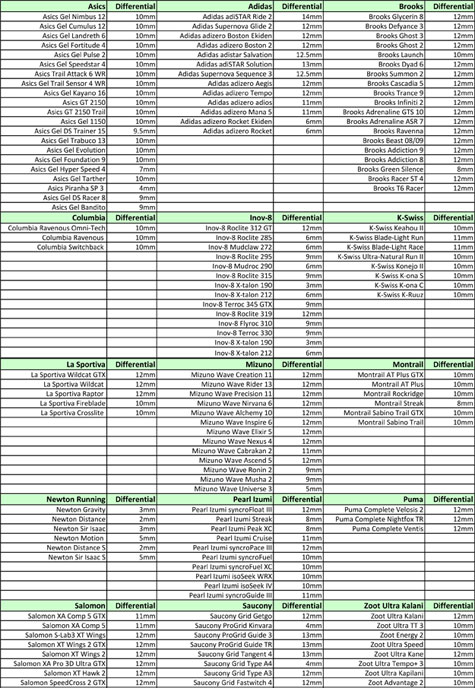 Nike
Nike Luna Racer: 6mm (24mm heel, 18mm forefoot)
Nike Free 3.0 v2: 4mm (23mm heel, 19mm forefoot)
Nike Free Run+: 7mm (26mm heel, 19mm forefoot)
Nike Free 5.0: 10mm (29mm heel, 19mm forefoot)
Nike Zoom Streak XC: 11mm (24mm heel, 13mm forefoot)
Nike Zoom Tirax: 21mm (38mm heel, 17mm forefoot)
New Balance
New Balance 101: 10mm (18mm heel, 8mm forefoot)
New Balance 768: 14mm (34.5mm heel, 20.5mm forefoot)
New Balance 790: 9mm (22mm heel, 13mm forefoot)