When I first approached Patagonia about a casual/dress minimalist shoe, I had the Patagonia Loulu in mind because of it's wide toe box, dressy look, and most importantly, non-heeled. But they quickly suggested the Patagonia Pau and Patagonia Advocate Moc. And they were right as those two models are much more flexible, lighter, and more comfortable than the Loulu. The Loulu weights 12.2 ounces, the Pau 11.4 ounces, and the Advocate Moc is only 5.0 ounces.
Patagonia Advocate Moc
Patagonia labeled the Advocate as 'the ultimate travel shoe. Smash it into your glove box, backpack or carry-on and pull it out at camp.' The slip-on's 100% supersoft synthetic leather upper is also durable.

Recycled (20%), dual-density EVA anatomical footbed and 2mm (my digital calipers say 4mm though) insole lend cushioning support. Lateral and medial elastic stretch bands provide comfort and easy on-off.  Rear pull loop provides easy on and off. Without the insole, the midsole/outsole is a measured 6mm.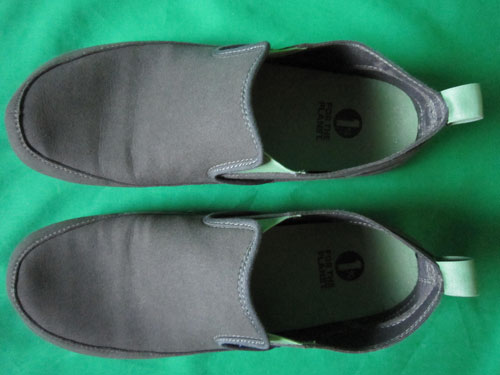 The dense armadillo outsole provides traction and durability.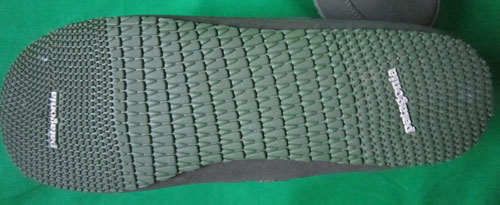 The Advocate is partnered with 1% For The Planet®, a growing global movement of companies that donate 1% of their sales to a network of environmental organization worldwide.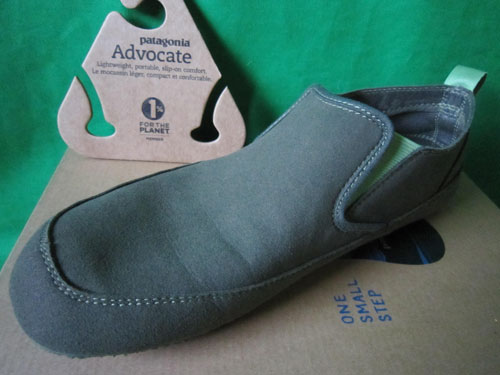 1% for the Planet is helping to tilt the scales of giving toward the thousands of under-funded non-profits dedicated to the pursuit of sustainability, to preserving and restoring the natural environment.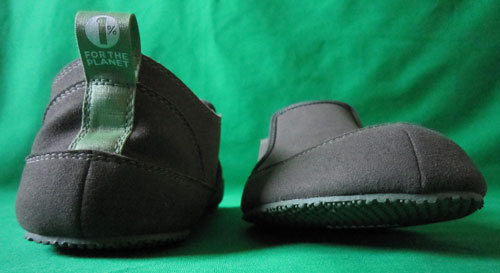 Here's a quick video to get a better feel of the Advocate slip-on shoe from Patagonia.
Patagonia Pau
The pliable leather outer and naturally wicking wool lining of this simple loafer offers pasha like comfort. The removable, molded EVA midsole, with a Dri-Lex® merino wool footbed lining, cradles your foot and helps with temperature and moisture control. Waterproof stretch gussets at the tongue allow easy entry/exit.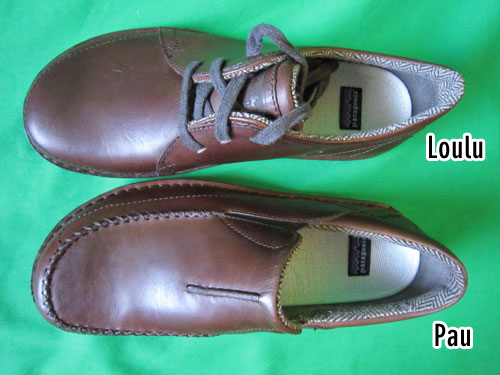 The Opanka stitched honeycomb outsole, made of durable, sustainable and responsibly harvested 70% natural hevea-milk latex, is stitched to reduce environmental impact. It also has a generous and full toe box.
With the midsole insert in place, the stack height is about 16mm.
Patagonia Loulu
The Loulu is almost an identical version of the Pau but with laces and slightly harder leather uppers – pretty much a low cut lace-up Pau.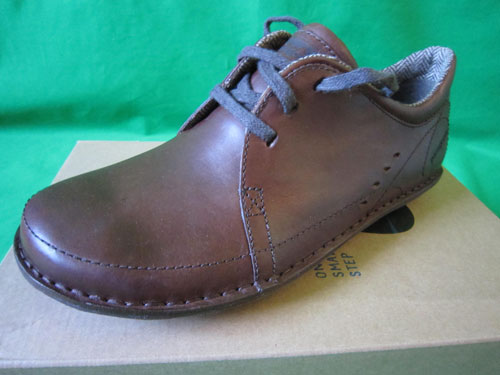 Both have super-wide toe boxes and the same outsoles.

With the midsole insert in place, the stack height is about 20mm, about 4mm more than the Pau.
Observations
One thing I hate – the soles of both the Pau and Loulu makes a loud squeaking noise when I walk on hardwood floors. The honeycomb design gives really good grip though! It's just the noise but it softens over time…
I'm also a little disappointed with both the Loulu and Pau because they are slightly heavier than what I expected in addition to having stiff leather uppers. But other than those two minor annoyances, they're good minimalist casual and dress shoe options.
My favorite? Patagonia Advocate Moc – super-light, ultra-flexible, and oh so comfortable. And quiet. I find the toe box wide enough for all the miles of walking that I do daily.
As of this review, the Advocate Moc is on sale at Zappos and Endless for only $44. Free shipping both ways from both online retailers.
http://www.patagonia.com
*Product provided by Patagonia (Advocate Moc MSRP $55, Pau MSRP $130, Loulu MSRP $130).
If you have a product you'd like reviewed, contact me at info@weartested.org