The Kora Azog hooded jacket (hoodie) is a technical mid-layer jacket with a hood that incorporates yak wool's exceptional performance properties in a performance mid-layer for the first time. During the development process, Kora's designer and outdoor athletes set out to create a lightweight technical mid-layer jacket for hard mountain days' skiing, climbing, mountaineering and trekking. The culmination of painstaking research and a rigorous field testing process, the Kora Azog jacket offers what their athletes deem essential in a mid-layer: breathability, added warmth, durability and protection – all in a design that permits total freedom of movement.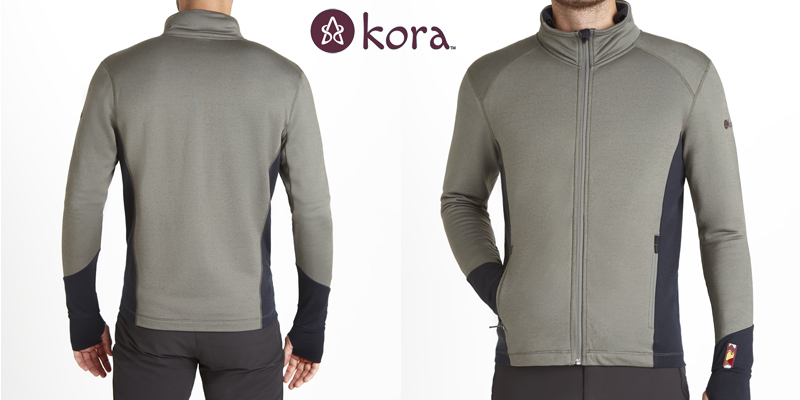 It's made with Kora's Hima-Layer Stratam 350 dual-layer fabric designed for use in mid-layers. It features superfine yak wool in a terry loop construction on the inside to insulate in cold conditions and wick moisture during intense workouts. As an outer layer in milder weather, the yak wool's moisture transfer abilities and breathability excel, while the durable outer surface of DuPont™ Sorona® is built to handle pack straps and harness.
Unique and useful features includes: thumb-loops, stash pockets and a stowaway fitted helmet compatible hood. There are actually 4 pockets: two large external zippered pockets and two large internal stash pockets. This is rare for ANY jacket or hoodie!
The helmet compatible hood has two modes.
Up – Over your head as a base layer under your helmet to stop snow going down your jacket.
Down – When rolled away and attached using the buttons, the hood fills the gap around the neck like a baffle to stop cold air drafts.
Ultra-soft, itch-free, and form-fitting, the Azog hoodie stretches naturally and flexes as you move. By the way, yak wool is naturally odor-resistant, so you can wear it for days at a time (pack light). Machine washable and quick drying, it's perfect for adventure travel.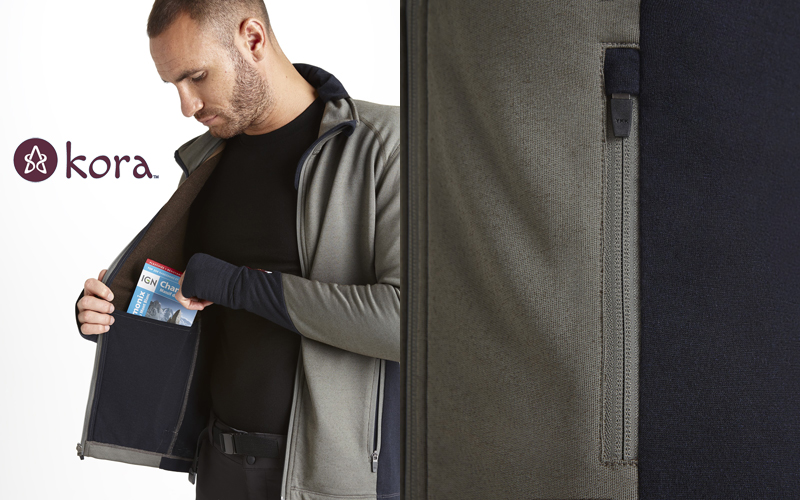 My first wear with the Azog jacket was a night walk (cold 50s) swapping out my Patagonia Nano Puff jacket. The Azog jacket was just as warm and comfortable. But when it got warmer after a mile into the walk (uphill), it was a lot more breathable than my Patagonia jacket – I normally have to remove my Patagonia jacket. On colder days, the stowaway hood came into use as I sometimes forget my knit cap. Since the Azog jacket is a mid-layer, I was able to wear it with my Patagonia Merino-Air Crew base layer for extremely cold days or even skiing at the slopes in Lake Tahoe! Alternatively, I wore the Azog jacket under my Patagonia Nano Puff jacket – mid and top layers. Layers, base-mid-top, a perfect solution for the changing weather in Northern California.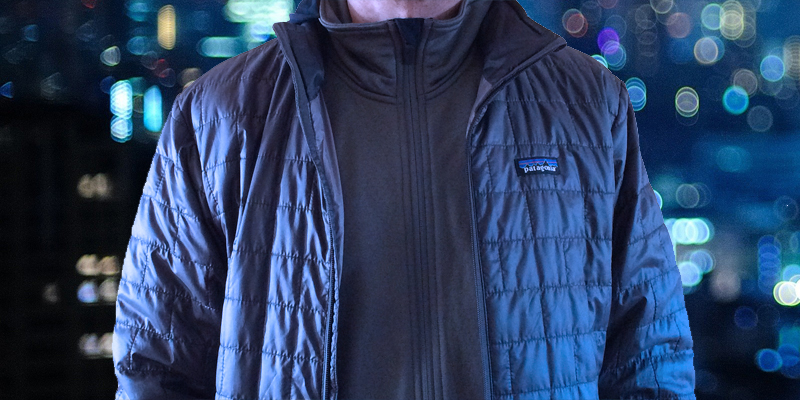 I can honestly say that Kora yak wool fabric is exceptional and is a great supplement (not replacement) to my merino-wool apparel from Icebreaker, Smartwool, and Patagonia. There will be times during your outdoor travels where your go-to jacket is the Kora Azog hoodie – goes great with my Craghoppers Pro collection!
Himalayan nomads have been wearing yak wool for centuries, but Kora is the first company to develop this astonishing fiber into high performance technical fabrics for outdoor adventurers! Grab yours online at Kora.net