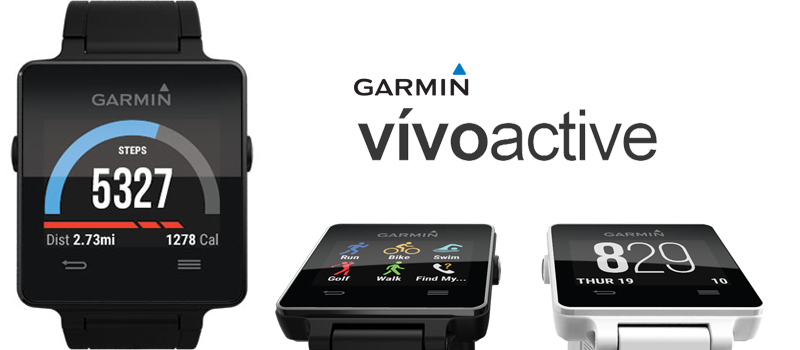 We've been wearing the new Garmin VIVOACTIVE GPS Smartwatch for about two weeks and fell in love with it. For those of us who run, bike, walk, desk-bound, and tethered to your iPhone, VIVOACTIVE is a slim, good looking, functional, and worthy alternative to the Apple iWatch if you don't need all the bells-and-whistle and price tag. And you don't need an appointment to see one or try one or own one.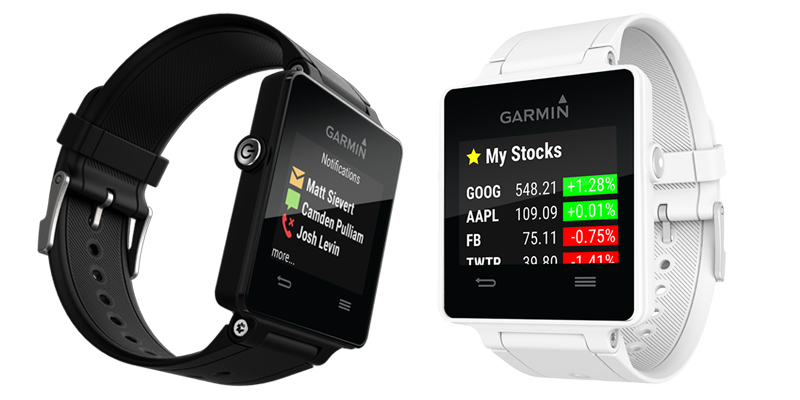 Garmin VIVOACTIVE At-A-Glance
Notifications
Calendar
Music Control
Weather
Time
Activity
Technical Specifications
In a nutshell, these are the technical specifications of the Garmin VIVOACTIVE:
Screen Size: 1.4″
Resolution: 205px x 148px
Color Display with Touch Screen
4 Button Control
Vibration Alerts
Smart Notifications
GPS / GLONASS
ANT and Bluetooth Low Energy (LE) Connectivity
VIRB Control
Barometric Altimeter, Compass. Accelerometer

The VIVOACTIVE comes preloaded with widgets that provide at-a-glance information. Some widgets require a Bluetooth connection to a compatible smartphone. With smart notifications, you can get alerts of incoming calls and texts according to your smartphone notification settings. You also have access to your smartphone calendar by displaying upcoming events. Additionally, you can control the music player on your smartphone.

By default, the super useful Weather app is included and from the Connect IQ store, you can download additional watch faces, apps, data fields, and widgets. The Weather app displays the current temperature and weather forecast.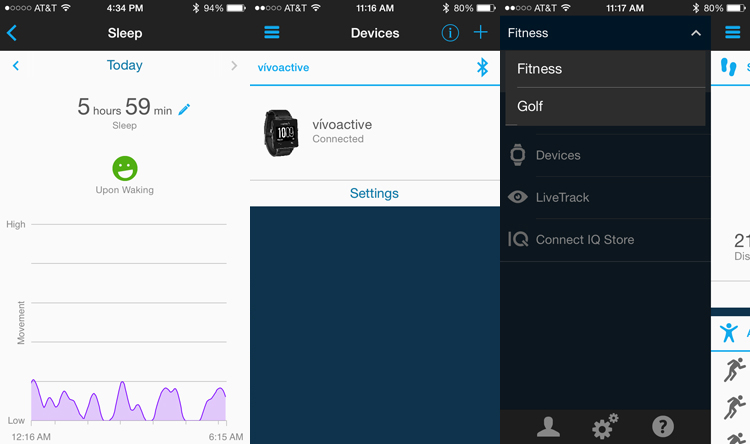 Activity tracking is one of the main feature of the VIVOACTIVE. It tracks your daily step count, step goal, distance traveled, calories burned, and sleep statistics. With the move alert, you can be reminded  to move around when sitting for prolonged periods of time. In addition to moving, you can also track your sleep. During sleep mode, VIVOACTIVE monitors your rest. Sleep statistics include total hours of sleep, periods of movement, and periods of restful sleep.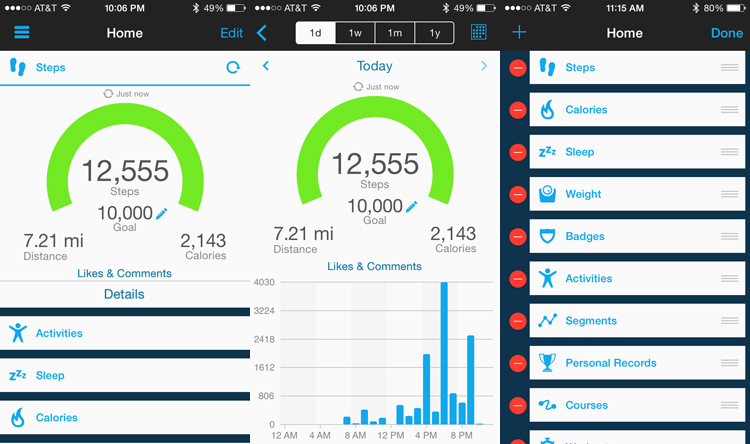 Before you can use sleep tracking, you must be wearing the watch, view the activity tracking widget and 'Start Sleep'. When you wake, hold the action key to exit sleep mode. If you forget to put the device into sleep mode, you can enter your sleep and wake times manually into your Garmin Connect account to view your sleep statistics.

VIVOACTIVE Outdoor Activities
Included activities are: Run, Bike, Swim, Golf, Walk
Pair any ANT+ sensors with your Garmin VIVOACTIVE, locate satellites for GPS signal, and you're all set to go. Everything you've come to expect from Garmin including Start, Stop, Pause/Resume, Save, Laps, Auto Pause, etc. are included. If you ever get lost in your activity, you navigate back to your starting location with the 'Back to Start' feature using the built-in compass.

For golfers, you can pair with your smartphone to download course maps from Garmin's golf course database of over 38,000 courses worldwide. The golfing app keeps maps updated and tallies hole number and par. GPS measures layup and dogleg distances, as well as distances to the front, middle and back of the green, to improve usability over the entire hole. Individual stroke play scorecard lets you see if you're under or over par. Measure shot distance at the press of a button. Round timer counts up time on the course, while the built-in accelerometer tracks your steps.

And for swimmers, the VIVOACTIVE auto Length accelerometer-based technology automatically gauges total and interval distance; laps; calories burned; session average, interval and length pace; and stroke count, including number of strokes per length and interval and session averages. Let the swimming app calculate your efficiency with swolf, which adds the time and the number of strokes it takes to swim a pool length. View your time and interval distance at a glance. Interval Count lets you seamlessly pause and then resume your workout. With a 5 ATM water rating, you can swim, sweat and shower with it on, worry-free.
VIVOACTIVE Indoor Activities
Included activities are: Run, Bike, Walk
The VIVOACTIVE can be used for training indoors, such as running on an indoor track or using a stationary bike. Without using GPS, the Garmin VIVOACTIVE uses the accelerometer to calculate speed, distance, and cadence. The accelerometer is also self-calibrating and the accuracy improves after a few outdoor runs using GPS.
Find My Phone
You can use this feature to help locate a lost mobile device that is paired using Bluetooth LE and currently within range. Once activated, the VIVOACTIVE begins searching for your paired mobile device. An audible alert sounds on your mobile device. The Bluetooth signal strength display on the VIVOACTIVE increases as you move closer to your mobile device.
So how did the Garmin VIVOACTIVE perform?
The Garmin VIVOACTIVE is a feature-packed but easy to use ultra-thin GPS smart watch with a sunlight-readable, high-resolution color touchscreen that is sporty and yet elegant. Comparing it to some of the popular running watches, the Magellan ECHO and Garmin Forerunner 920XT, the VIVOACTIVE is hands-down the slimmest, nicest looking, and most comfortable on the wrist. The hinges attaching the two sides of the band to the VIVOACTIVE swivel to what appears to be over 180 degrees, making the watch very flexible and easy to wear.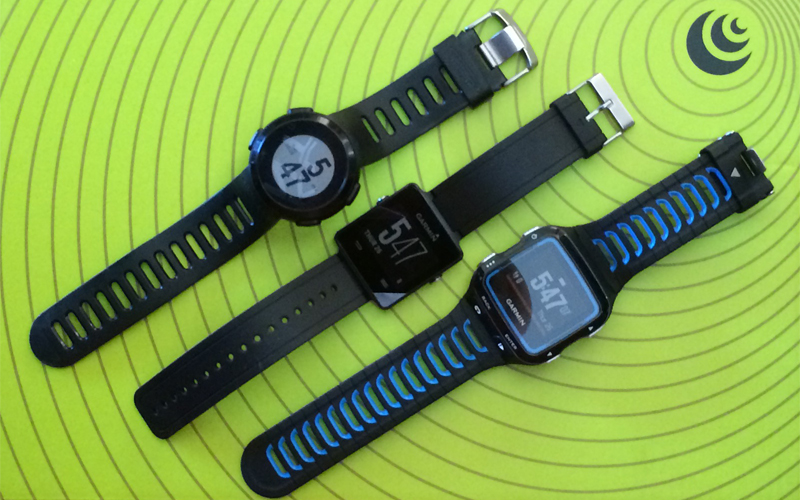 As with all smart watches that gets tethered to the smartphones via Bluetooth LE, there is always the concern that the smartphone batteries get drained easily. But fear not. After using the VIVOACTIVE for over a week straight, the extra battery usage on my iPhone 5S has been less than 10% (unscientific). I have a similar experience with the Magellan ECHO and Garmin Forerunner 920XT. So the focus should be on the VIVOACTIVE battery life instead. Unfortunately, it is hard to find the battery indicator on the VIVOACTIVE – it is very well hidden under the System Settings icon, one tap away. I only had to charge the VIVOACTIVE after about 10 days of use – includes many runs, walks, and long rides.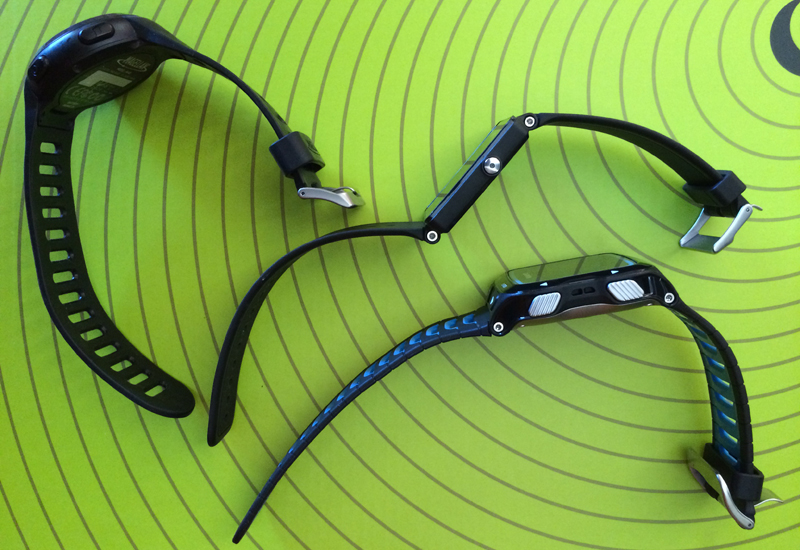 There are also many ways to maximizing your VIVOACTIVE battery life. Suggestions provided by Garmin includes:
Shorten the backlight timeout
Use GPS mode instead of GLONASS mode for your activity
Use a Connect IQ™ watch face that is not updated every second like using a watch face without a second hand
In your smartphone notification center settings, limit the notifications that are displayed

When I first saw GLONASS, I had no clue what it was so has to find out and try it out. Short for Global Navigation Satellite System, GLONASS is a Russian satellite-based navigation system that works alongside GPS to provide position information to compatible devices. With an additional 24 satellites to utilize, GLONASS compatible receivers can acquire satellites up to 20% faster than devices that rely on GPS alone. And verified to be a lot faster than with GPS alone especially in areas blocked by buildings or hills!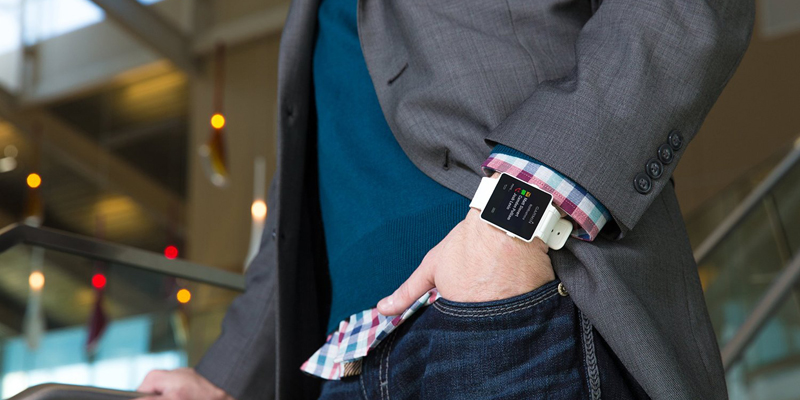 For all our run, bike, and walk activities, they performed as expected from Garmin devices including customizations. We did not test the swim or golf activities – maybe in the future. All activities are automatically synced to Garmin Connect online (configured on your mobile app) where you can view additional information and visuals. You can also view them on your smartphone (Garmin Connect mobile app) and VIVOACTIVE (History folder to drill down for details) screens.

Whether you are exercising or not, the VIVOACTIVE activity tracker and normal smart watch functions like clock, alarm, notifications, calendar, etc. are always working in parallel. The activity tracker tracks your daily step count, step goal, distance traveled, calories burned, and sleep statistics. The stylish and elegant design of the VIVOACTIVE hides its powerful sports and fitness features and passes muster as a dressy and trendy looking wristwatch.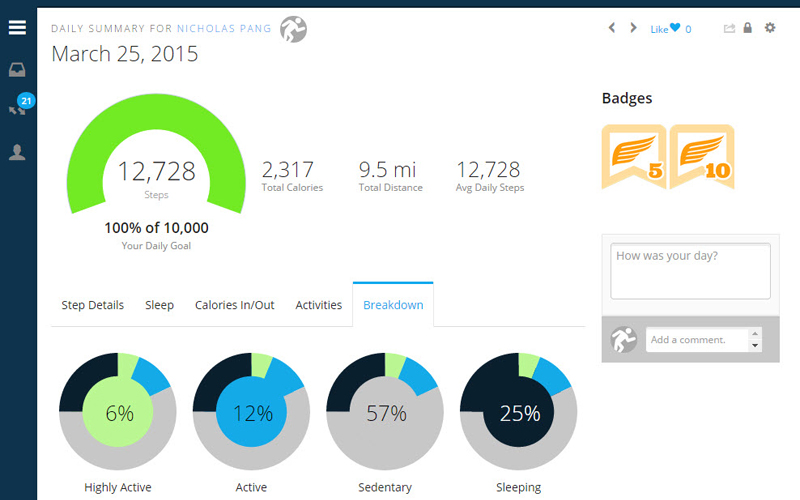 If you are sitting on your desk or couch too long, you'll be remind to MOVE with an alert vibration on your VIVOACTIVE. I've grown to check the notifications on the VIVOACTIVE without taking out my iPhone from my pocket or have my iPhone on me all the time (within Bluetooth distance).
I've noticed that Garmin have activated automatic sleep tracking recently without a firmware release – server side data science! I take off my watch and leave it on the nightstand or side of my bed before going to bed and put it on when I wake up. I'm sure Garmin data scientists are analyzing and modeling my behavior from the activity logs to determine my sleeping patterns. And the scientifically-determined sleep data (duration) is pretty good. I'm sure with the VIVOACTIVE on my bed, Garmin can determine some of the sleep movement data precisely like the iOS Sleep Cycle app does. It sure beats having to remember to explicitly push the 'Start Sleep' and 'Exit Sleep' daily…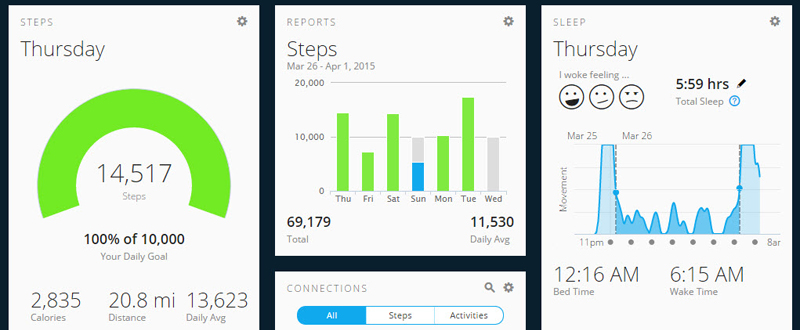 We are hoping that the next version of the Garmin VIVOACTIVE will include an optical heart rate monitor and other health or fitness sensors thus making the VIVOACTIVE the ONE smart device you'll ever need to wear or carry everywhere. A huge library of Connect IQ watch faces, apps, widgets, and data fields are being developed and available for free making the Garmin VIVOACTIVE  future-proof.

The Garmin VIVOACTIVE is available now in two colors (Black, White) and multiple color bands and can be purchased online at: Clever Training, Garmin, Amazon, REI.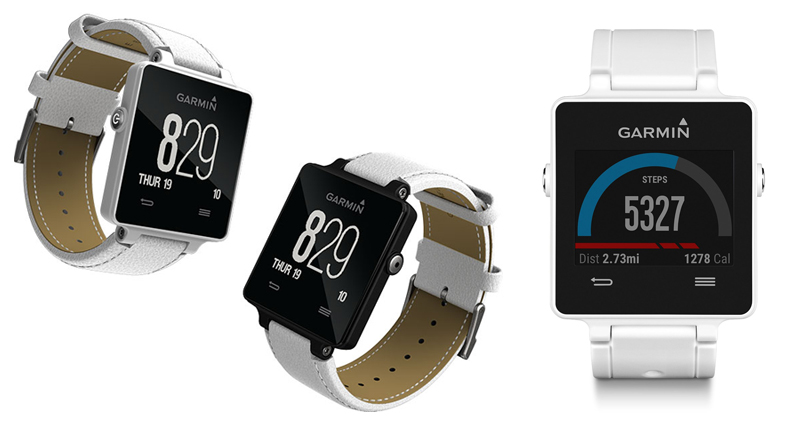 *Product provided by Clever Training. CMP.LY/1 Review
If you have a product you'd like reviewed, contact me at info@weartested.org