Barefooters are shoes designed to make you feel great. Anatomically engineered for an au natural, barefoot feel, these made-in-Italy shoes are made from shock absorbing, flexible, and antimicrobial CorksiLite; an all-natural blend of cork and silicone. This one-of-a-kind material allows for a seamless design that coddles your feet in breathable comfort.

Say hello to blister-free, anti-stink, barefoot walking. Barefooters' unique Oooaaahs insoles are nicely padded with reflexology pods, gently massaging the pressure points of weary feet while you walk. They are also machine washable and comes with 2 interchangeable straps, so you can color match your mood.

Barefooters Classics were designed as a walking shoe to naturally strengthen your feet, stretch your ligaments and massage your tired muscles. It is also fast becoming a perfect recovery shoe for athletes. World renowned runner and Olympian Jeff Galloway tried on a pair at the Barefooters booth while I was talking to the founder, David Van Klaveren, at the Running Event and Jeff loved it.
These shoes allow my feet to feel great after a run. They are so comfortable I wear them around the house. They invigorate my feet!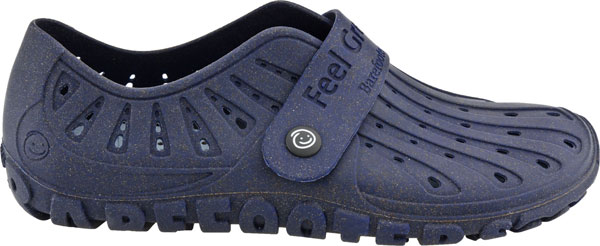 Quick backgrounder
According to Barefooters, the Classic CorksiLite material has "physical properties and a minimalist shoe design incorporating an Oooaaahs reflexology footbed that provides bio-feedback to the foot for a high degree of ground confirmation, protection and relief, while providing an excellent foundation for good body posture."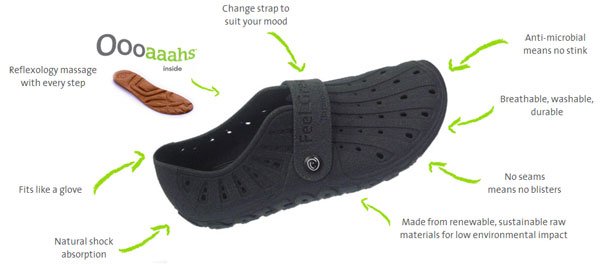 "Ground confirmation means better sensory data to the feet and body for better muscle and ligament engagement and motion. Better muscle and ligament engagement means stronger intrinsic foot muscles and more flexible tendons enabling an increased forefoot push-off (putting a 'spring' in ones step). The foot massage created by the reflexology footbed rejuvenates tired muscles for improved recovery times. Better sensory data to the feet also means better data to the whole body for better posture, balance and overall secondary muscle activation. In all, Barefooters Classic shoe gives a natural Feel Great® walking experience well suited to athletes' demanding needs across a range of temperature climates."

The Oooaaahs inside each shoe are removable insoles with bumps designed to provide stimulation and support the natural movements of your feet.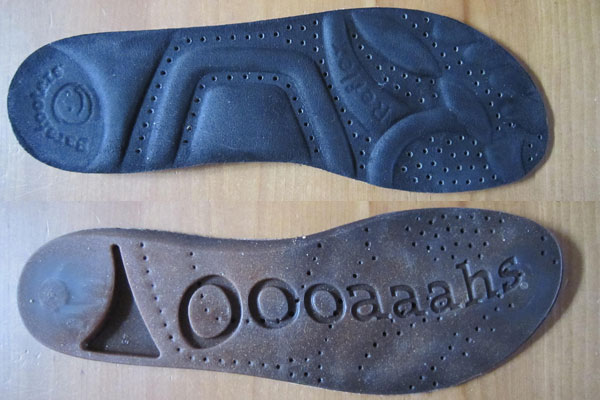 CorksiLite also offer excellent shock absorption and non-slip properties. The Oooaaahs are lined with an anti-microbial fabric to keep your feet feeling and smelling fresh. Great for wearing them sockless as I do! The CorksiLite material is also injection molded thus Barefooters are entirely seamless inside and out. No seams to rub and cause blisters. Check!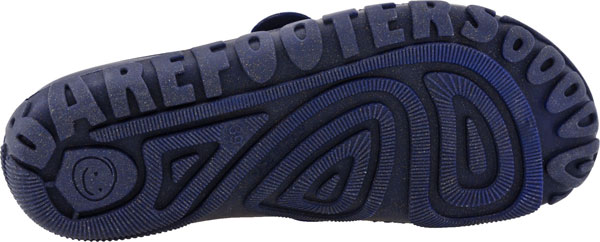 Barefooters are also doing their part for the Earth as all their shoes are made from renewable and sustainable raw materials for low environmental impact. Cork comes from the bark of trees and harvesting that cork keeps the tree strong. Silicone is made from naturally occurring elements. Combined through a proprietary process to make CorksiLite, the environmental imprint is remarkably low.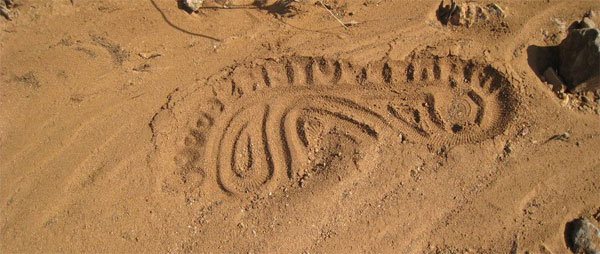 So how did Barefooters Classic perform?
My pair (size 45) weighs in at a whopping 18.6 ounces with the insole and has a stack height of about 20mm. The insole makes up about 9mm to 10mm of the height. It feels heavy when you hold it in your hands but when you put them on, the weight magically disappears – that's the best I can describe it. I've tested hundreds of lightweight minimalist shoes and even having over a pound of materials from Barefooters Classic on each foot seemed lightweight because of the comfort. But a few of my fellow wear testers said it was just way too heavy after trying on a pair…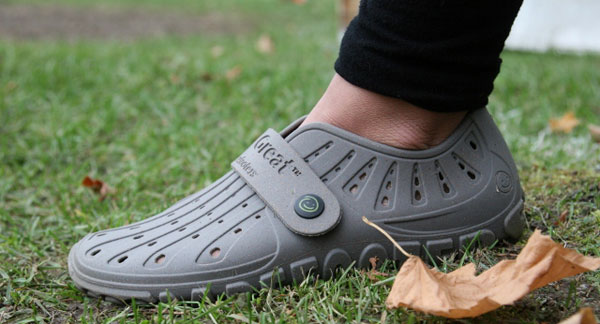 Probably taking a page from Crocs and Jibbitz, each pair of Barefooters Classic includes a self colored strap, a contrasting color strap, and a set of Feel Great face buttons to attach them. You can also pick up an accessory pack of three colored straps and two colors of buttons to really express yourself!

My pair required no break-in period but my female wear tester complained about the bumps on the insole/footbed initially (sockless) but settled in after a day or so. I have never worn a pair of Crocs before but these definitely feels super-comfortable for both walking and standing around. I've also wore them with toe socks when it is too cold to go sockless outdoors. It is keeping me warm in the winters but it may be a little warm in the summer but I don't have to worry about the sweat and stink – the Barefooters Classic is washable and anti-microbial.
My colleague Dr. Mark Cucuzzella at the Natural Running Center wears his pair of Barefooters Classic for many hours on end at the hospital where he works  – standing all day on a concrete floor. And he loves it!
A day on concrete floors of a hospital or any job when you walk or stand all day can be fatiguing.  I tested my Barefooters on a busy day of hospital work and post work activity.  Not only did my feet feel incredibly well, the rest of my body did too.  They felt amazingly good in the specific pressure points on my feet.  This translated to less fatigue in other areas of the body and mind.

On first impressions the shoes are a bit heavy and certainly do not fit into the mix of minimalist running shoes or huarache sandals.  But this is not their purpose as I discovered.  They are meant for walking.

Another benefit is being able to wash them either with soap and water or in the dishwasher.  This is a huge advantage when you work in a hospital.  Even with socks our skin and feet are loaded with bacteria and our shoes become culture mediums.  If you are in any health care or industrial environment where cleanliness is critical, it is essential to be able to wash our shoes just like our hands.
So take a pair of Barefooters for a spin and find your own specific use, whether it is leisure activity like walking the dog or through town, or daily use on your job.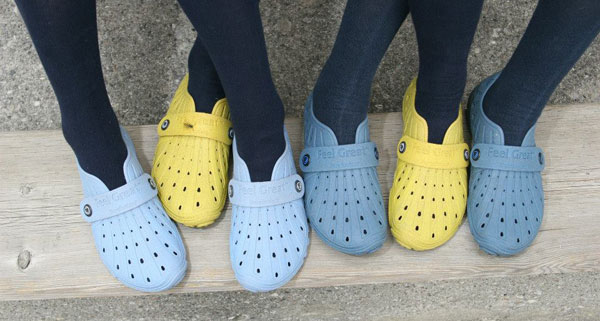 The Barefooters Classic is now available in many colors for women including: Natural Cork, Anthracite Black, Sedona Red, Cactus Green, Midnight Blue, Azure Blue, Cloud White.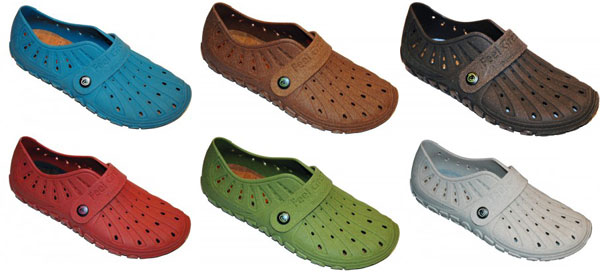 And includes the following colors for men: Anthracite Black, Natural Cork, Midnight Blue, Cactus Green.

The Barefooters Classic is available for purchase at: Barefooters
*Product provided by Barefooters. CMP.LY/1 Review
If you have a product you'd like reviewed, contact me at info@weartested.org