It has been a long time since New Balance made radical changes to its Minimus collection. In the pipeline with major changes are two trail shoes, the NB Minimus Zero Trail v2 and NB Minimus 110 v2. We recently wear tested the Minimus Zero Trail v2 and is surprised at the changes!

The new Minimus Zero Trail v2 is engineered for the trail runner who demands a zero drop shoe fit for any terrain but with lightweight, flexible support. The success of the New Balance Minimus collection has proven that zero drop does not have to mean zero protection, the Minimus Zero Trail v2 is a versatile shoe perfect for a variety of terrains in a not so minimal package. For those runners who are used to the initial Minimus Zero Trail, this is a radical change in terms of outsole, uppers, and fit.

The new outsole on the Minimus Zero Trail v2 has sticky rubber and redesigned aggressive lugs, allowing for better traction on challenging trail and mountain conditions. A full-length RevLite midsole on the Minimus Zero Trail v2 provides a responsive, cushioned ride that is lightweight and durable. The uppers has added toe security and improved heel support for sloppy trail runs. Flexible overlays on the breathable mesh upper provide the foot with key support. Additional materials used on the upper include synthetic suede, a nod to the real suede used in the RX Terrain but lighter and more flexible allowing your foot to go through a more natural gait.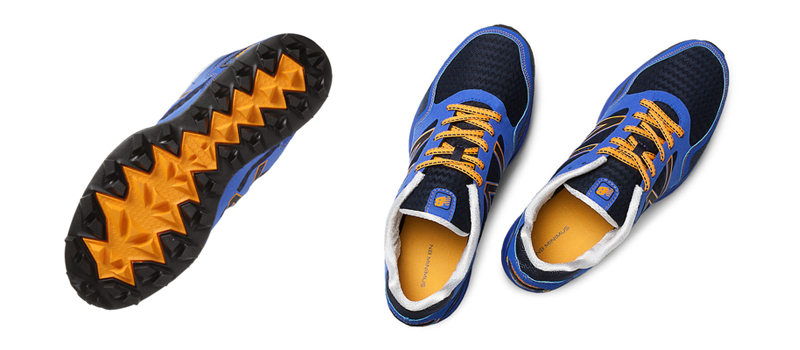 The fit remains snug in the midfoot and forefoot area but has barefoot friendly interiors and an extremely lightweight fit. This update to the original Zero series is ideal for runners looking to experience the benefits of a zero drop trail shoe with the additional benefits of underfoot protection.

So how did the NB Minimus Trail Zero v2 perform?
My pair (US Size 10.5) of Minimus Zero Trail v2 weighs in at 9.8 ounces. The forefoot toe box is a little snug for me but running sockless, it is really comfortable, highly breathable, and lightweight – no hot spots or blisters. For those who are used to the barely-there uppers of the original Zero Trail, the Zero Trail v2 will feel bulky – it is meant for those gnarly trails! I felt that there was too much protection for the non-technical trails that I run on. The lugs provide great traction for those muddy and slippery days – surprisingly, the mud comes off fairly easily.

The highly padded heel collar is not as snug as I expected and the ankle opening trapped some small debris in a few of my runs. If the next update can include gaiter trap technology like on the Altra Zero Drop Superior 1.5, that will be an added bonus for those doing long trail runs.

For pure minimalist runners who prefer a thin, flexible, and lightweight trail shoe, the NB Minimus Zero Trail v2 will be too much shoe for you. If you like a little more cushioning and extra protection, this is a superb trail shoe from New Balance. Also looking forward to the NB Minimus 110v2 which has a similar but less aggressive outsole and a simplified upper. This may fit the bill better for the minimalists…
The NB Minimus Zero Trail v2 is available in two colorways for men and also for women:


The NB Minimus Zero Trail v2 is now available for purchase at: New Balance.
*Product provided by New Balance. CMP.LY/1 Review
If you have a product you'd like reviewed, contact me at info@weartested.org