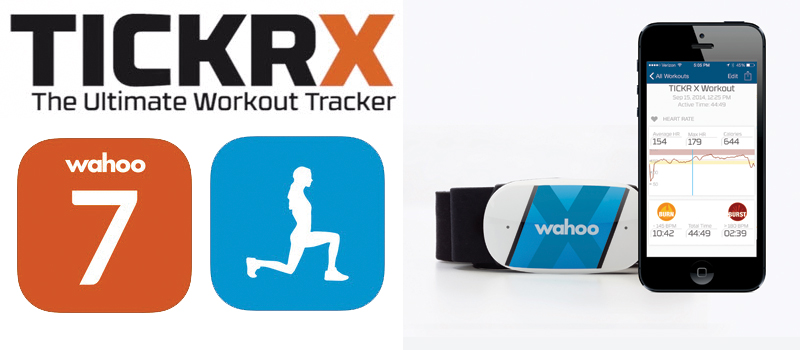 TICKR X is a workout tracker from Wahoo Fitness with memory. TICKR X is the ultimate workout wearable with built-in memory thus giving you the freedom to train without a smartphone. Untethered from your smartphone, it captures heart rate, calorie burn, and duration from your workouts and syncs them to your smartphone later. You can still train connected to your smartphone too. The TICKR X also analyzes and captures your every move.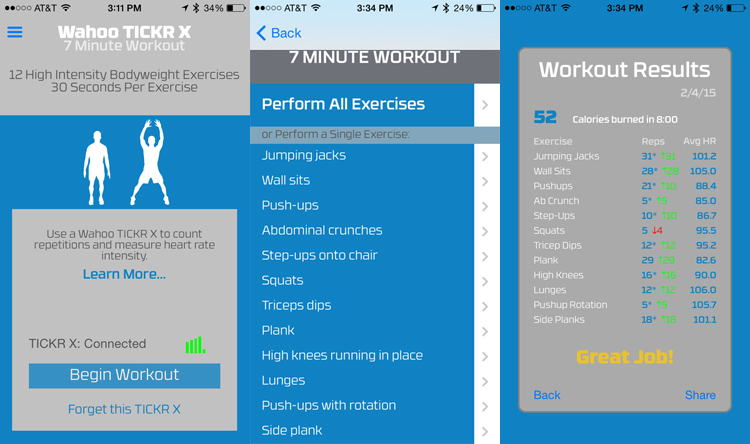 You can pair your TICKR X with the 7 Minute Workout app for a high-intensity circuit workout and automatic rep counting or pair it with the Wahoo Fitness app for indoor cycling cadence. It is also compatible with the most popular fitness apps, making it an incredibly versatile workout tracker for all of your activities.
Twelve exercises in 7 minutes? The 7 Minute Workout app includes 12 bodyweight exercises. Each exercise done for 30 seconds and then you rest for 10 seconds. After the total 40 second interval, it automatically moves to the next exercise. In 7 minutes, you're done! Simple but effective and powerful.
Some quick technical specifications for TICKR X:
Dual Band Technology – Both ANT+ and BLE capabilities allow for a wireless connection to both smartphones and GPS devices
Real Time Tracking – See workout data while you exercise, including vital metrics such as heart rate and calorie burn
Display – Two LED lights show the TICKR's device connection (blue) and heart rate detection (red)
Running Smoothness – Measures running form across three dimensions to help you improve your individual form and become a stronger runner
Running Cadence – Replaces a traditional footpod by providing stride rate data
Running Analytics – Measures several other indicators of running form including vertical oscillation and ground contact time
Built-in Memory – Track your heart rate, calorie burn, and workout duration without your phone and auto-sync later – holds up to a 16 hour workout
Seven Minute Workout app – Count repetitions for 12 different bodyweight exercises when connected to the high-intensity interval style 7 Minute Workout app by Wahoo. Only available on iOS.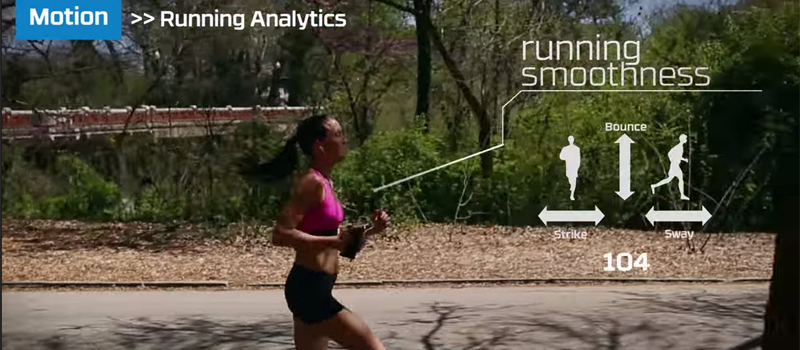 So how did the Wahoo Fitness TICKR X performed?
When I run with the TICKR X, I have my iPhone with me most of the time – unless I'm doing sprints on the track and jumps on the field. The device can measure the running analytics that I can review after I upload to my iPhone. But for doing high intensity workouts, the smartphone is not an option. Having an untethered device like the TICKR X or other standalone wearable device with memory is a great and probably the only solution.

The TICKR X's rep-counting feature is part of a library of over 20 proprietary motion-based algorithms, developed by Wahoo's dedicated team of motion experts and firmware engineers. Indoor cycling cadence and running form (including vertical oscillation and ground contact time) are also part of the offering, with new exercises being added each day.
In addition to motion analytics, the TICKR X's memory can capture the workout metrics of heart rate, calorie burn, and duration in device-free mode and can auto-sync the data to a smartphone later, ideal for high-intensity workouts where carrying a smartphone is not an option. Athletes can then upload their TICKR X workouts from online or offline mode to over 50 of the most popular fitness apps.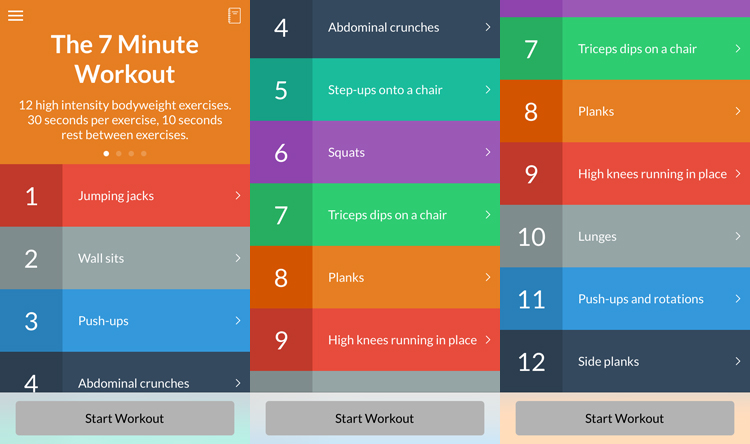 The free 7 Minute Workout iOS app and the TICKR X iOS app are basically identical but with a slightly different user interface. The 7 Minute Workout app also has instructional videos on how to perform the workouts. It is great for beginners and those needing directions. There are also additional programs like the Alternative 7 Minute Workout, 7 Minute Pilates Workout, and Make Your Own 7 Minute Workout within the 7 Minute Workout app that you can unlock for 99 cents each! It includes additional workouts like Mountain Climbers, Bear Crawls, Skipping, etc. Again, great for those needing directions. Ultimately, you can Go Pro ($1.99) and get customization features for your workouts, reminders, logs, etc.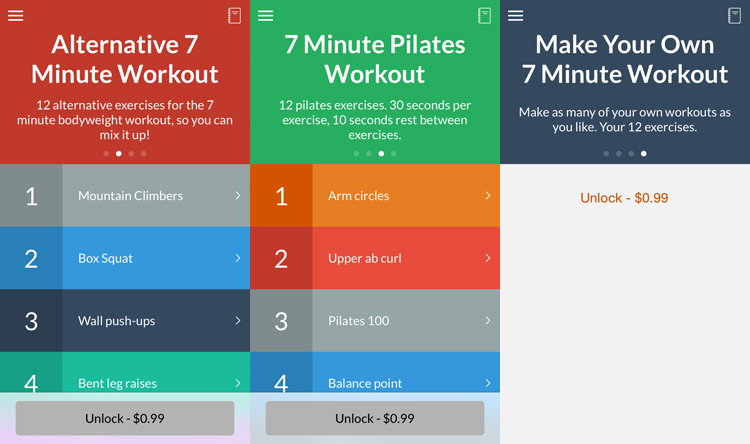 Most athletes run and cross train with cycling and boot camp or cross-fit exercises etc. The Wahoo Fitness TICKR X is in the sweet spot for those who wants to quantify and keep track of their runs and workouts with the Wahoo Fitness app.

The workouts will sync automatically when the Wahoo Fitness app is open and the TICKR X is awake – you can wake up TICKR X by rubbing the metal terminals on the pod with your fingers until the blue light flashes. Make sure Bluetooth is activated on your device.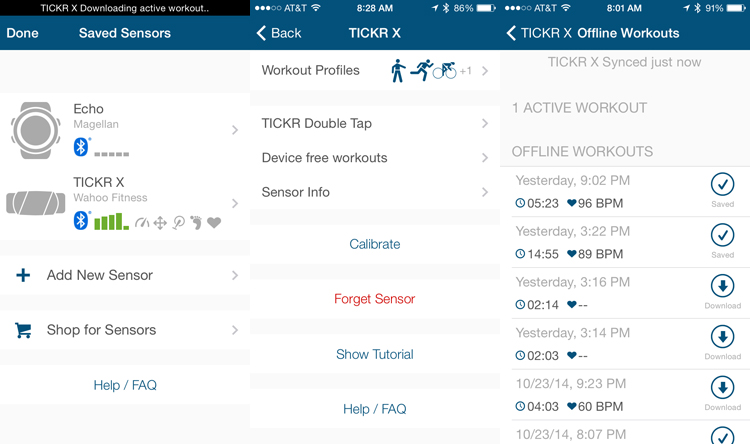 Note that if a workout is under 5 minutes long, it will not be saved automatically. To access workouts under 5 minutes long, follow these steps:
In the Wahoo Fitness app, select Sensors
Select TICKR X and scroll down
Select Device free workouts
To download and save any offline workouts, select the Download icon on the right. That workout will now appear under History in the main menu.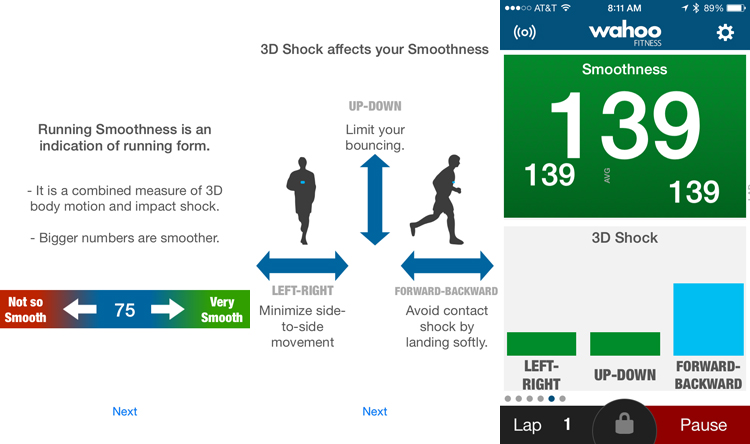 For runners, The TICKR X includes all the features from TICKR RUN (running smoothness, cadence, running analytics) in addition to built-in memory and motion analytics. The TICKR X makes it a complete training solution for your running, cycling, and workouts!
One observation for those using the TICKR X for the first time as I was confused initially. When using the TICKR X in offline mode (untethered) for running, you will not get any running analytics logged. You have to be running with Wahoo Fitness and TICKR X tethered via Bluetooth.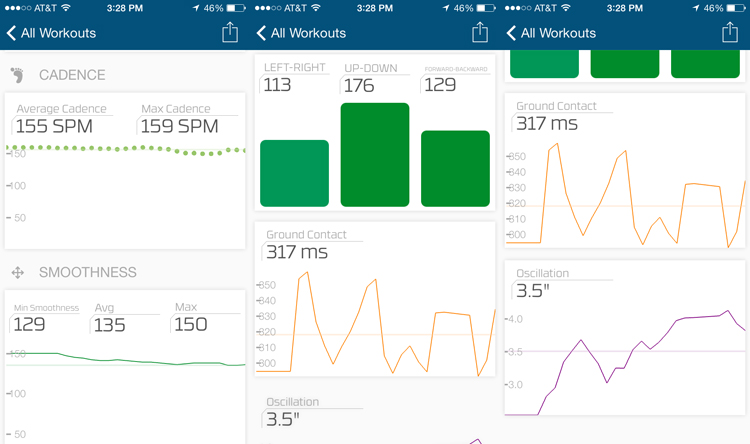 Improvements could be made in the visual displays of the running and workout metrics. For example, uploading the running analytics to the cloud and displaying a complete time/distance plot with vertical oscillation and round contact time in an easy to view chart. Additional data analytics can be offered by Wahoo Fitness on how a runner can improve running form or prevent running injuries based on acceptable and crowd sourced metrics using TICKR X and other wearable devices – maybe even integrated to Google Fit and Apple Health Kit platforms.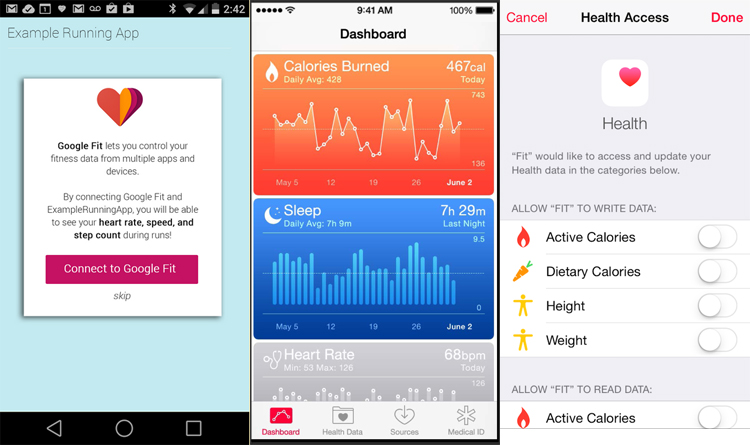 The Wahoo Fitness TICKR X is available for purchase online at: Amazon, REI, and Wahoo Fitness.
*Product provided by Wahoo Fitness. CMP.LY/1 Review
If you have a product you'd like reviewed, contact me at info@weartested.org