Who said compression socks have to be boring? VIM & VIGR seeks to change that. VIM & VIGR is a line of high-quality compression socks that combines advanced technology and fashionable designs. VIM & VIGR utilizes an advanced Gradient Pressure™ knitting technology to energize legs by increasing the circulation of freshly oxygenated blood.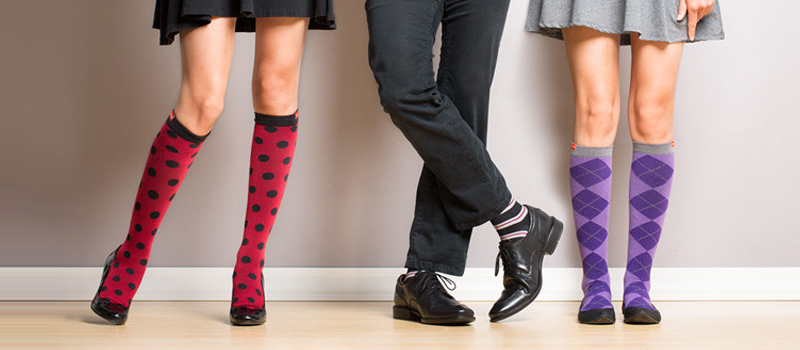 Does sitting, standing, exercising, or flying ever leave your legs tired, achy or swollen? Fight stagnation by boosting blood flow and support your health with VIM & VIGR compression socks! These dynamic and fashionable socks prevent and reduce spider and varicose veins, inhibit swelling, and alleviate leg achiness and heaviness. This revolutionary leg wear company is at the intersection of fashion and function.

VIM & VIGR's goal is to help busy and active individuals become proactive with their health through their highly advanced leg wear. These innovative knee-high compression socks will help people put their best foot forward and maximize their health and energy levels to improve their quality of life with less leg pain and tiredness after long days standing or sitting at work.
Review Summary
Readers of Wear Tested know that I swear by compression apparel for running, cycling, and track & field – calf and arm sleeves for competition and training; full compression socks for recovery. But outside of workouts, I only wear full compression socks for long travel trips. But with VIM & VIGR fashionable colors and design, I can now wear compression socks for all my non-workout activities! Traditional compression apparel athletic brands are also moving into the everyday wear mild compression socks category but they are not fashionable yet…

My female wear testers are ecstatic to be wearing fashionable compression socks for their daily activities too. Their feedback is that compressions socks does not have to be hard or painful to put on and wear for long hours. VIM & VIGR compression socks are certainly a welcomed change. And with many current designs to choose from, your outfits are never boring.
The compression level for all VIM & VIGR socks is 15-20 mmHg (Light/Mild), which is perfect for all-day, everyday wear. Most athletic compression socks are in the 20-30 mmHg (Moderate) level or higher.
For those new to wearing compression socks, VIM & VIGR has these simple instructions on putting on your socks:
Slip your arm into the sock until your fingers reach the toes. Your palm should be resting in the sock's heel.
Starting at the cuff, fold the sock over until it meets the heel. Make sure to fold the sock onto itself.
With the sock still inverted, pull the foot of the sock firmly onto your foot. Make sure your toes are securely in the toe pocket. Starting with the cuff, gradually roll the sock up.
Adjust so that your heel is properly positioned in the heel pocket and the cuff sits below the knee. Make sure the cuff is not pulled up too high.

One observation after all these years of compression apparel usage: the VIM & VIGR collection are easy to put on and take off. They are also simply comfortable! And I cannot say that for other compression socks. Fashionable compression socks for everyday wear is heating up just like embedded wearables in clothing – it boils down to design and fashion. Make these products cool looking and people will wear them and adapt over time.
VIM & VIGR products are available for both men and women in many designs (fun stripes, nautical stripes, argyle, polka dots, striped argyle, and solid) and colors. Available in Nylon, Moisture-Wick Nylon, Cotton, and Wool fabrics.
VIM & VIGR products can be purchased at: Amazon, VIM & VIGR online.
*Provided by VIM & VIGR. CMP.LY/1 Review
If you have a product you'd like reviewed, contact me at info@weartested.org