On my summer trip to Europe, I've packed three The North Face items for wear testing in the heat of Rome (Roma, Italy) and the cloudy & wet weather in Amsterdam & Rotterdam (Netherlands): the short sleeve GETAWAY & VENT ME shirts and PARAMOUNT 3.0 pants. I figure these were the perfect apparel for braving the crowds and weather.

For us, the key performance metrics for travel apparel are:
Is it breathable?
How fast does it dry?
Does it wrinkle after washing?
Does it have zippered or hidden pockets?
How does it fit and feel?
All three items passed our performance metrics with flying colors but one item stood out as our favorite: TNF S/S GETAWAY shirt.
The North Face Short Sleeve GETAWAY Shirt
The TNF GETWAWAY Shirt is an ultralight and 100% nylon shirt featuring a secure internal Velcro chest pocket (medium-size) designed to keep your passport or other small valuables safe and out of sight. The Active Fit (more like Slim) is perfect and has the right length.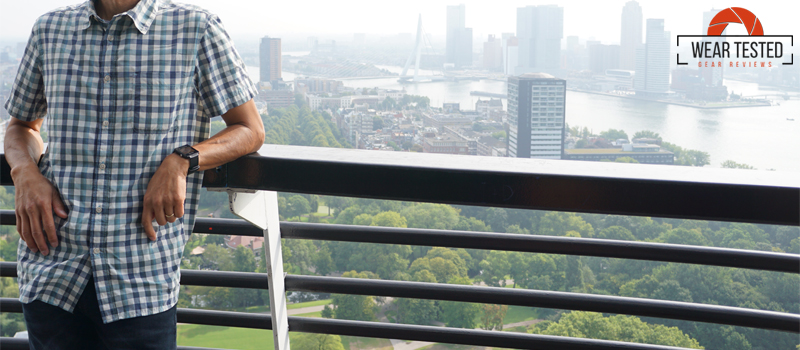 The North Face Short Sleeve VENT ME Shirt
The TNF VENT ME shirt is a lightweight (58% nylon, 42% polyester) shirt featuring a strategic mesh venting and has two double-layered secure zip chest pockets. Although classified as an Active Fit shirt, it is a bit loose in our opinion. This UPF-rated (UPF-30) shirt offer very good UV protection from prolonged exposure to the sun. It also has a ventilated-mesh back yoke found in some running apparel.
The North Face PARAMOUNT 3.0 Pant
The TNF PARAMOUNT 3.0 pants is a ultra-lightweight (96% Nylon / 4% Elastane) Straight Fit durable woven pants with a straight leg fit and a touch of stretch for improved mobility. The DWR (Durable Water Repellent) is applied to the face of the fabric to provide the first line of defense against wet weather and the lightweight and wicking material is highly breathable. There is also a utility zip pocket on the right hip. And like the VENT ME shirt, it also offers UV protection.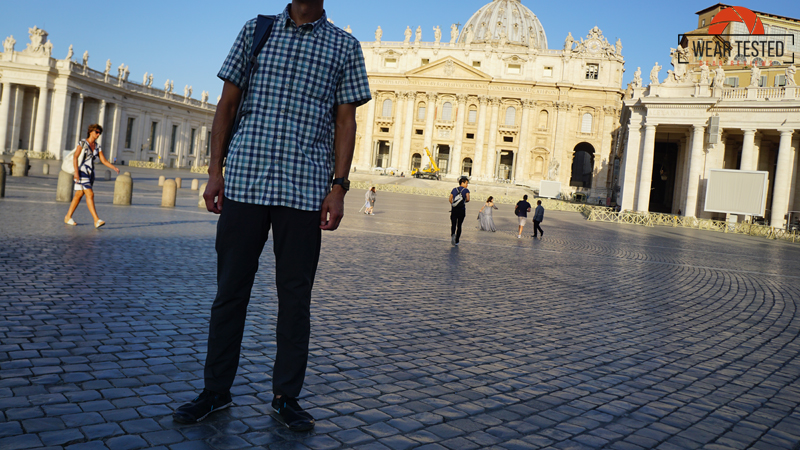 With all the heat in Rome and rain in Netherlands, I pretty much have to do hand laundry in the hotel every two to three days! All three items are very breathable and comfortable in both the heat & rain and all of them dry overnight after hand washing them. Both TNF shirts does wrinkle a bit but after wearing them for breakfast after each wash, they 'straighten' up. The hidden pockets are a godsend as that is where I keep all my underground, train, and tram tickets in addition to extra cash – much more comfortable than wearing a hidden waist belt since the hotel and bed & breakfast has mini-safes for our passports and other valuables.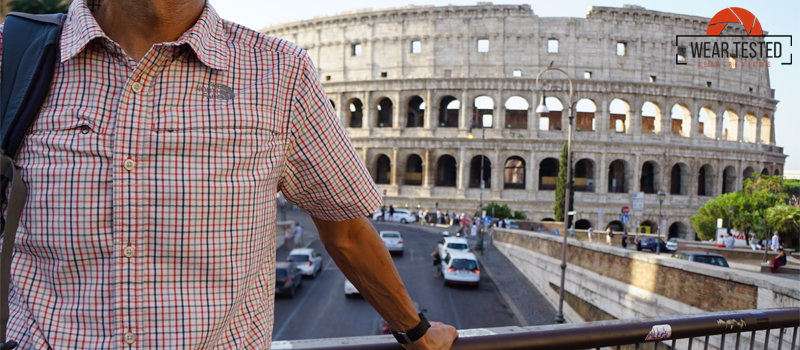 The TNF PARAMOUNT 3.0 pants is ultra lightweight and super comfortable – I wore them on the 16+ hour plane ride in addition to the heat in the streets of Rome. It does run an inch or so shorter than other pants but not a big problem. The built-in belt is handy if you are packing light or forgot your belt. The DWR works great for the rainy days in Netherlands!

Our favorite is the TNF GETAWAY short sleeve shirt because it is lightweight, slim fit, and sharp looking – it earned our Best Travel Shirt award! All travel shirts and pants available at Zappos and The North Face.