From Colorado-based Topo Designs comes two lifestyle packs to take with you when heading out on a daily commute, short hikes, weekend outings, or just to your local farmers market. Topo Designs top quality bags are all hand made in a LEED certified building in Colorado, USA. We've had the opportunity to use the Topo Cinch Tote and Trip Pack  for a few weeks now at a couple of Farmer's Markets here in the Bay Area and short trips with our dogs.
Topo Designs Cinch Tote
Made with CORDURA fabric and a cloth liner, the Cinch Tote features a natural leather lash tab, zipper external pocket, and a removable (optional) shoulder strap that fits through the leather lash tab allowing you to carry a little extra, like a jacket or hooking on a water bottle.
Whether it's the local farmer's market, a trip to the beach, or just a place to stash your stuff as you cruise around town, the Topo Designs Cinch Tote has you covered. With its durable CORDURA exterior it'll hold up to dirty floors and being tossed in the trunk. Fully lined with Nylon pack cloth the tote has a cinch top that allows you to secure your items inside, or leave it down for easy access. The shoulder strap allows you to carry it over your shoulder and can be removed if you don't need it. The front of the Tote has a zipped exterior pocket as well as a small sleeve pocket.
Topo Designs Trip Pack
Made with CORDURA fabric and a cloth liner, the Trip Pack features a leather lash tab, internal sleeve with zipper pocket, padded backpack straps with accessory D-ring, and a top carry handle.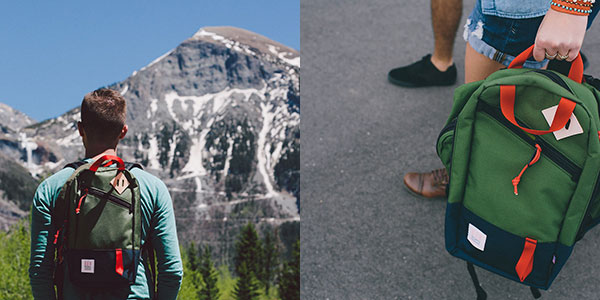 The Trip Pack was born out of the desire to have the perfect size bag for day trips while traveling, tucking necessities under the seat on a plane or just carrying a few things while tooling around town or on the trail. Topo gave it all the functionality of a daypack in a light, compact size that will keep all those excursion essential. Includes an external zippered pocket as well as an internal sleeve with zippered pocket that is the perfect size for an Internet tablet or newspaper/magazines.
So how did the Cinch Tote & Trip Pack perform?
I started off with the Cinch Tote as a way to replace the three reusable grocery bags that I normally use for the local farmer's market. I might have been over ambitious and did not think things through. On a regular visit, we buy over 20 pounds of fruits alone. Add in vegetables (potatoes, cauliflower, eggplant, etc.) and we have a heavy load spread over 3 bags normally. As I start loading some of  the fruit purchases into the Cinch Tote, I was really happy to have all the space and comfort from carrying all my purchases in a single bag. But as we continued buying more fruits, I attached the optional shoulder strap and still feel great that I have all my fruits in a single bag. Until I came home. The bag can carry a large volume of fruits but some of the fruits on the bottom were squashed! I really needed TWO cinch totes instead! Lesson learned. But it was one of the best tote bag (the extra cinch lock on the top did magic) I have ever used, hands down. With the coated inside lining, I'm never worried about getting it dirty as I can easily clean it (came in handy with the squashed fruits). And the quality built of the tote is second to none. After using it for a few weeks, the wear and tear is almost non-existent.
My female wear tester did another test by using the cinch tote for work and taking public transportation. She carried her lunch, novel, and newspapers easily in the tote. It was light enough that she did not require the optional shoulder strap. With her previous tote, she is always worried about her items falling out. But with a quick pinch and pull of the cinch top locking unit, she felt the added security and peace of mind. It was a no brainer and I agree with her.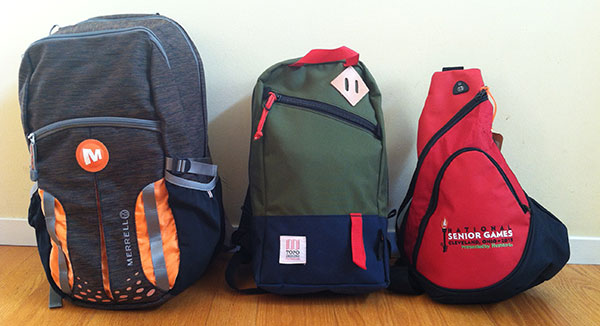 Don't you sometimes wished you have a back pack that is not too small or too big? On many occasions, this already happened to me. I have a  small shoulder bag that can carry small items like an extra T-shirt, hat, and water bottle that I bring with me for workouts on the track. Or a larger back pack that I used for travelling (instead of a duffle bag). But nothing in between. This is where the Trip Pack comes in. It's the 'goldilocks' of back packs. What if I need to bring an extra pair of spikes for the track? My small shoulder bag won't accommodate it. But the Trip Pack does! Or what if I need a secured zipper pocket for my keys and phone? Again, the Trip Pack to the rescue. It is always nice to have choices and I can't be happier with the Trip Pack for these situations.

Don't you wished choosing a pair of running shoes is that easy?
The Cinch Tote (MSRP $89) is currently available in 3 colors from Topo Designs.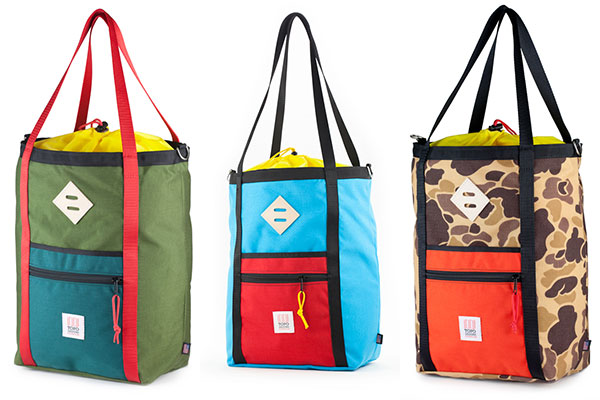 The Trip Pack (MSRP $89) is also currently available in 3 colors from Topo Designs.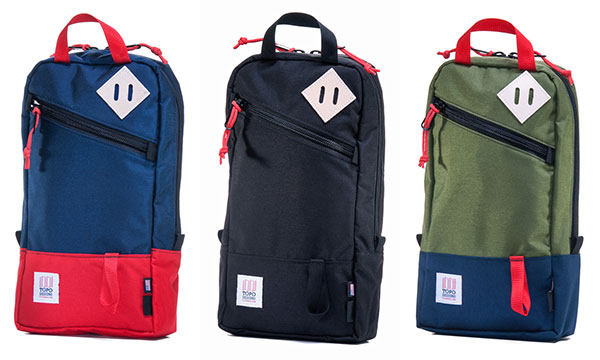 *Product provided by Topo Designs. CMP.LY/1 Review
If you have a product you'd like reviewed, contact me at info@weartested.org