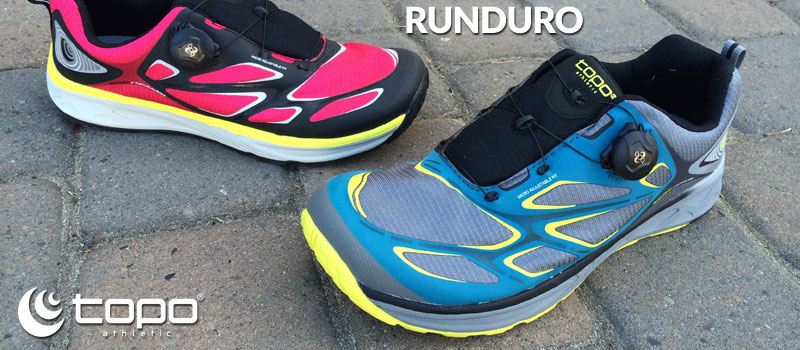 Topo Athletic's newest addition to its 'Run' collection, the Runduro is designed for medium and long distance running. With a 3 mm drop and mid-stack height (22mm heel, 19mm toe) platform for natural load and force distribution during the gait cycle, the Runduro PU printed upper and Boa closure system delivers comfort and a micro adjustable fit for the long haul.

For runners looking for a lightly cushioned shoes on recovery days or days that you don't feel like working your arch and feet with the Topo Speed Trainer (ST), the Runduro is a welcomed addition that you can rotate with. Or if you are going for your weekly long run…

So how did the Topo Athletic Runduro perform?
After putting in many runs with the Runduro on trails, asphalt, and rubber track over the past 2 months, both my female wear tester and myself have grown to like this shoe a lot. In fact, the Topo Runduro is Wear Tested 2014 Road Running Shoe of the Year (there are 6 award categories for 2014: Road Running, Road Racing, Trail Running, Multi-purpose Fitness, Casual/Dress, and Boot). The full list will be posted soon.

We are not fans of maximalist running shoes that have cushion on steroids but with a moderate amount of cushioning, they are another weapon in your toolbox. I hope this is the trend for 2015 as 2014 disappointed us with too many higher drop (heel to toe differential) and ultra-cushioned running shoes instead. Skora Running is also going in this direction for 2015 (tentative Feb '15 launch) with the Tempo model which we also love (future review here after running in them for over 3 months).
As with all the shoes we test, we ran sockless with the Runduro – no hot spots or blisters. The lining, tongue, and uppers are super comfortable while the foot bed and midsole felt like there is memory foam underfoot. There is just the right amount of cushioning that you won't get muscle atrophy in the longer term – of course this is subjective but that's our opinion…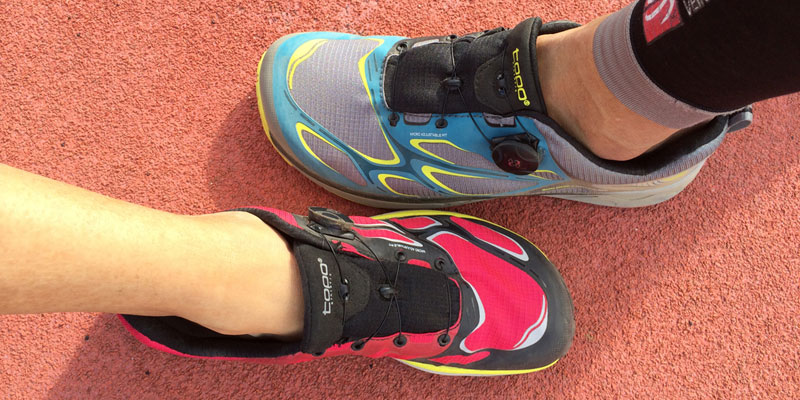 We have also grown to love the Boa closure system on a lot of the Topo Athletic models – say goodbye to shoe laces. It makes micro adjustments and getting your shoes on and off a cinch. It does add a slight premium to the purchase but it is well worth the extra benefits over time!
The Topo Athletic Runduro is available in two colorways for both men and women.
The Topo Athletic Runduro is available for purchase at Topo Athletic and Amazon.
*Product provided by Topo Athletic. CMP.LY/1 Review
If you have a product you'd like reviewed, contact me at info@weartested.org