The new Topo Athletic Fli-Lyte 2 offers a soft, highly-responsive ride, suitable for a variety of distances and speeds. The updated upper mesh offers additional structure and durability without affecting weight or breathability. The new platform is slightly softer and more flexible than their original, delivering a more natural feel.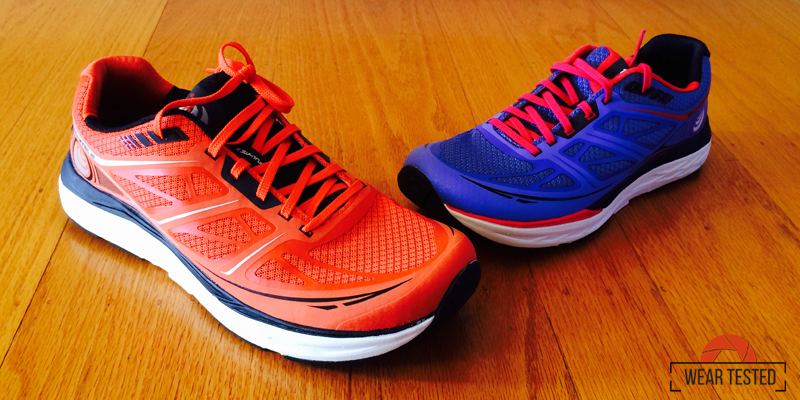 Being a runner dominantly on trails with shoes that have light cushioning, wide toe box, lightweight, and ultra-flexible, the Fli-Lyte 2 was a surprise. At first glance, the Fli-Lyte 2 looks bulky. But once you put them on, you'll immediately feel the super comfortable fit, lightweight, and wide toe box. It's not until after you run AND walk in them that you'll appreciate the slightly higher stack height – moderate cushioning. We're not fans of heavy cushioning in shoes (like Hokas), even those that are zero drop, so having a pair that has light to moderate cushioning is great for running on asphalt and walking on varied surfaces.

For the past two months, we've been running on a newly paved asphalt bike path – they've made the adjacent trail path angled so cannot run too long on them without hurting our ankles. But the asphalt is flat and smooth – you can certainly run barefoot on it. The light cushioning on the Fli-Lyte 2 is a welcomed addition due to the change in terrains for us!

Features:
4 mm outsole
14 mm EVA (heel) / 11 mm EVA (ball) midsole
5 mm footbed
23 mm X 20 mm total stack height
3 mm heel-to-toe drop
8.2 ounces (US Size 9)
The Topo Athletic Fli-Lyte 2 is lightweight enough for speed work on asphalt and tartan track. It is also great for long distances on hard surfaces like asphalt, packed trails, and concrete. And with the hot and dry weather in Northern California recently, the new uppers is very breathable, soft, and comfortable.
Guess what shoes I wear for walking my dogs for long walks every day? I used to wear the Terraventure and now I'm wearing the new Fli-Lyte2 instead! The orange colorway (men's) is also great for low light and night time walking and running – green or coral colorway for women would work too.
We also highly recommend the Fli-Lyte 2 for runners in traditional running shoes as this is probably the closest to a perfect transitioning minimalist shoe (natural running shoes).
Available at running specialty stores and online at Topo Athletic in various colorways for both men and women.