We recently reviewed Amphipod handheld hydration systems and I received a couple of emails from readers asking if there are any hydration system that can work for runners with small hands or thin waistlines. Then I remembered reading about Simple Hydration on the Kick Starter web site (the largest funding platform for creative projects in the world), a site that I visit weekly.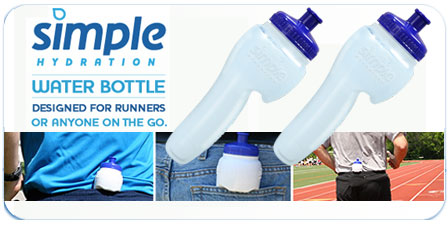 Simple Hydration founder, Brian Hock, loves to run and completed his first marathon when he was 12 years old. Brian has also completed 2 Ironman Triathlons in the last 3 years. Simple Hydration is the result of a project that solves the following problems for runners and active individuals everywhere:
Didn't like to carry water bottles with their hands as it hinders form.
Didn't like to use hydration belts because they are clunky.
Small bottles are hard to put back in hydration belt holsters.
Didn't like small cap openings on bottles (harder to fill and clean).
Didn't like how the bottle neck/caps were slanted.
Didn't like it when a bottle leaked.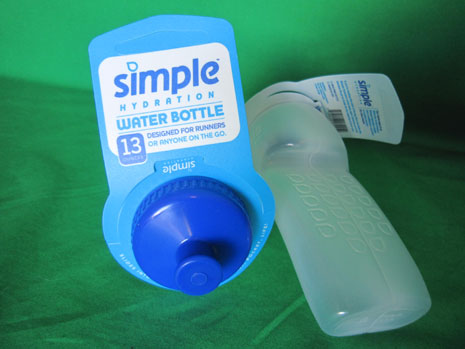 The product is the Simple Hydration Water Bottle – just slide the water bottle into your waistband, race belt, pocket, life! Currently only in 13 ounces size and made in the USA, the water bottles are LDPE and BPA-free. It has an large cap for easy filling and cleaning and is also dishwasher safe.
The contoured shape provides for a great fit and it rests comfortably on your hand when drinking. The only worry I had is if my running shorts would fall off with a fully-filled bottle? I decided to test it out first by walking only but briskly at 15 minute per mile pace. No problem. I just feel sweaty sometimes because I also utilized the elastic from my underwear or compression tights so I don't have to tighten the drawstring on my running shorts.

When running, it may take a while (at least a mile for me) before you feel that the water bottle 'becomes' part of your body. In some cases, I honestly thought I dropped the bottle during my run because it felt like it is not there! I don't think I have ever gotten that feeling when using a waistpack system. And I pretty much carry my water with me on almost every run for the past 3 months.
One thing I noticed is that there is no splashing of the water with the Simple Hydration water bottle – not sure why; maybe it's the design? With waistpack hydration systems, that is a common occurrence if you don't strap it on tightly and closely to your waist/body.
If it becomes too heavy initially, you can always hold the water bottle in your hand and after drinking some of it, you can put it back onto your waist. My observation is that 13 ounces is the perfect capacity for my running shorts – anything heavier (larger capacity) will require some major adjustments to the drawstrings. And my pants might still fall down!
The Simple Hydration water bottles are available at Simple Hydration web site and running specialty stores. And at under $20, it's a no-brainer.

http://www.simplehydration.com
*Product provided by Simple Hydration (MSRP $20). CMP.LY/1 Review
If you have a product you'd like reviewed, contact me at info@weartested.org