I've been eyeing a SCOTTeVEST jacket for quite a while since I travel to Europe and Asia twice a year. So I pulled the trigger last Black Friday and purchased the SCOTTeVEST Revolution Jacket (MSRP $225 so big savings) for my upcoming travels. For many of the popular tourist sites and crowded public transports especially in Europe where there are many pickpockets (I witnessed it first hand last year in a crowded Rome metro train), safety is my first priority.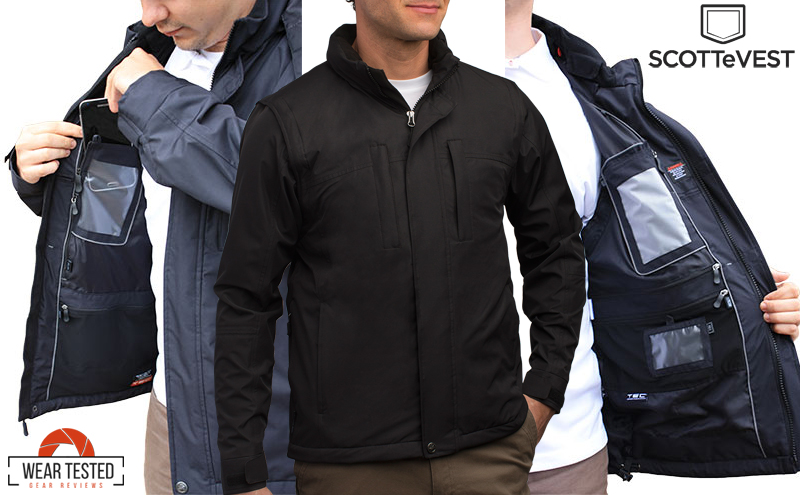 The SCOTTeVEST Revolution Jacket features 26 pockets to securely store and organize all of your gadgets and daily essentials. With the 100% Healspro LM poly fabric Revolution, you will always be prepared for changing weather conditions – the adjustable and detachable hood can be rolled into the collar for storage or zipped off and stored in one of the pockets. The water-resistant fabric (NanoTex) and magnetic wind-flap (over the main zipper) will help keep you protected on those unpredictable fall and spring days. Plus, the sleeves are removable so you can wear it as a jacket or a vest as temperatures fluctuate – easily done in seconds.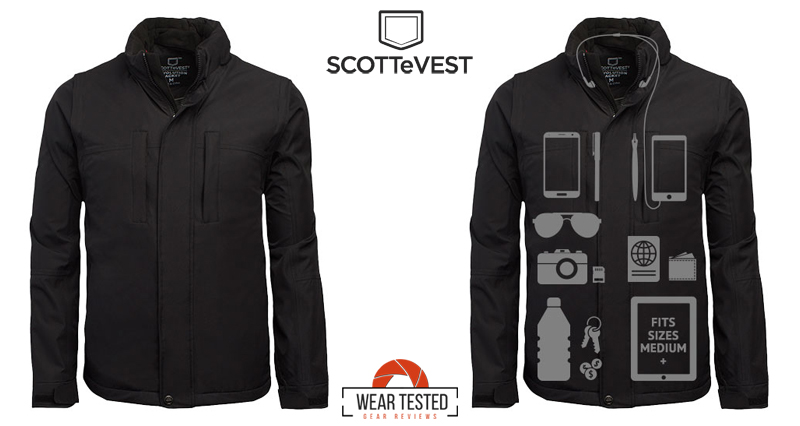 Features In A Nutshell
Removable Hood
BudBucket Pocket X 2
Pen Pocket X 2
Eyeglass Pocket
Digital Camera Pocket + Memory Card Pocket
Extendable Key Holder & Water Bottle Loop
Personal Area Network
Vertical Chest Pocket X 2
Pocket In Pocket X 2
Travel Documents Pocket
Pad Pocket
Change Pocket X 2
Attention to Details
Featuring SCOTTeVEST No-Bulge design, you will never look like the Michelin Man with all your gear loaded up inside the jacket. All SCOTTeVEST products use a Hanging Pocket design to create a streamlined look so items in your pockets do not create unsightly bulges. Couple this with the SCOTTeVEST Weight Management System, you can comfortably carry your belongings in your SCOTTeVEST jacket. Both the design and the fabrics used in the shoulder area create an even distribution of weight from your devices, allowing you to carry more than you could in a laptop bag. In our pants and shorts, the design allows for comfortable weight distribution and a streamlined appearance. There is even an elastic loop within the front pocket that acts like a seatbelt to keep a full size water bottle (16 ounces) upright. Now that's balanced!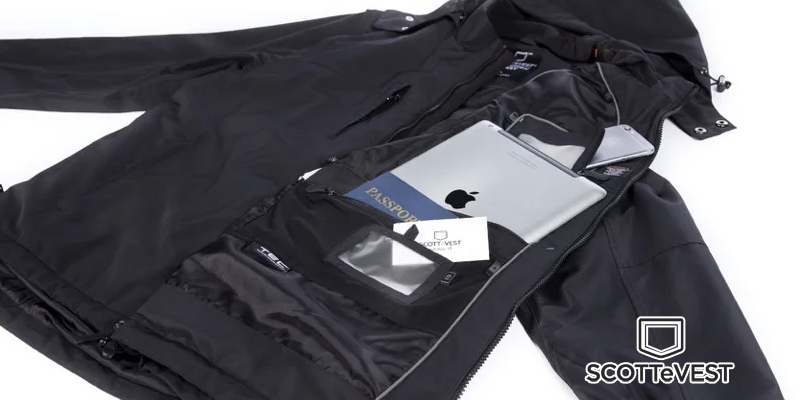 SCOTTeVEST is also known for their TEC (technology enabled clothing) wearable technology. Their patented Personal Area Network (PAN) allows you to wire headphones and power cables through specially designed channels in the jacket without getting tangled in loose wires.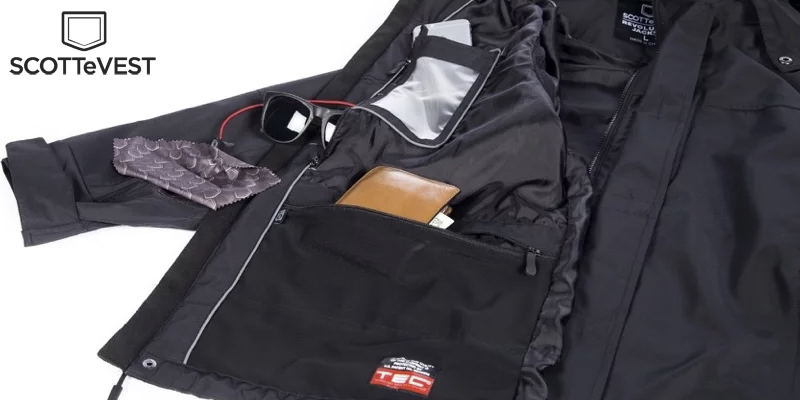 Even though there are many pockets, it doesn't mean you have to carry everything all at once. If you hate carrying a backpack or bag, this jacket is for you. If you like travelling light, this jacket is for you. What more can you ask? Most hotels have in-room safes so you can always leave your laptops, tablets, and passports. And only carry your smartphone, mirror-less camera, cash, backup power, sunglasses, reading glasses, water bottle, etc. while going around town travelling light. Feel totally comfortable and natural as you travel safely with your smart gadgets secured on your body and out of sight!
Travelling To Colder Weather?
If you're looking for the same great functionality and features for colder weather, the SCOTTeVEST Revolution Plus Jacket is the same great jacket with the addition of an insulated, quilted lining.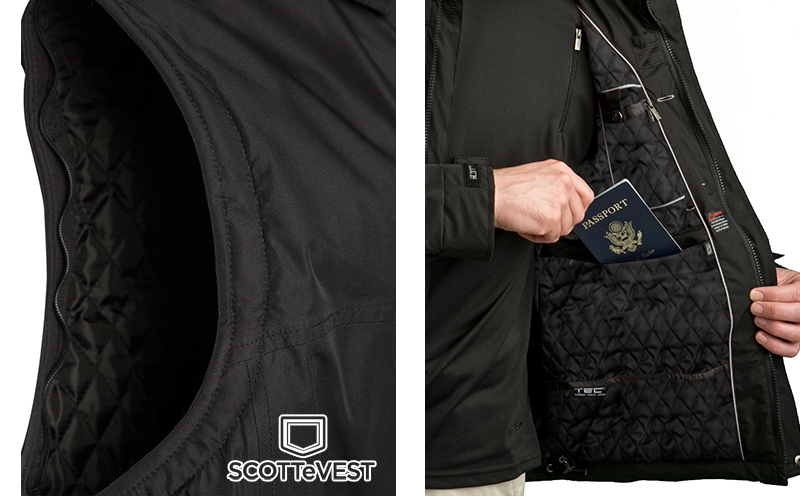 Wear a SCOTTeVEST once, and you'll be hooked…
Want To Save More?
SCOTTeVEST has a Refer a Friend program. Give your friends 30% OFF, and SCOTTeVEST will email you a 30% OFF coupon code after your friend's first purchase! Link is on top of SCOTTeVEST home page.