The new Runventure 2 trail shoe is one of the best fitting and most comfortable natural running trail shoe from Topo Athletic in my opinion – I have ran in every single trail model from them. Compared to the original version, the new Runventure 2 is softer and more flexible thus resulting in being much more comfortable.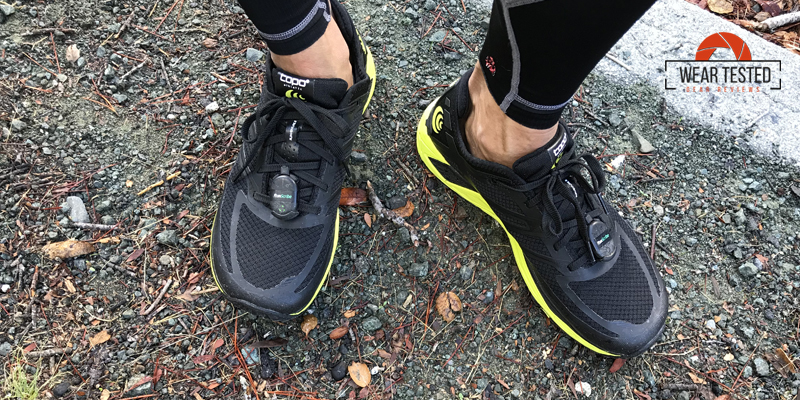 The Topo Athletic Runventure 2 is a lightly cushioned and responsive, zero drop trail runner. It uses the same high performance rubber sole found on the Terraventure, combined with a slightly thinner EVA midsole. Runventure 2 uses a relaxed elastane heel for a more natural feel. Runventure 2 also features a uniquely designed gaiter attachment to help keep out dirt and debris. Gaiters are optional and may be purchased separately.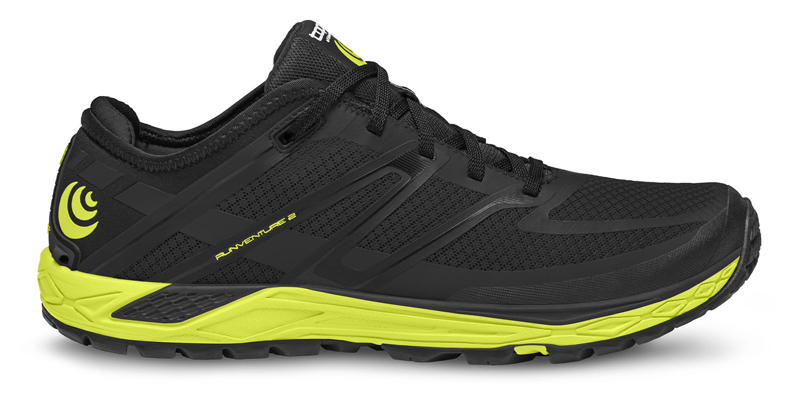 As with all Topo Athletic shoes, they all feature roomy toe boxes, rock plate protection, high traction outsoles, and true zero drop (0mm heel-to-toe differential).
Roomy Toe Box
Anatomical toe box allows toes to spread naturally and comfortably.
Rock Protection Plate
Flexible ESS rock plate protects against stone bruising caused by sharp rocks and roots.
High Traction Outsole
Combines multi-directional traction, heel braking lugs, and mud/snow release design features.
Zero Drop
Completely neutral drop for the most natural running experience.

The outsole lugs are aggressive enough for all the muddy and packed dirt trails I run on. With a stack height of 19mm and less than 10 oz (US men's size 10.5), you get excellent proprioception and ground control with the Runventure 2.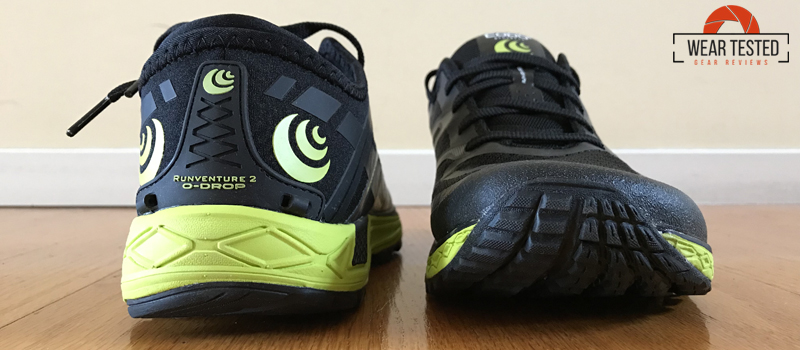 I have never ran with gaiters before but glad I tried out a pair from Topo Athletic. Their performance-oriented Lycra gaiters use a unique S-hook, 3-point attachment fastening system and is designed to be paired with the Runventure 2. These super-breathable gaiters weigh in at 0.6 ounces (16 g), dry quickly, and are highly effective at keeping out dirt and debris, especially on gravel trails. the S-hook fastening system does not collect dirt and sand and thus weaken over time as is seen in gaiters with Velcro fasteners…

I get small debris (rocks or wood chips) lodged into my running shoes all the time but never had to stop to remove them. But even better, keep them OUT in the first place – with gaiters. Additionally, since I don't wear socks, the gaiters also keep my ankles and feet warm as a side benefit!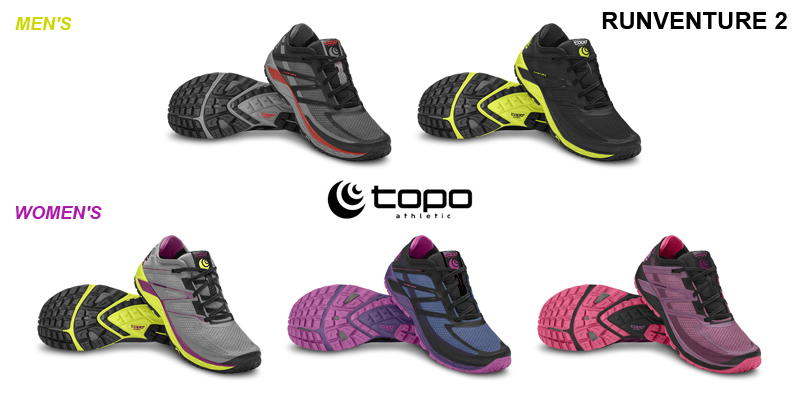 The Topo Athletic Runventure 2 is available in two colorways for men and three colorways for women from Topo Athletic. I like that they are bringing the original color combination from the first (tabi, split toe) ever road running shoe from Topo – my favorite black with green. Enjoy them as I did!