In the September 2011 issue of Runner's World US and the October 2011 issue of Runner's World UK, both the US and UK editions have the same cover and also cover similar articles except for the Shoe Buyer's Guide.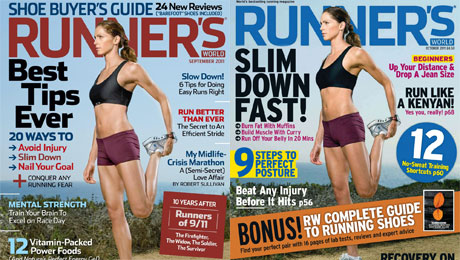 The US edition 'Fall Shoe Guide' featured 24 new reviews including four minimal shoes – New Balance 1400, Nike Free Run+ 2, Reebok Flex Run, and Vibrams Five Fingers Bikila LS. BUT, the UK edition 'Autumn/Winter 2011 Shoe Guide' featured 24 different shoes AND a very informative article named, 'The Making Of A Shoe – The 18 month journey from drawing board to your feet'.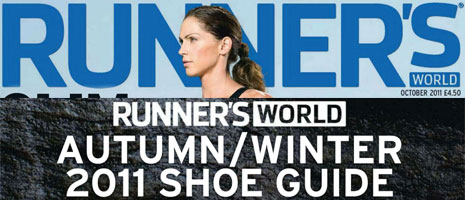 For those of you who think that designing and producing a running shoe is easy, this will help explain the complicated process – footwear manufacturers will tell you it's several factors more complicated that the simple illustrations. And the inherent delays in getting it to market.
Design & Development – 9 months
Manufacturing – 4.5 months
Fulfillment – 4.5 months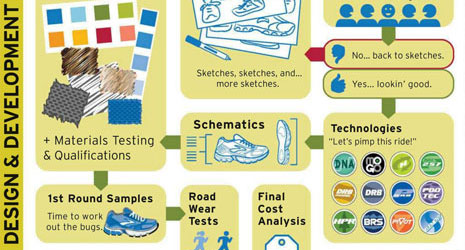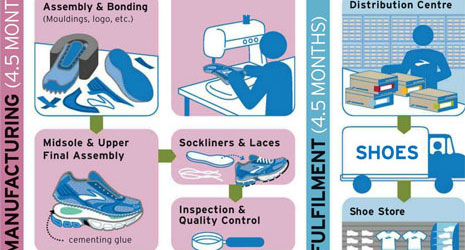 I'm sure Runner's World UK will eventually post this article online as they have some of the articles from September (featuring Jess Ennis) posted.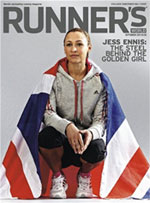 Hats off to the folks at Altra Running and Skora Running for taking the plunge with all the risks and rewards associated with it!!!