The Opedix DUAL-Tec™ 2.0 ¾ Length tights incorporates Opedix Torque Reform Technology (TRT) for improved mobility and stability during training, rehab and everyday pursuits. By optimizing joint functions, it allows you to do the things you love longer, better and with less pain and fatigue. As any competitive athlete knows. pain and soreness is part of the game. From my running, it is rare ever since I started running with minimalist shoes and natural running form. But from Masters track & field, I pull muscles and twist ankles all the time unfortunately…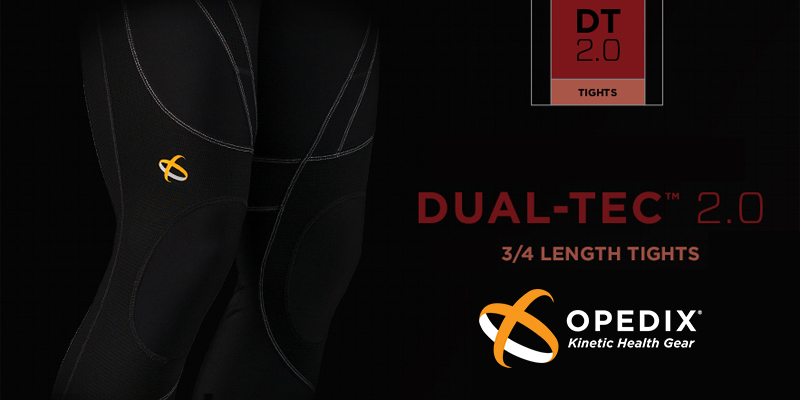 With sore knees and glutes from sprinting and triple jump training, I ran a couple of 10Ks in trails wearing the Opedix DUAL-Tec tights. The compression fabric kept my glutes in check whereas the TRT allowed natural knee movements while keeping my body aligned and proprioception intact – form fitting stitching along just the right places provided extra support. The analogy or alternative is to use strategically placed kinesio tape to simulate but not totally effective to keeping your whole body aligned. Without these tights, I would usually compensate for the pain or soreness by favoring the left or right thus introducing new pains or lengthening my injury recovery time. Worse yet, I might even get new injuries.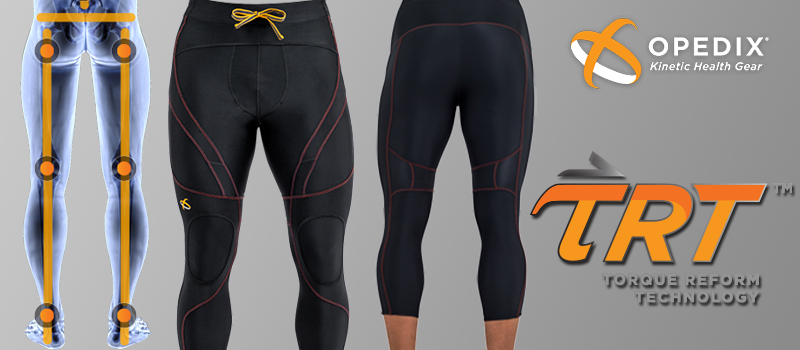 There is a comfortable low-profile stretch waistband with draw cord on the DUAL-Tec tights providing a perfect fit. The lightweight moisture wicking compression fabric ensures proper anatomical location of Opedix patented Torque Reform Technology. From the knees to the lower lumbar region, TRT redirects external forces and increases proprioception. The patellar panel prevents pressure on the kneecap (patella) thus allowing freedom of patellar movement.
By redirecting external forces and increasing sensory input, Opedix Technology triggers a sequence of neuromechanical events that activate your kinetic chain. It's a training cycle that compounds over time as your body adapts to changes in mechanical and sensory input. It's a cycle with a lifetime of benefits.
Features
23-panel construction for optimal fit and function
External draw-cord at the waist
Gusseted crotch for comfort and freedom of movement
Low-profile elastic waistband for improved fit and comfort
Breathable moisture wicking OPX
TR+ mesh fabric to help regulate temperature and manage moisture
Anti-odor treatment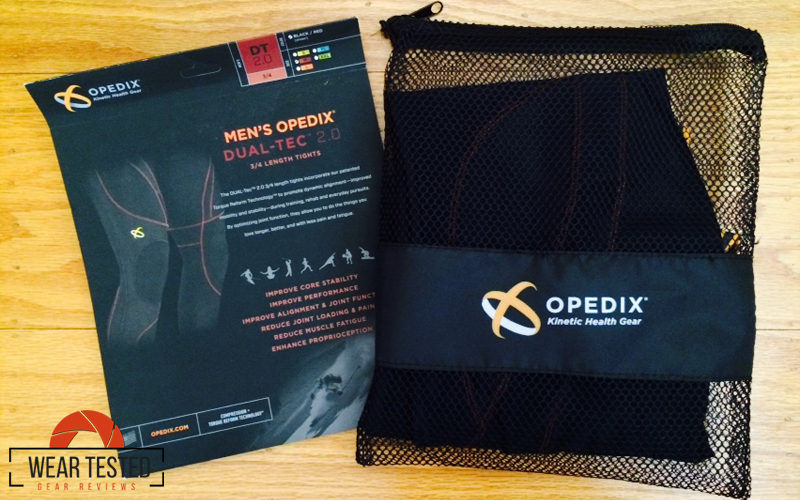 KOOS
Pricing is a whopping $225 but if you think of this as medical equipment and if you can preserve your body's kinetic health (a measure of how well and efficiently it move) when challenged with injuries, fatigue, fluctuating fitness levels, aging or changes in athletic activity levels, this is a no-brainer. If you are curious, Opedix has a Kinetic Health Test that you can take (takes 5 minutes or less). The Knee Injury and Osteoarthritis Outcome Score, otherwise known as the KOOS, is a standardized questionnaire that assesses your opinion about your knee and any associated problems. The KOOS provides a score that represents the current Kinetic Health of your knees that ranges from 0 to 100, where a score of 100 represents the healthiest score possible. This score will be provided upon completion of the questions below, which you can compare with average scores for your sex and age range. You may track the Kinetic Health of your knees over time by repeating this questionnaire over weeks, months, or years.
My KOOS or Kinetic Health Score is 85. Self-reported knee complaints and the associated effects on function vary with sex and age. Your results are plotted on the graph in Red along with the average values specific to your sex and age-range in Orange. Visually compare your scores against the mean scores of your peers. If your score on any subscale is below the range of scores provided then your Kinetic Health is lower than your age and sex matched peers whereas if your range of scores is higher than your Kinetic Health is higher than your age and sex matched peers.

Comparison between DUAL-Tec and KNEE-Tec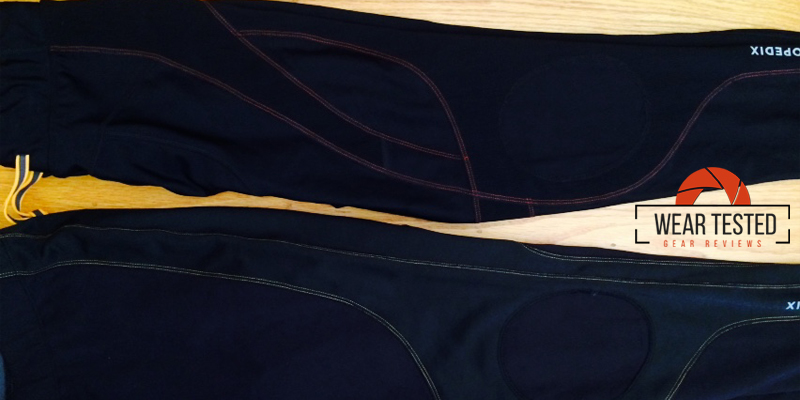 The Opedix tights are similar in many respects but here are the differences:
23-panel construction in the DUAL-Tec versus 18-panel on the KNEE-Tec
Different non-stretch bands and panels providing corrective support
The DUAL-Tec mesh fabric felt thicker but still same breathability – maybe because of wear-and-tear from use and laundry over the years.
My older version of KNEE-Tec has the elastic waistband on the inside but the newer tights and shorts now all have it on the outside.
The KNEE-Tec has a zippered pocket on the right rear but not on the DUAL-Tec (the newer versions does not appear to have them)
I do miss the rear zippered pocket for carrying my keys, ID, and cash…
Good luck!