Ever since college, I've been exposed to alternative energy sources like Solar Energy, Wind Power, and Hydro-Electric Power as my older brother is an Environmental Planner and Solar Architect in Arizona. 'Going Green' was not even on anyone's radar in the 80s. My first exposure was a visit to Arcosanti, an experimental town in the high desert of Arizona, 70 miles north of metropolitan Phoenix. When complete, Arcosanti will house 5000 people, demonstrating ways to improve urban conditions and lessen our destructive impact on the earth.
While in college, I also went on a field trip to Taliesin West,  the desert masterpiece from architect, Frank Lloyd Wright, 'the greatest American architect of all time' according to the American Institute of Architects (AIA) – brilliant integration of indoor and outdoor spaces.
Fast forward to 2011. For the past 6 years, I've started going green by recycling over 95% of our household waste, using LED lighting, upgraded to energy-saving major appliances, etc.  Recently, I've been reading about how companies like New Balance, Under Armour, Terra Plana, Urshuz, Civic Duty Shoes, and Simple Shoes  are  doing their part to save the earth by creating shoes and apparel using recycled waste. I support their efforts 100% and would like to share an understanding of their green and sustainable technologies here.
A note about PET Plastic Bottles
Two million plastic bottles are used in the U.S. every ten minutes and 51 billion plastic bottles go into landfills annually.
The 51 billion plastic bottles in U.S. landfills end-to-end would wrap around the earth 5 times.
It will take 700 years before plastic bottles in landfills start to decompose.
Less than 30% of plastic bottles in the U.S. are actually recycled.
Currently only 11 U.S. states have bottle deposit
From a non-technical standpoint, PET (PolyEthylene Terephthalate) plastic water bottles are recycled to reuse the material out of which they are made and to reduce the amount of waste going to landfills. PET is one of the most common consumer plastics used.
New Balance newSKY
The concept of New Balance newSKY was founded on the principles of Reduce, Reuse, and Recycle. With a shoe uppers constructed entirely out of fabric made from post-consumer plastic bottles, newSKY represents an innovative approach to both material and shoe design as part of a greater effort from New Balance to adopt more sustainable practices.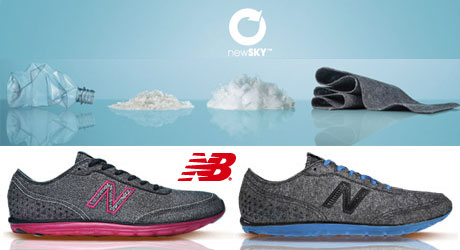 The upper of newSKY is made entirely from Eco-fi, a high-quality polyester manufactured from 95% PET plastic bottles. Bottles are chopped into flakes, heated, and molded into fiber, creating a strong, versatile fabric. It takes only about 12 bottles to produce one pound of fiber and only about 8 bottles to create an average pair of newSKY shoes.
By working with the fabric's distinctive features, New Balance shoe designers eliminated the need for many traditional, non-recycled materials. Each element of newSKY is a testament to thoughtful shoe construction through an innovative use of material. Fabric made from post-consumer plastic bottles was developed into a comfortable, well-designed shoe.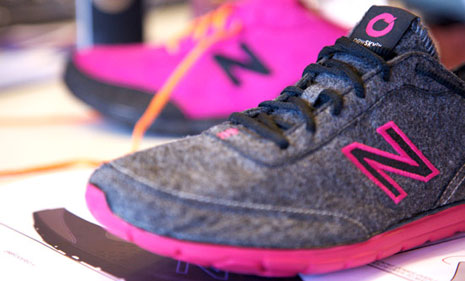 More about New Balance newSKY here.
Under Armour Green
Under Armour Green goal is to fuse performance products and green technology. UA Green products are also made from recycled plastic bottles just like New Balance. And their first step is to engineer performance fabrics made from recycled materials.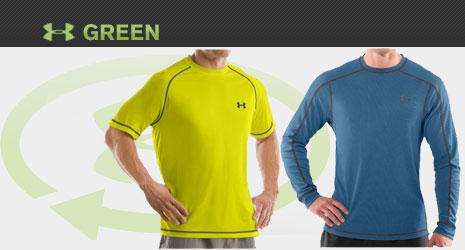 In 2010, Under Armour estimated that they will convert over 1 million one liter plastic bottles into performance products. They recognize that the environmental footprint of their products comes from more than the raw materials used in production and is committed to extending their focus beyond recycled raw materials – understanding and improving the manufacturing, packaging, dying, printing, and other facets of their products' environmental footprint in an ongoing effort to lessen their impact on the environment.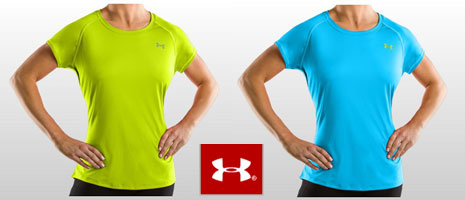 More about Under Armour Green here.
Terra Plana VIVOBAREFOOT
VIVOBAREFOOT, the performance shoe division of Terra Plana,  is looking after our feet and planet by working with companies who make materials in a range of environmentally friendly ways. Terra Plana uses over a dozen recycled and sustainable materials in manufacturing their shoes.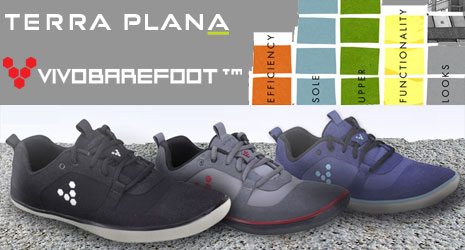 Example 1: Insoles – all insoles are non-toxic and made without the use of any heavy metals. They use 70% recycled Polyurethane and natural cork thus moisture wicking, odor absorbing, fast drying and anti-bacterial.
Example 2: Athletic Mesh – used throughout the collection and composed of 100% recycled plastic bottle fiber, the middle layer is completely biodegradable and the lining is made from 50% recycled plastic bottle fiber.
Example 3: Soles – made from reconstituted natural latex and rice husks. They are however hardwearing and non-slip.
And lots more…
Terra Plana has developed their 'Eco Matrix' which is inspired by a scientific Life Cycle Analysis. The matrix sets out to score their products' environmental impact throughout their lifecycle. The lifecycle runs from raw material procurement through processing, manufacture, wear and finally disposal.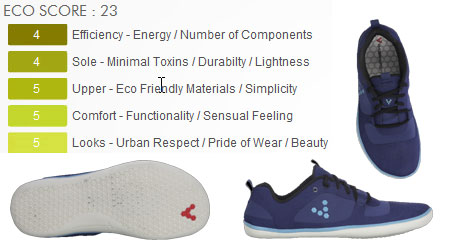 More about Terra Plana here.
Urshuz
Urshuz gives consumers the freedom to customize their footwear with interchangeable, durable, eco-friendly options. Pronounced 'Yer Shoes' because they are YOUR SHOES, Urshuz soles are made from injection molded TPR (thermo-plastic rubber), which is 100% recyclable, and since they are not permanently fixed to the upper with glue, the soles of Urshuz can easily be detached and sent back to the factory to be reground and molded back into completely new soles.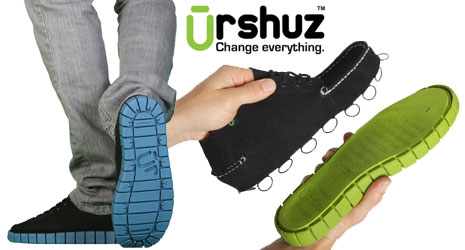 The ability to change a shoe's sole means more than the ability to customize, it means savings—for the consumer and for the environment.  These interchangeable shoes don't have to be trashed when the soles are worn.
More about Urshuz here.
Civic Duty Shoes
Civic Duty footwear is made of Tyvek®, a comfortable, breathable material made by DuPont™ that is also water resistant and highly durable. Tyvek, it's not just for FedEx anymore. The lightweight, paper-like material , best known for its use in mailing pouches and home building, provides the inspiration for a new line of casual sneakers. The collection, fulfills creator Steven Weinreb's desire for a brand that will give back to the community. Each year, the 100% of the profits from one of the styles will go to a charity selected by the brand's consumers.  All of Civic Duty's Tyvek sneaker s are recyclable and stylish.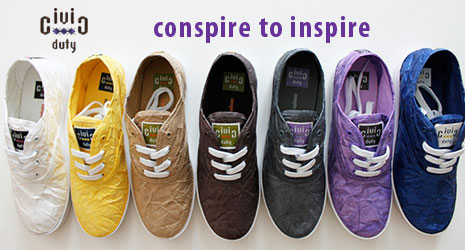 Currently, 100% of the profits from the Fascination (classic styling with signature argyle heel strip) Black Metallic Gold model will be donated to Common Ground Relief, a state and federally registered 501c3 not-for-profit organization providing short term relief for victims of hurricane disasters in the Gulf Coast region and long term support in rebuilding the communities affected in the New Orleans area.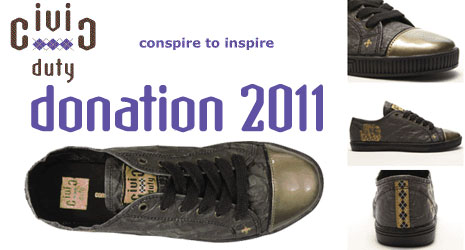 Mire about Civic Duty Shoes here.
Simple Shoes
Simple Shoes is probably most well-known for finding materials and processes that make their products sustainable using a method called 'Green Toe', a compass that points to a bright green future. Of all the footwear manufacturers, Simple Shoes is THE company that uses the most variety of recycled and sustainable materials.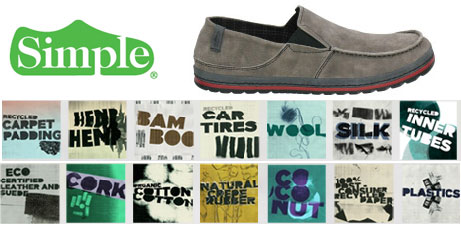 Example 1: Recycled Car Tires – a single used car tire is used to make the outsoles for six pairs of men's size 9 shoes.
Example 2: Recycle Plastic (PET) – used to make some of their shoelaces and the wrapping around the latex elastic used in some of their shoes.
Example 3: Cork – antimicrobial, spongy, resilient, and farmed without killing trees.
And lots more…
More about Simple Shoes here.
Go Green Now!
I'm sure there are many more footwear and apparel manufacturers  doing their part on using recycled materials for creating sustainable products – the companies featured here are the ones I'm dealing with directly so I see their products first hand. Other manufacturers are welcomed to contact me at (info at weartested.org).
When are you going green and doing your part to save the earth?