Dr. Phil Maffetone next block-buster hit. If you have done any heart rate monitor training, you would have read his other book, The Big Book of Endurance Training and Racing. And you'll love this one. I can't wait to read the whole book in the next few weeks!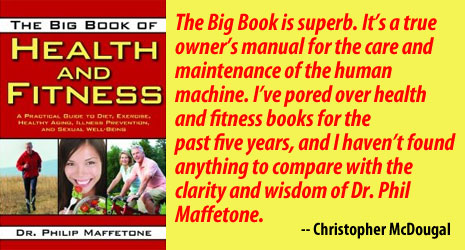 You can order your copy from Amazon.com.
More from this YouTube video:
Table of Contents:
Section I Choose Your Food Wisely
Chapter 1 Eating the Right Foods Will Improve Your Health and Give You More Energy
Chapter 2 Carbohydrate Intolerance and the Two-Week Test—Learning How to Move Past Low Energy, Fatigue, and Weight Gain
Chapter 3 Carbohydrate Foods—The Good, the Bad, and the Really Harmful
Chapter 4 Ignore the Big Fat Lie—Why Having a Right Balance of Fats in Your Diet Will Significantly Improve Your Health
Chapter 5 Chronic Inflammation—What You Can Safely Do to Eliminate It
Chapter 6 The Power of Protein—Are You Eating Enough?
Chapter 7 Eat Your Vegetables and Fruits—Understanding the Importance of Phytonutrients and Truly Going "Organic"
Chapter 8 Water—The Body's Most Important Nutrient
Chapter 9 Dietary Supplements—What You Don't Know Will Hurt You
Chapter 10 The Sun and Vitamin D—Why You Need Both to Stay Healthy
Chapter 11 Make Life a Moveable Feast with Healthy Eating, Snacking, and Cooking
Chapter 12 The Healthiest Diet—Follow Your Own Nutritional Intuition
Section II Physical Health and Fitness
Chapter 13 Understanding the Foundation of Fitness—Your Aerobic and Anaerobic Systems
Chapter 14 Heart Rate Training—Applying the Basic Principles of Aerobic Fitness
Chapter 15 The Hidden Dangers of Stretching
Chapter 16 The Feet are Your Body's Foundation
Chapter 17 Footwear Made Simple—Finding the Right Pair of Shoes Is a Key Step to Better Health
Chapter 18 Every Runner Is Different—the Intimate Relationship Between Footwear and Gait, and What You Can Do to Improve Both
Section III Self-Care
Chapter 19 Stress and Hormones—How They Affect Your Overall Health and Fitness
Chapter 20 Getting to Know Your Brain—Diet, Physical Activity, and Lifestyle All Play Important Roles
Chapter 21 Your Muscles—Keeping Them in Balance to Prevent Aches, Pains, and Even Serious Injuries
Chapter 22 The Gut—Your Gastrointestinal Tract Is the Gateway to Good Health
Chapter 23 Stopping Cancer Through Prevention and a Healthy Lifestyle
Chapter 24 Healthy Heart—Cardiovascular Disease Is Preventable
Chapter 25 Healthy Sex—For as Long as You Want
Chapter 26 Finding a Health Care Practitioner
Chapter 27 How to Age Gracefully—It's Much Easier Than You Think
Appendix A Healthy Meal Ideas
Purchase your copy now from Amazon.com!