I wrote last November about the most influential footwear manufacturers in '2011 – The Year of Minimalist Shoes'. The majority of them delivered as promised but a few faded and a few jumped ahead in the pack.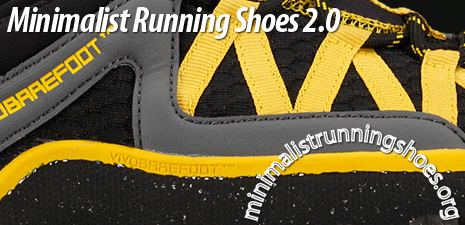 Coming late Fall '11 and Spring '12, the next generation of minimalist running shoes or as some refer to them as barefoot running shoes, will once again overwhelm the typical runner. There will be minimal shoes in various categories from transitioning (or bridging or gateway minimal shoes) to neutral minimal shoes to barefoot shoes.
We're only focusing on running shoes (road and trail) in this article. There will be a follow-up article in the next few weeks where we will cover more about the next generation Minimalist Lifestyle and the various categories like fitness, casual, walking, water sports, golf, and more.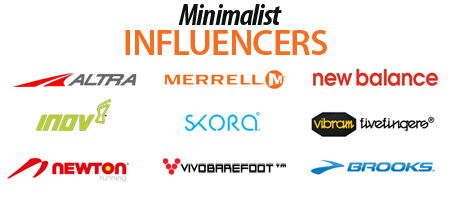 Here's a list of Minimalist Influencers, leading shoe companies that will drive the adoption, education, and development of minimal shoes (alphabetical):
Altra Running
Brooks Running
Inov-8
Merrell
New Balance
Newton Running
Skora Running
VIVOBAREFOOT
Vibram Five Fingers
For a select group of runners (myself included), minimal shoes are the only way that they can run pain-free and injury-free. The masses are just starting to 'get it' and because each runner is different in more ways than imaginable, the adoption rate is slower. But whether they start off going barefoot first, transitioning with bridging or gateway shoes (with light cushioning), or going straight to zero-drop minimal shoes, the key is education and moderation. Minimalist or barefoot running shoes are just training tools for developing better running form. Good running form leads to pain-free and injury-free running. Lastly, and most important of all, it leads to enjoyable running!

What follows are some of their new models that will again change the minimalist running shoe landscape. The shoes mentioned will be available Fall '11 or Spring '12 (between September 2011 and Feb 2012).
Altra Running
The Altra Instinct and Intuition cushioned minimalist running shoes have been big hits for Altra. Their pure minimalist models, the Adam for men and Eve for women should be available soon – near barefoot running shoe and foot shape design allowing you the feeling of running barefoot with a shoe still on. Both have breathable stretch uppers with a secure cinch strapping and a See-no-Seam stitch-free footbed.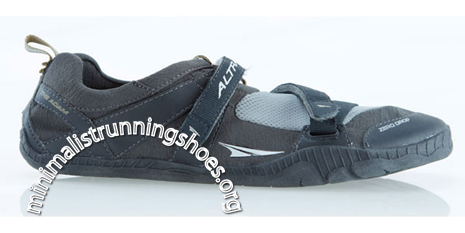 There will be a laced version of both minimal models, Samson for men, Delilah for women, for Spring 2012.

Available in September 2011 (Adam/Eve) and February 2012 (Samson/Delilah) from running specialty stores and Altra Running.
Brooks Running
Brooks is late to the party but the Pure collection looks very promising with transitioning shoes and minimalist running shoes. All four shoes in the collection have a 4mm drop, anatomical last, toe flex grooves, and Brooks signature inverted heel promoting a natural foot strike.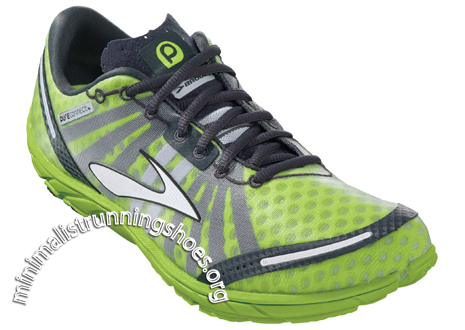 The Pure Connect for road running and Pure Grit for trail running stands out as neutral minimal shoes. The Pure Flow has extra cushioning whereas Pure Cadence has extra support (minimal motion control).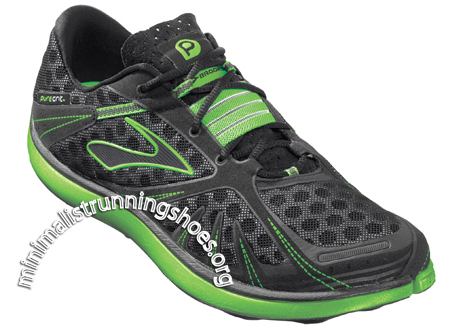 Available in October 2011 from running specialty stores and Brooks Running.
Inov-8
The British footwear maker Inov-8 introduced a series of road running transitioning shoes earlier this year – Road-X Lite 155 (most popular) and Road-X 233. Now they're coming out with zero drop road running shoes that is the natural next step for those in the late stages of transitioning.
The Bare-X Lite 150 has a EVA midsole, quick lacing system, and a tongue-less 3D air mesh upper that is stretchy to ensure a secure and comfortable fit.
The Bare-X 180 is minimalist and natural with 0mm differential and no midsole ensures the foot remains as close to the ground as possible.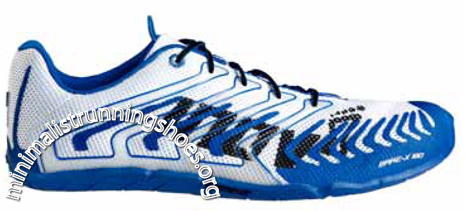 There is also a women's only Bare-X Lite 135 that identical to Bare-X Lite 150 except that it is the lightest road running shoe available (15 grams or 0.5 ounce lighter than the 150) from Inov-8.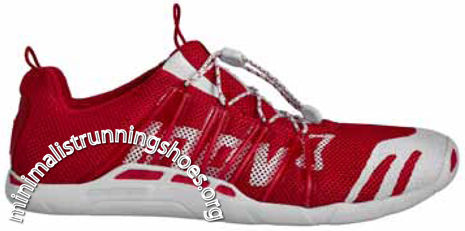 Merrell
Merrell is blasting ahead with its super-successful barefoot platform with two exciting new shoes for Spring 2012 – the Road Glove (Dash Glove for women) and Barefoot Access (Barefoot Access ARC for women). The Road Glove has a synthetic leather and breathable air mesh uppers with reflective materials. It also has a fused rubber bumper. The midsole does not have the shock absorption plate found in the Trail Glove and that is probably what is allowing for a pancake flat landing for road running.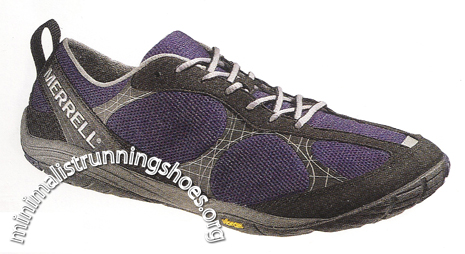 The Barefoot Access is a gateway shoe for the masses – those runners starting to transition to minimal shoes and helping them develop better running form slowly. It is almost identical to the Road and Dash Glove except for the extra 8mm M-Bound cushioning and slightly different outsole lugs. Great for long runs or for those starting to transition to barefoot shoes.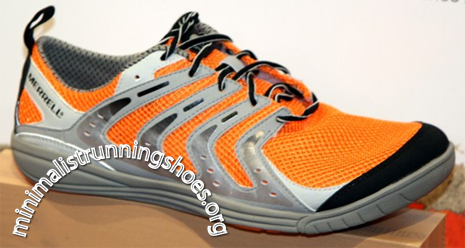 Available February 2012 from running specialty stores and Merrell.
New Balance
Following up on the successful first-generation Minimus collection (4mm drop), New Balance is finally releasing a full zero drop line of road and trail minimalist shoes. The Minimus Zero Road and the Minimus Zero Trail both have a 0mm heel-to-toe drop, lower stack height, and lightweight (6.4 oz for Zero Road and 4.4 oz for Zero Trail). Minimus Zero Road shaved off 1.8 ounces in weight and 5mm from the stack height.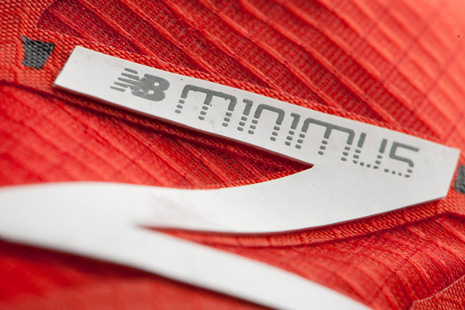 Minimus Zero Trail shaved off a whopping 3.1 ounces (or 42%) and 2mm off its stack height. This will be one of the lightest trail shoe available!
An update to the award-winning New Balance 101, the NB 110 offers many of the same features and benefits that made its predecessor successful. But the shoe is positioned as a gateway for those runners looking for a minimalistic shoe but aren't quite ready for a fully barefoot-inspired running experience. The 110 is now built on the same natural running last (NL1) used in the first installment of the NB Minimus collection – 4mm drop, sockless wear with barefoot-friendly interiors and no insert.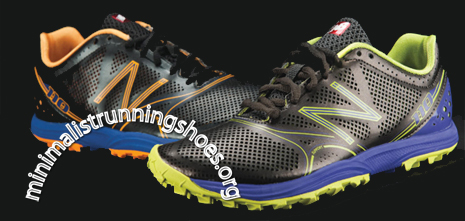 Available January 2012 for NB 110 and February 2012 for Minimus Zero from running specialty stores and New Balance.
Newton Running
The new Newton MV2 is engineered to be the lightest and most efficient natural running shoe. The MV2 second-generation Action/Reaction Technology™ provides greater protection for running on hard surfaces. Designed to be a racer and inspiring speed!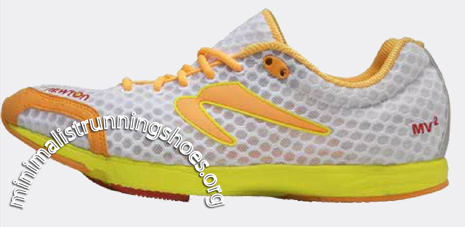 Zero drop and weighs about 6 ounces. For those already running in Newton shoes, this will be a welcomed addition. For those who have not, this shoe will still require the same adjustment period and fitting as other Newton shoes.
Available in September 2011 from running specialty stores and Newton Running.
Skora Running
A late start-up to the party, Skora will launch with two models, BASE and FORM. Both have the same R01 platform (outsole, midsole, sock liner), reflective detail, high abrasion rubber, anatomical flex grooves,  and built on the RealFit anatomical last – zero drop, wide asymmetric toe box, minimal cushioning, curved heel and forefoot.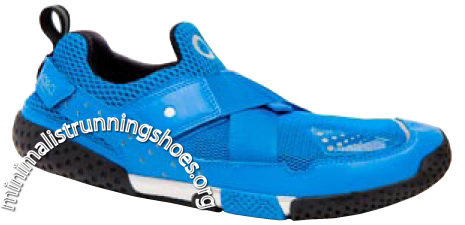 Both models also feature an elastic heel strap for a personalized fit, reflective details and stitch-down construction with a removable Ortholite antibacterial minimal insole.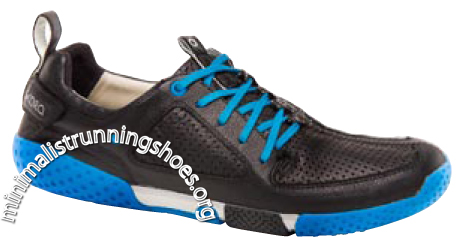 Available February 2012 from running specialty stores and Skora Running.
VIVOBAREFOOT
VIVOBAREFOOT's official barefoot trail running shoe is the Neo Trail with its patented ultra-thin sole, anatomic shape and good looking design. Juggling proprioception with grip and traction, the Neo Trail is the way to experience off-road adventures. It has a zigzag webbing eyelet system and external bridge loop to fasten the hydrophobic mesh upper with its padded collar.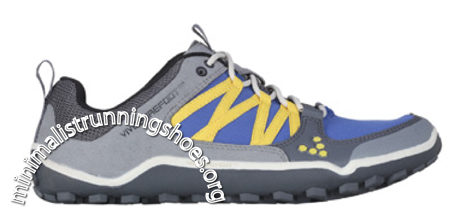 For road running, a new outsole is being introduced with the Aqua Lite for men, Lucy Lite equivalent for women. The Aqua Lite has the lightest and thinnest VIVOBAREFOOT sole (3mm), extra wide anatomic shape, lightweight stitch-less uppers with a breathable and water-resistant mesh.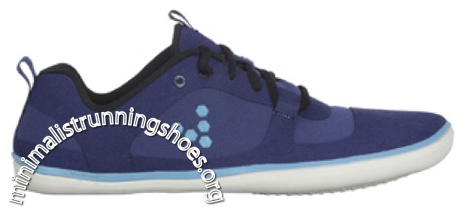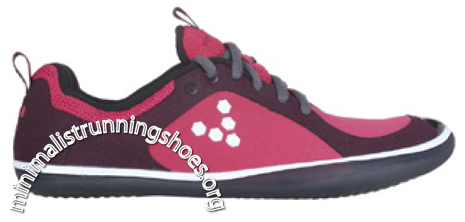 And coming in Spring 2012 is another trail shoe, the Breatho Trail, a summer barefoot trail shoe. It features a sock-like construction and external lacing structure which secures the foot when running on technical terrains, while the anatomic toe box allows maximum toe splay and flex.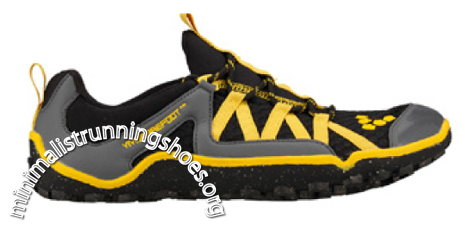 Available in September 2011 from running specialty stores and VIVOBAREFOOT.
Vibram Five Fingers
Vibram supply outsoles to most of the Minimalist Influencers discussed in this article. But their original claim to fame is the Five Fingers collection and countless models over the years. Their top running model is the Vibram Five Fingers Speed.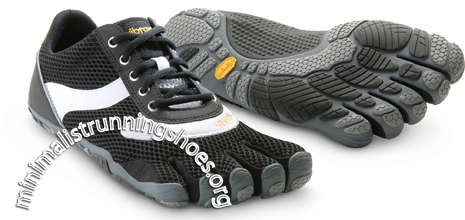 The  Five Fingers Speed have polyester and nylon mesh uppers for  breathability and comfort while keeping debris out, individual toe slots, and toe bumpers. It also has a traditional lacing system thus allowing for a custom fit across a wide range of foot shapes.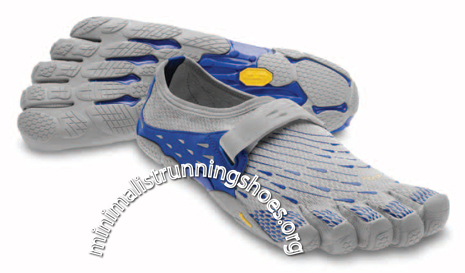 New for Spring 2012 is the Five Fingers SeeYa and Five Fingers Spyridon LS. The SeeYa is for serious minimalist runners with reduced overall weight and more breathable mesh upper.  Minimum rubber thickness in the outsole maximizes foot feel and flexibility, while a soft midsole further reduces thickness and weight for natural movement. A stitched-in insole protects skin and foot tissue during longer runs. For a snug fit, the lightweight, stretch mesh upper has a seamless collar and adjustable hook-and-loop closure.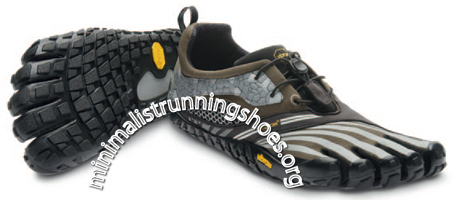 The Spyridon LS is designed for trail running and offers a closed speed lace system to accommodate a wider foot or higher instep. The breathable upper has an adjustable hook-and-loop closure for a secure fit, and a minimalist Vibram rubber sole with aggressive tread pattern allows proper barefoot dynamics and foot feel, while delivering protection on rugged surfaces.
Available in February 2012 from running specialty stores and Vibram.
The Year Of Minimalist Transitioning
2012 will be a wonderful year for runners. True zero drop minimalist running shoes for those already transitioned and gateway or bridging shoes for those who are getting started. There are more bridging shoes for runners in traditional heeled running shoes being introduced by major footwear manufacturers than last year. The masses can safely transition – there will be choices for everyone. Pick your training tool and go run.
Runners are also being educated with informative and unbiased sites like Natural Running Center, Zero Drop, Learn To Run, and Good Form Running.  Barefoot running or minimalist running is here to stay. Run light, run injury-free. Most important of all, enjoy running!