Toronto-based Kiwi Wearable Technologies Ltd. recently announced the launch of its pre-order campaign for the Kiwi Move. The Kiwi Move is an internet-enabled device that can be used to track your daily physical activities, interact with and control internet-connected devices at home, record voice notes and secure your valuables. Unlike other wearables on the market, the Kiwi Move is fashionable and unique in that it can be worn anywhere, whether that be on your arm, wrist, waist, ankle, collar or chest.
The Kiwi Move is Kiwi Wearable vision for the future of wearable technology as single-function devices become a thing of the past. Each Kiwi Move comes with a set of apps which wearers use to harness the power of the device.  Kiwi's When/Do app gives wearers the power to set up rules to send notifications and control internet-connected devices like smart TVs via gestures.   The Kiwi Move app enables a wearer to analyze their behaviors and motion over time, enabling them to refine their golf swing, for example.  Another app, Kiwi Voice, enables a wearer to record voice notes and control applications and connected devices using their voice. Kiwi Wearable envision a wearable technology ecosystem full of innovative apps on the horizon. They offer developers the Kiwi Sensor Platform API (REST and web sockets protocols) in addition to powerful machine learning and algorithm libraries (classify sensed data, build gesture-based applications or implement machine learning on large data sets) – Kiwi build the hardware and developers build the apps.

The Kiwi Move carries motion and temperature sensors as well as a microphone, and comes standard with 6 applications which wearers can use to take advantage of the awesome features of the device. Whether you want to use the Kiwi Move to count your steps and gain insights into your daily activities, use a custom gesture to control home lighting or sound system, or record a voice note or reminder, the Kiwi Move is designed to help you simplify and optimize your daily life.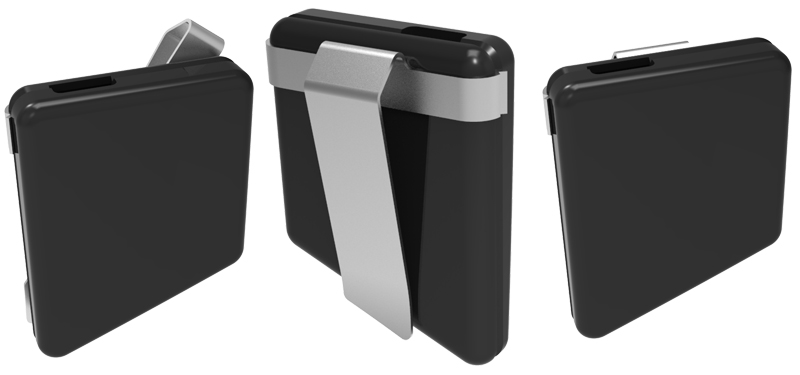 The Kiwi Move comes standard with Bluetooth Low Energy and Wi-Fi, enabling a whole new, limitless paradigm of wearable user experience.  Wherever you are working out at the gym, enjoying quiet time at home, taking care of business at the office, or chilling in the park, the Kiwi Move enables you to enjoy a new realm of touchless, screen-free interaction with technology.

Right out of the box, in only 5 lines of code, developers can access raw sensor data from the device.  Developers can also use the Kiwi machine learning platform and standard motion-classification libraries to gain a huge head start in building wearable technology applications.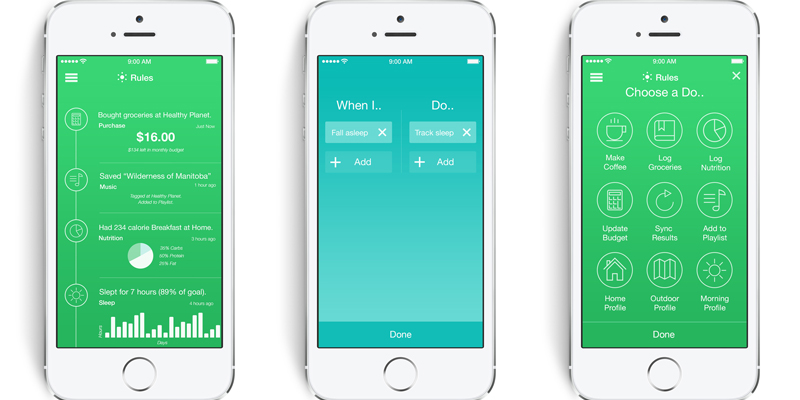 Kiwi Move Technical Specifications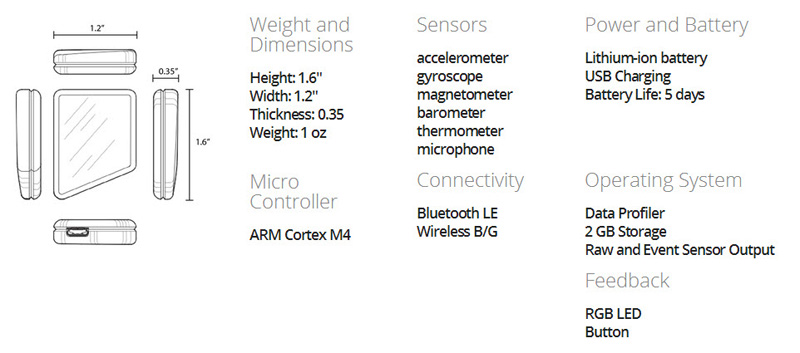 Kiwi Move Applications
Here's some quick information on some of the bundled Kiwi apps.
Kiwi When/Do
The Kiwi When/Do app is a core part of the Kiwi Move wearer's user experience.  It enables a user to easily set up and share "When/Do" recipes to seamlessly automate activities in their daily lives. For example:
When I arrive at the gym, Do activate my fitness application
When I leave my house, Do Activate my security system
Kiwi Move
The Kiwi Move app enables a wearer to record, analyze and classify movement to understand and refine their sports/fitness performance. For example:
A wearer could use this app to measure the number of steps they take in a day or quantify the amount of time they spent running.
A wearer could use this application to refine their golf swing and compare it to an optimal swing.
Kiwi Gesture
The Kiwi Motion app enables a wearer to record, save and map gestures to carry out defined actions.  It also comes with more than 20 pre-defined gestures (tap, swipe, pan, zoom, fall, shake, etc.). For example:
A wearer could map them raising and lowering their Kiwi Move to control a light like the Phillips Hue.
A wearer could map the motion of them swiping their Kiwi Move to advance slides in a client presentation.
Kiwi Insights
The Kiwi Insights app enables a wearer to gain insights into recorded motion and sensor data from their daily lives. For Example:
A wearer can see daily activity metrics which relate to step counts, sleep quality and other patterns of behavior.
Kiwi Sound
The Kiwi Sound app enables a wearer to automatically perform actions when the device hears their voice or sounds in their environment. For example:
A wearer could read out a recipe into the device.  This information could be routed in text form to update a nutrition log or a groceries list.
A wearer could leave themselves voice notes and reminders or set up appointments in a calendar.
Kiwi Plugins
The Kiwi Plugins app enables wearers to use the Kiwi Move as a wireless, "air-mouse" controller for their internet browser, smart TV and other connected application and devices. For example:
Use the Kiwi Move to act as a video-game controller
Integrate the Kiwi Move with other wearable tech devices (e.g. Pebble Smartwatch, Google Glass… etc) and other devices (GoPro Camera)
The only thing missing here that I would love to have is a built-in camera but that might actually be to Kiwi Move advantage – privacy reasons plus awkward reactions or behaviors from others with an active time-lapse camera. This will fill my life logging fantasy. But it might appear in a future iteration…
The Kiwi Move is now available for pre-order at a price of $125 in three colors: Black, White, Silver.  Each Kiwi Move comes with a strap, clip, USB connector and will be shipped in July 2014.