As regular readers of our gear reviews, most of you know that I'm not one that wear socks when running unless it is very cold and my toes are really numb. When cycling in cold weather, I also have to resort to wearing toe socks. We last wear tested Injinji toe socks over a year ago when the new women's specific fit performance toe socks were launched – see Injinji Toe Socks for Spring & Summer 2015. In this review, we wear tested Injinji's 2016 Spectrum collection (Run Series) and also the cycling specific toe socks.

Injinji Spectrum toe socks collection
The Injinji Run Series is engineered specifically for runners of any distance to maximize the foot's muscles and joints. Providing the desired amount of cushioning under the foot and ventilation at the top of your foot; keeping you cool, comfortable and blister free in any shoe. The CoolMax XtraLife fiber keeps your feet cool, dry, and comfortable. The abrasion resistant fiber boosts durability and lasts after repeated wear and washings.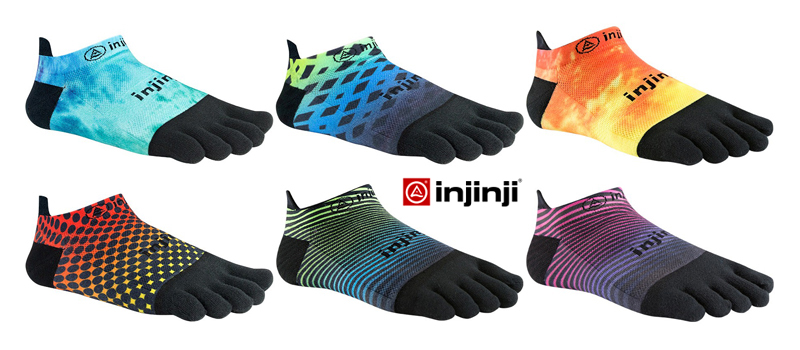 The Injinji female-specific toe-fit is narrower than a male's foot, with an increased heel to toe stretch. There is also a flex arch support which increases the 2 way stretch while minimizing the 4 way stretch – it can accommodate a wider range of women's sizes. It's lower profile mirror the silhouette of most female running shoes. The result: a better snugger fit throughout the toes without any excess material.

From last year's wear test, we found that the Injinji women-specific design (WSD) has a much better fit especially for those with narrow feet. I hear that all the time as both my female testers have narrow feet or thin toes. They always complain about excess materials and loose fitting sock. For 2016, Injinji turn up another notch with the new Spectrum technology. Spectrum is a new look featuring bold colors and graphics while maintaining the benefits of toesocks. The Spectrum print process creates a fresh design that will not distort or fade when worn. In  other words, what you see is what you get.

With the unisex version of the Injinji Original Weight No Show toe socks, the Spectrum version is made of the same materials but the design is printed on with new ink that does not fade easily – you cannot get more seamless than that! The resulting toe socks does feel a lot smoother and thinner to the touch and more comfortable on the feet! They do weigh the same (1.4 ounces pair). If you don't mind the rainbow colors, I would opt for the Spectrum version of any collection hands down. And my female wear tester agrees with me completely. She is getting the best of both worlds – women's specific fit for her narrow feet with eye catching Spectrum designs that stay fresh and ultra comfortable.

We did not test any of the Trail series Spectrum crew length socks. The Trail series is engineered for the uneven and unpredictable terrain of the trail to offer the best fit, feel and protection in any shoe. Trail socks are built to handle the impact of dirt paths and rocky trails with a protective cushion and midweight design. The crew length rests at mid-calf.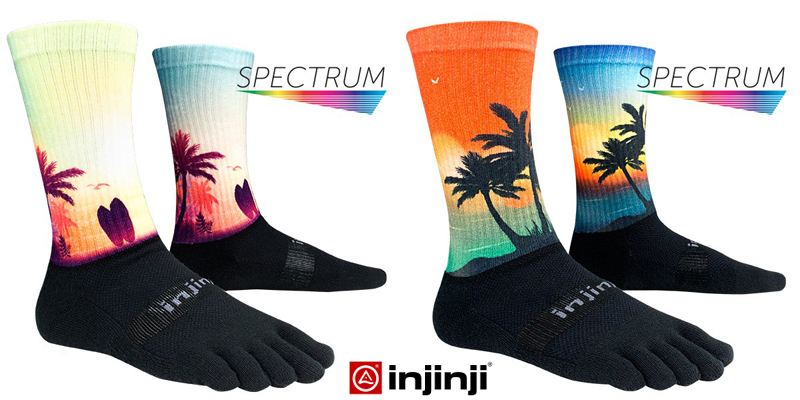 Sizing Note
The Spectrum series (unisex) is currently only available in three sizes: S, M, L. For those with larger feet sizes (XL), you'll have to wait… The women's specific fit is currently only available in two sizes: XS/S and M/L.
Injinji bike toe socks
The Bike Original Weight Micro sock features extra ribbing on the front to eliminate friction, and additional support around the ankles, enabling you to conquer your cycling workout. The sock is made with CoolMax Xtra-Life fibers for superior moisture management and a fast-drying performance. Like all Injinji socks, the Bike sock prevents blister and hotspots.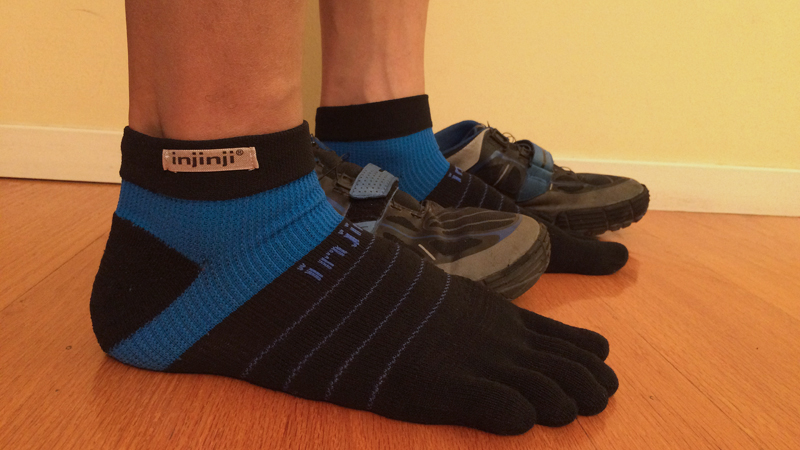 I'm glad that Injinji made cycling specific toe socks. Before this, we were using the Run Lightweight No Show toe socks which provided us with blister prevention and moisture management. But the bike toe sock is double cuff to keep debris out (like trail toe socks), anti-fiction ribbing, and compression. Additionally, it has a true Left and Right anatomical design for a perfect proper fit!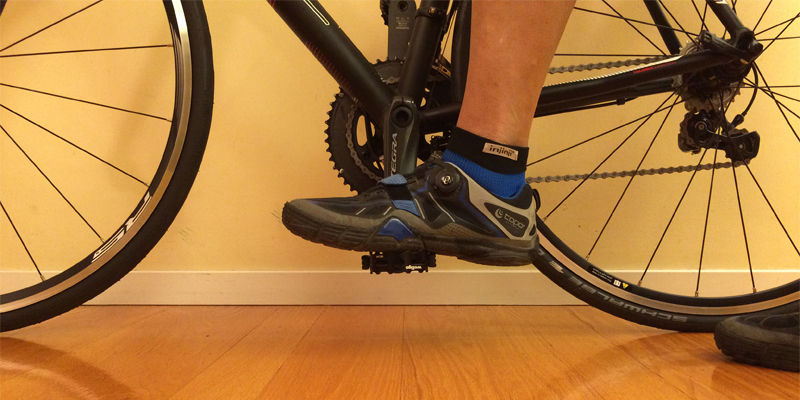 Injinji did it again with their innovative Spectrum technology for 2-016. What will 2017 bring?