FuelBelt Helium® Collection includes hydration belts with two to four bottle options – the FuelBelt Helium H3O being the three bottle system. These belts feature the lightest weight hydration belts ever designed, incredible comfort and bright new tropical colors. The FuelBelt Sprint Palm Holder takes their most ergonomic 10 oz. bottle in the world and added a feather light hand strap to it – making this the lightest handheld ever.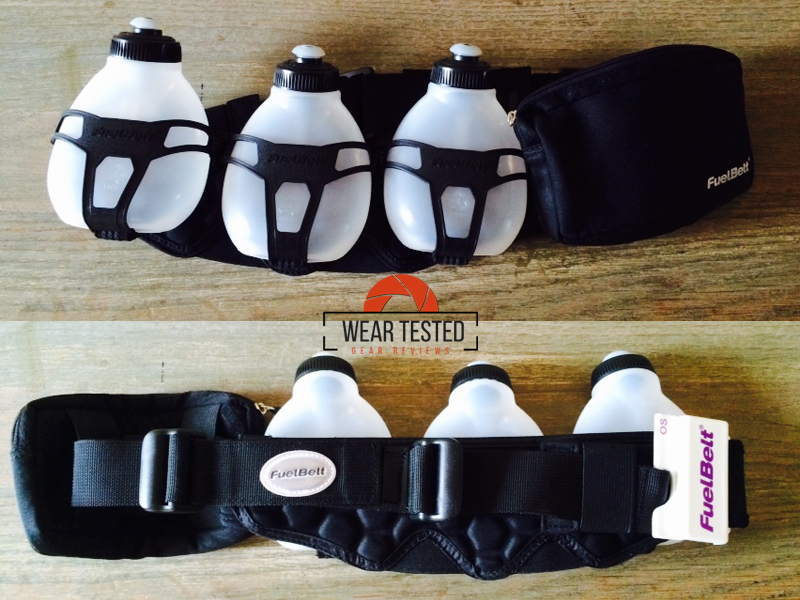 FuelBelt, Inc. is the world leader in hydration belts and running accessories. Founded in 1997 by 36X Ironman finisher and 7-time Ironman World Championship participant, Vinu Malik, FuelBelt continues to serve the needs of endurance athletes across the globe. FuelBelts have been used to break world records, set personal bests, and have been used at the Olympic world stage, where every effort and every second counts.
FuelBelt Helium H3O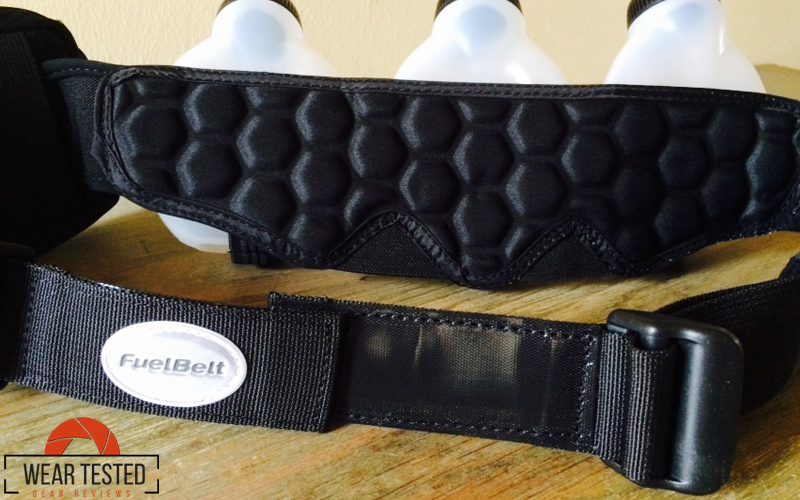 The FuelBelt Helium H3O is the lightest hydration belt in the world and has a fuel capacity of 21 oz (each bottle size is 7 oz) and the complete weight of the H3O system is 9.6 ounces (empty bottles). A 3-bottle design, this is FuelBelt's top seller and gives runners a range of hydration options depending on the length of the run or the weather conditions.

Standard Features
BPA-free ergonomic bottles
Helium Big Grip molded-holsters
Breathable Helium Hex-Foam padding
Large removable storage pocket
Adjustable waistband with soft-touch Velcro
Soft, silicone push-pull bottle caps
The Helium Hex-Foam is lightweight, comfortable, and water repellent. The specially-designed air channels increases breathability and performance in hot and warm conditions. The newly designed big grip holster provides improved bottle control while running at speed and designed for durability with a bounce-free, feather light construction.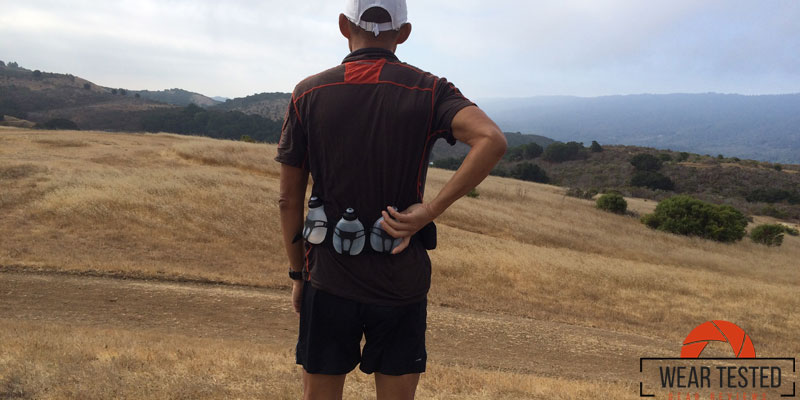 For waist mounted hydration systems, there are two major rules that I follow:
All the packs and belts should be worn where the individual finds most comfortable, and as snug as possible while still being completely comfortable.
The center of mass of the water needs to be closest to the center of mass of the body to ensure a bounce free ride.
To start with, I snuggly tightened the belt to my waist – for lean runners, you may not be able to get snug enough to minimize bounce. I wished the belt allowed an inch or two more before I hit the limit. With three full bottles of water and slightly less than snug on my waist, there is some bounce experienced especially when running down hills. Removing the middle bottle helped significantly with minimizing bounce so I drank from that bottle first.
"Accessing, drinking, and returning the bottle back to the Helium H3O holster is natural and fast during my run."
If you are racing or running fast, the FuelBelt Sprint Palm Holder is a better alternative – no bounce, quick hydrate without even reaching to your hips. Having three bottles is ideal when you're carrying different drinks – water, sports drink, etc. Or sharing drinks with your running partners. But we recommend each runner carry their own hydration system in case you drift apart.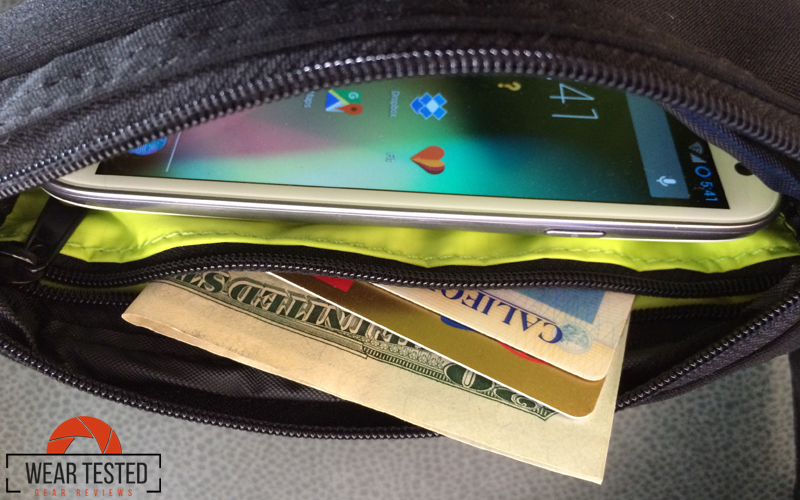 The removable storage pocket accommodates a smartphone, energy bars, driver's license, credit cards, and cash – you can put your valuables in the internal zippered pocket.
FuelBelt Sprint Palm Holder

Standard Features
BPA-free ergonomic bottle
Durable plastic handstrap collar
Knockout window for easy adjustability
Velcro attachment keeps handstrap secure
Padded handstrap for maximum comfort
Soft, silicone push-pull bottle cap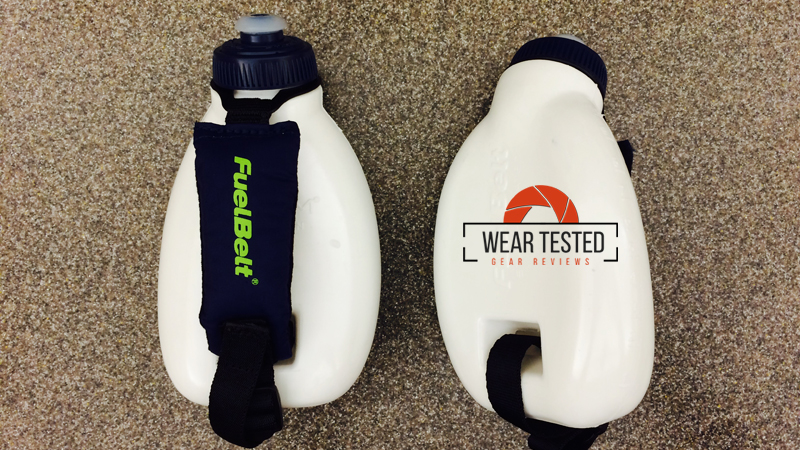 The FuelBelt Sprint Palm Holder bottle is the most iconic bottle shape in the history of endurance sports. It fits perfectly and naturally in your hand. Note the 'ounce' markers indicating how much fluid is left, and the bottle is soft enough to squeeze but firm enough to retain its unique shape.There is a super low-profile collar that sits under the cap and attaches to the feather light hand strap. This durable collar provides a secure and reliable fit every time, while reducing the overall weight.
"The FuelBelt Sprint Palm Holder is perfect hydration system for short runs or when 10 ounces is all you need to hydrate with – fits 'just right' on my hand and with the right amount of water needed."
For runners with smaller hands, you'll still be able to hold the bottle comfortably on the upper part of the curved shape design.

With the Sprint Palm Holder, the strap is minimal and there are no storage areas built-in. The perfect complement for the racer is the FuelBelt Helium Super-Stretch Race waistpack – this is the lightest waistpack in the world! They've put their Helium Hex Foam on the interior of the waistpack to keep things comfortable and dry. It includes lace locks for easy race number attachment along with 4 gel loops. It also comes with a expansive stretch-mesh pocket.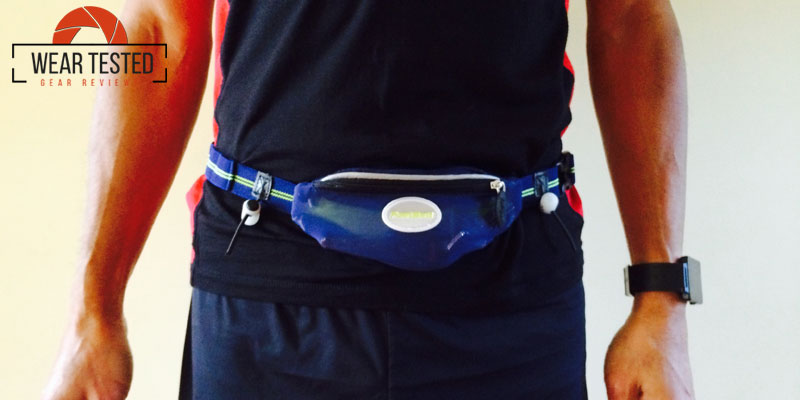 All FuelBelt bottles are BPA free and dishwasher safe (on the top shelf only). Expect feather light performance with a world championship attitude and this belt will get you to the finish line with confidence and style.