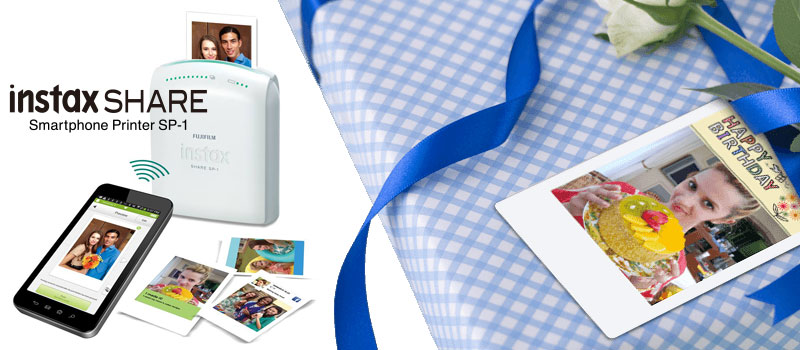 FUJIFILM started shipping their new and exciting INSTAX SHARE SP-1 Printer this month. The INSTAX SHARE SP-1 lets customers print mobile photos instantly from their smart phone or tablet, anywhere, anytime (JPEG image files). The INSTAX SHARE SP-1 acts as its own Wi-Fi hotspot, and works with both iOS and Android to get you instant film prints from any picture stored on your device.

Using the INSTAX SHARE SP-1 is fun and easy. With the user-friendly INSTAX Share App available on both iOS and Android, it's a snap to print pictures with just a couple of taps on your device. There is also a wide range of unique editing functions and templates to let users get creative with their smartphone images and INSTAX mini film. The INSTAX SHARE SP-1 can also print "real time" information on the film prints, including date and time, location and weather conditions.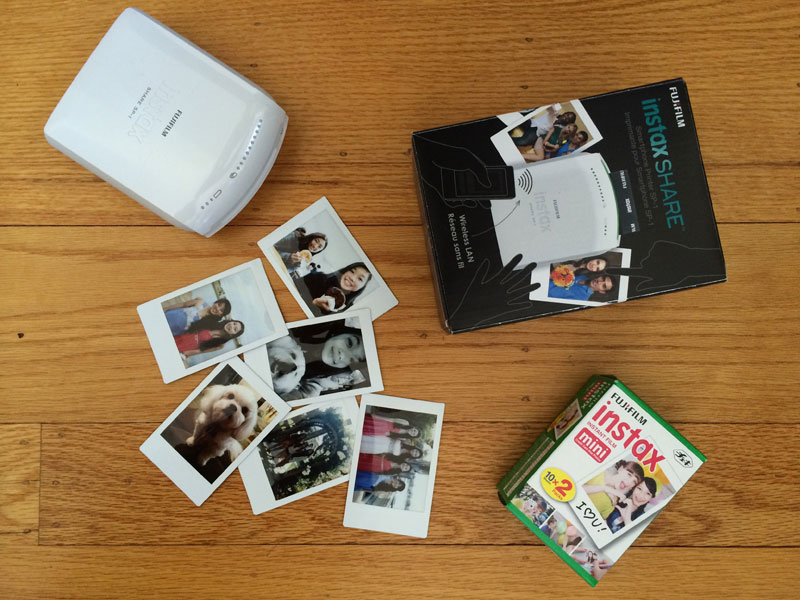 The INSTAX SHARE SP-1 is compact and stylish, and it has two green LED indicators – one that shows remaining film and one that displays battery status. The INSTAX SHARE SP-1 uses widely-available INSTAX mini film that is ISO 800 speed, and produces sharp, clear images with vivid color and natural skin tones in a print that is 2″ x 3″ – perfect for parties, events and creative projects.
Review Summary
When I saw the initial announcement of the INSTAX SHARE SP-1 in early January, I thought it was pure genius! It is another channel for FUJIFILM to sell more INSTAX film. But more importantly, after I reviewed the INSTAX Mini 8 camera, I wanted to be able to take Polaroid pictures without having to carry another camera around – just using my iPhone or digital camera. Now after testing the INSTAX SHARE SP-1 for a few weeks, I think this is the beginning of an interesting marketing tool for businesses and photographers – even more applications than I had envisioned initially. And definitely a genius move in my opinion.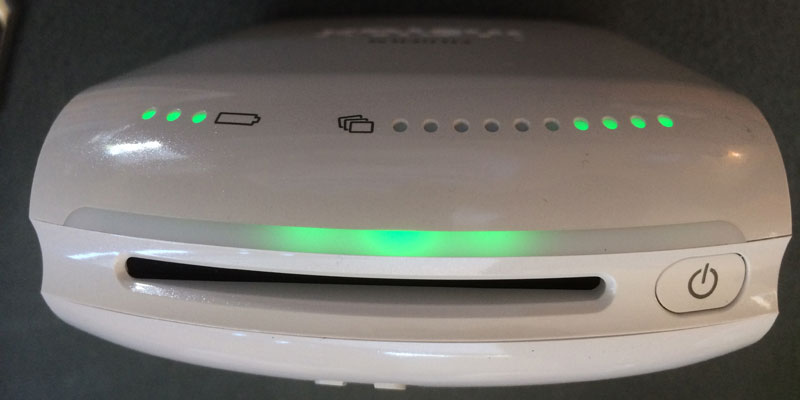 To use the INSTAX SHARE SP-1 printer:
You need to download and install the instax SHARE app for iOS (iPhone/iPad) and Android devices.
Hold the Power button on the INSTAX SHARE SP-1 printer down for about a second and it comes to life.
At the same time, it creates an ad-hoc Wi-Fi Access Point. Make sure you change the default password for security reasons – you don't want unauthorized users printing on your INSTAX SP-1.
Go into your Device Settings and connect to the INSTAX network.
Launch the instax SHARE app.
Select an existing image from your camera or take a new image. You can also import an image from Facebook and Instagram.
Edit, add text, and/or rotate the image as you see fit. You can also use one of the included INSTAX templates.
Press Print to start printing. It will take about 10 to 15 seconds for the image to appear on the INSTAX film.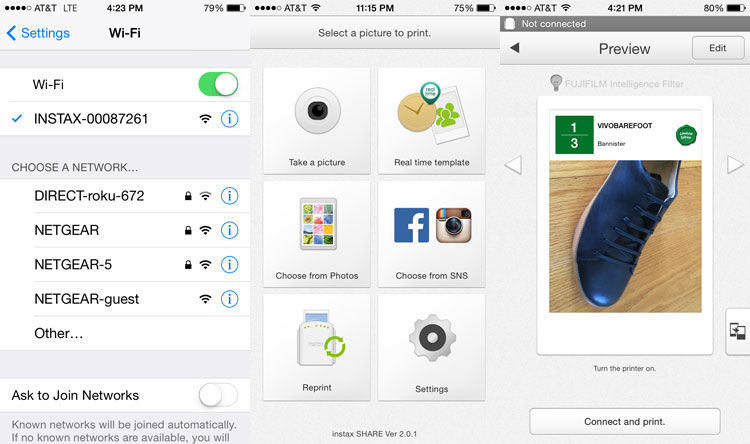 This works great with family and friends – a group setting as it is originally intended. My daughter borrowed the INSTAX SHARE SP-1 printer when she got together with her friends and printed/shared many of their prom and get-together pictures from different cameras and occasions! For parties, look for the amazing reactions on people's faces upon seeing a physical copy of an INSTAX photo – something that they can keep makes them much happier than seeing a preview on a camera or smartphone. And having a physical copy of the picture that they can show friends and family anytime, anywhere! With a quick caption using one of the built-in templates from the mobile app, you can also tag any photo with whatever you want – year book, dating, groups, scrapbook, weddings, etc.

There are also many other uses besides the social aspect – business and services. For tradeshows or if you have a booth at any event, you will be able to take INSTAX photos and overlay your business information. You can instantly hand out the printed INSTAX photo to that potential customer – they will remember much easier.
Here are some future improvements or additional features that I would love to see in the next version:
Templates – More built-in templates or allow custom templates or be able to save a template (with your business or calling card like URL, address, phone number, etc.)
Access – Ability to print directly from any Wi-Fi enabled digital cameras
Labeling – Offer optional self-adhesive backing on INSTAX film for the purposes of labeling, presents, or organizing etc.
Awards – For races specifically, be able to print a souvenir finish photo with your race times and race logo overlay as a going away keepsake
Many more to come once you start playing more with the INSTAX SHARE SP-1. Let the memories roll!
The FUJIFILM INSTAX SHARE SP-1 can be purchased at Amazon and Adorama.
*Product provided by FujiFilm. CMP.LY/1 Review
If you have a product you'd like reviewed, contact me at info@weartested.org