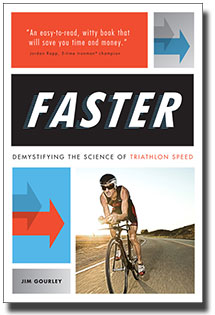 Triathlon is among the world's most gear-intensive sports. The gear you select and how you use it can mean big results—or bigger disappointment.
FASTER takes a scientific look at triathlon to see what truly makes you faster—and busts the myths and doublespeak that waste your money and race times. In this fascinating exploration of the forces at play in the swim-bike-run sport, astronautical engineer and triathlete Jim Gourley shows where to find free speed, speed on a budget, and the gear upgrades that are worth it.
FASTER offers specific, science-based guidance on the fastest techniques and the most effective gear, answering questions like:
Which wetsuit is best for me?
What's the best way to draft a swimmer?
Should I buy a lighter bike?
Deep dish or disc wheels?
Are lighter shoes faster?
Who's right about running technique?
Gourley reviews published studies in peer-reviewed journals to show what scientists have learned about swim drafting, pacing the bike leg, race strategy for short and long-course racing, and the fastest ways to handle transitions.
Free speed does exist. You just need to know where to find it.
MY primary interest here is how I can RUN FASTER since I'm not a triathlete (yet). The physics and running will be my primary focus in this book. Obviously, cycling for cross training will come in handy in the near future. Maybe swimming in the distant future.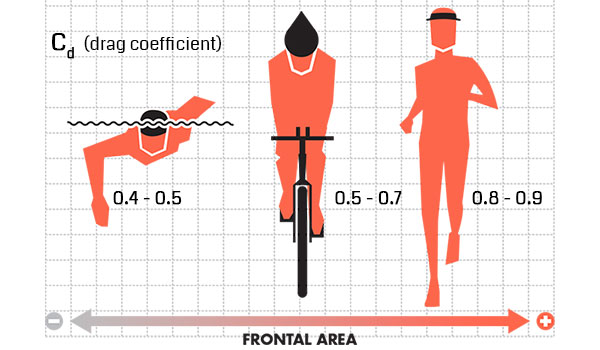 An object's size, speed, shape, orientation, and the density of the medium it moves through affects how fast the object is able to move. Scientifically formulated as how efficient an object move through air or water, the drag coefficient (the lower the number, the more efficient we are) for running is the highest in triathlon. Just by changing the angle of attack by 90 degrees from a swimmer, a runner has doubled the drag coefficient! We have work to do…
Gourley found that the majority of the forces a runner experience during a run occur in the vertical direction, not the lateral direction. And his advice to improving running efficiency is to focus on:
Reducing vertical displacement
Maximizing distance covered per step
Reducing ground contact time
And the magic solution to all this from biomechanics researchers? Shorten your stride and run at a cadence of 180 to 190 steps per minute. This is also one of the many running wisdom tips from famed running coach, Dr. Jack Daniels. Interestingly, Garmin recently announced the Garmin Forerunner 620 which can measure all those three metrics!

There is quite a long coverage of why weight loss has more benefits than lightening the load you carry when you run including how your body generate and dissipate heat. I've been on training runs wearing a 20 pound vest and hopefully the payoff will happen someday soon.
In terms of minimalist running shoes, the debate goes on. It's different for every runner and the findings are inconclusive. But keep in mind that oxygen demand increases between 5 and 10 percent for every kilogram (2.2 pounds) of extra mass below the knee. Lightening your load with minimal shoes would only help.
Like Gourley, I'm a technologist and engineer – he's a rocket scientist and I'm a computer engineer (10+ years on chip hardware plus 10+ year on web software). But the similarities end there. I don't enjoying reading scientific and technical papers. I'm more of the 'Speed for Dummies' type – just give me the facts and bottom line. No fluff. No boring details. And Gourley's book does just that. He breaks down all the concepts and make them easier to understand. Definitely worth a read and belongs to my book library.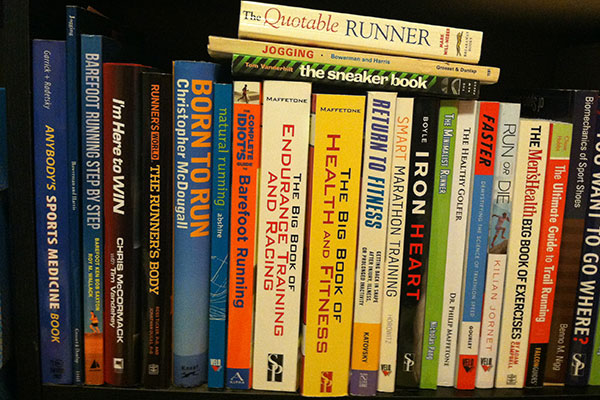 Table of Contents
Foreword
Preface
1 Physics and the Triathlete
2 The Swim
3 The Bike & Power
4 The Bike & Aerodynamics
5 The Run
6 A Scientific Approach to Racing Strategy
Acknowledgments
References
Index
About the Author
A free preview of Jim Gourley FASTER is available here.
FASTER will change how you think about your body, your gear, and the world around you. With science on your side, you'll make the smart calls that will make you a better, faster triathlete.

FASTER by Jim Gourley is now available at Amazon.
*Product provided by VeloPress. CMP.LY/1 Review
If you have a product you'd like reviewed, contact me at info@weartested.org