Dr. Mark Cucuzzella
Guest Post by
Dr. Mark Cucuzzella
,
Natural Running Center
,
Two Rivers Treads
Lt. Col. (Dr.) Mark Cucuzzella is a Professor at West Virginia University School of Medicine. He has been a national-level Masters runner, having competed for over 35 years with more than 100 marathon and ultra-marathon finishes. Mark is a two time winner of the Air Force Marathon and has a marathon PR of 2:24. As well as being the race director of Freedom's Run race series in West Virginia, Mark is director of the Natural Running Center, an education portal designed to teach healthier running. He is also the owner of Two Rivers Treads – A Center for Natural Running and Walking in his hometown of Shepherdstown, WV. Mark's innovative work and story has been featured in the New York Times, NPR, Outside Magazine, Running Times, Runners World, Air Force Times, the Washington Post, JAMA, and other medical and media outlets.
I have been loving my Shamma Running Sandals well over 2 years now. I have run hundreds of miles of training runs, 2 marathons, and an Ultra.  When traveling now the only footwear I bring is a pair of sandals unless it's cold or I need something formal.
Here is a tour of last Sunday enjoying Shammas all day in a variety of activities.  As a background I am a physician, often barefoot runner, direct of The Natural Running Center, and have opened a store in my town Two Rivers Treads focused exclusively on minimalism and teaching good running form.  One unarguable truth in the footwear debate is that the foot should be flat to the ground. For walking and general recreation if you choose to wear shoes your foot should also be as close to the ground as possible for balance, proprioception, and foot muscle activation.
The day started with a nice relaxed 2 hour run on the C&O Canal.  This trail within a National Park is a beautiful 186 mile stretch of crushed surface extending from Cumberland, Maryland to Georgetown. It is not a barefoot friendly surface but is perfect for minimalist shoes or sandals.  On warm spring and summer mornings the open air of sandals is a joyous sensation not experienced in shoes.
The Shammas perform beautifully.  The adjustable soft web strap holds the sandal on my foot in a comfortable way without any feeling of tightness. The generous size straps allow a nice tension across the top of my foot.  At no time do I feel the sandal needs tightening or loosening due to a tension spot. During the run it is great to have my foot breath and still enjoy the trail, something impossible to do barefoot due to the sharptexture of the rocks. The Vibram sole allows great ground feel and a touch of protection from the sharp gravel. I finish the run refreshed.
I live in a small crunchy town so I wipe the trail dust off the Shammas and wear them to church. With the dark straps they are very appropriate and I imagine that the biblical characters in the church readings had similar footwear over 2000 years ago. It is also very pleasant to have my feet breathe after 2 hours of running.
After church my family and I stroll through the Farmers Market and often friends admire the Shammas.  The organic farmers take notice as the Shammas embrace their themes of simple and natural. We have a wonderful program here doubling SNAP benefits with healthy produce and farm fresh food.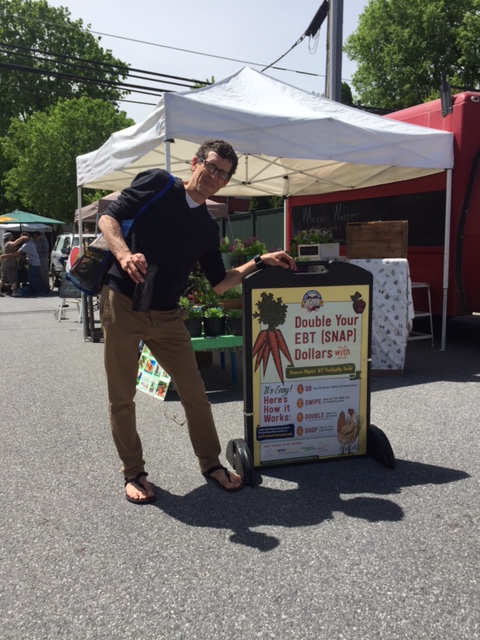 After the market I drop by Two Rivers Treads and Sundays are usually busy with local families and out of town travelers all curious about minimalist running.  My staff which includes several barefoot runners love the sandals.  One of my lead Employees Dion is wearing his on this wonderful day.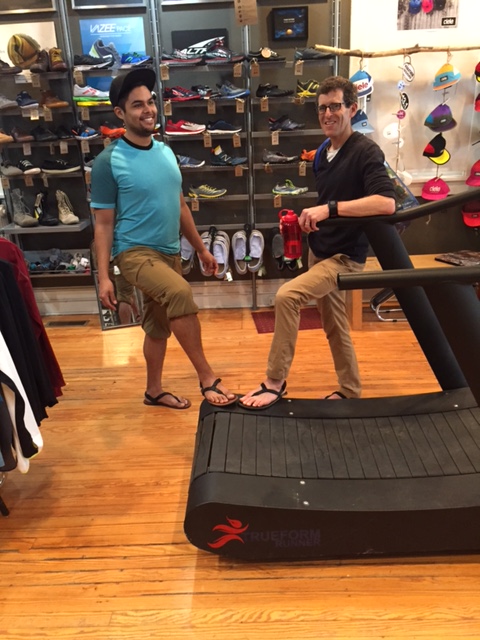 Some features of Shammas I especially like:
Superb cut to foot shape. I traced my foot and sent to Josh Stiles (the founder and Master Craftsman) and the end result was perfect when they arrived.
Top quality leather sole against the foot for moldable comfort, or the option of a rubber grip top.
Resilient Vibram outsole for any surface
Natural materials and earth friendly manufacture processes all made in USA
Velco straps with easy 3 point adjustments and once adjusted it just slips back on!
They look good and can be worn almost anywhere in my town as well as others around the country and the world. Shammas were my sole footwear on an Italy trip last summer.
The only negative of sandals is that I cannot wear them in my day job as a physician. Hospitals have a closed toe shoe rule.  Maybe one day this will change as clean feet in sandals do not spread infection.  Likely the opposite is true as most foot infections from foot fungus or bacteria as well as ulcers are directly attributable to non-breathing and poor fitting footwear. Not washing hands between patients spreads the infections.
For more on Shamma visit their site  or visit Two Rivers Treads at our new location in Ranson WV.
Here is a picture from the recent JFK 50 mile run putting them to the true test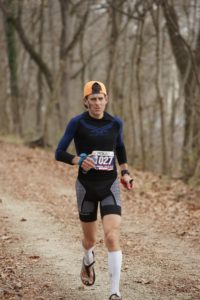 If you are interested in running with sandals, check out, "A Quick Guide to Transitioning to Running Sandals" by Mike Prevost, PhD, on NRC.