We've been faithful supporters and die hard fans of Craghoppers clothing since 2014. Our first official review of Craghoppers apparel was last year's Summer travel with Craghoppers Spring Summer collection post – a week long trip to hot and humid Seattle and Vancouver, BC. Lots of walking in the city, going to must-see attractions, public transportation, and visiting parks. For 2016, we wear tested the men's NosiLife Albert long sleeve shirt & NosiLife Pro trousers, and the women's Pro Lite vest & Kiwi Pro shorts.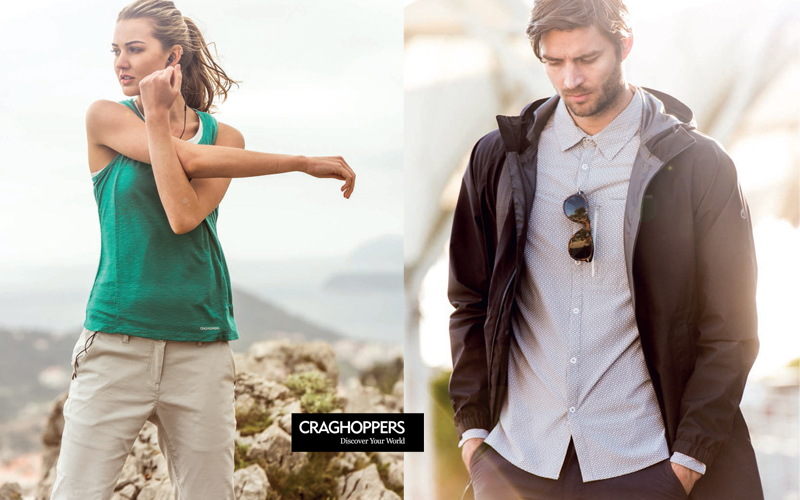 First trip – the legendary Hearst Castle in San Simeon, CA. A day trip to the destination via the Pacific Coast Highway (PCH).- sunny and warm on the castle grounds but cool and windy on the coastal beaches.
NosiLife Albert Long-Sleeved Shirt
This classy stretch shirt is the perfect travel shirt. The NosiLife Insect Shield® insect repellent performance keeps you protected all day long. Made of 86% polyester and 14% elastane, this lightweight fitted (active fit) long sleeve shirt has a solar shield protective cooling collar (for those sunny days) and drying loop (inside left front). One of my favorite feature is the roll-up sleeves with buttons – you can be formal or informal all day long. Roll them up during the day and roll them down for a formal evening.

As with the NosiLife Berko long sleeve shirt that I tested last summer, the NosiLife Albert also comes with a built-in sunglasses wipe (inside right front) and hanger loop. Finally, there is one front zipper pocket for hiding your valuables during travel or easy access to items (like your train tickets or museum passes etc.) outside your wallet. My go-to travel shirt hands down – lightweight and keeping you cool on the move in hot and humid weather. I would normally pick up another shirt (long or short sleeves) whenever Craghoppers have a sale.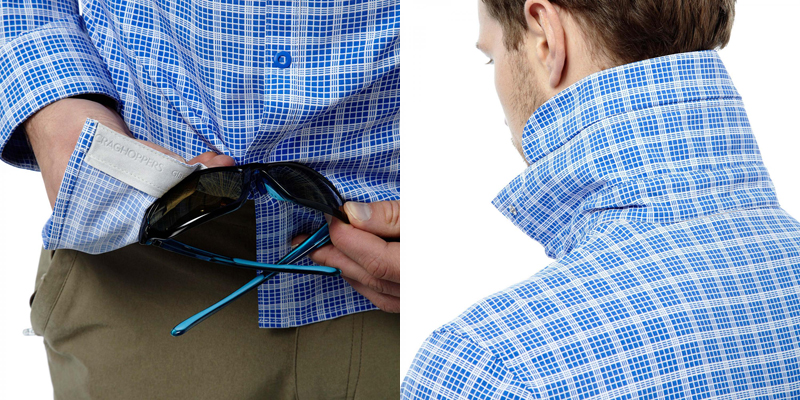 NosiLife Pro Trousers
When travelling in the summer, one would normally think of shorts like the Kiwi Pro long shorts that I tested last year. But there are times where the weather is cool or you need something for formal during the evenings. The NosiLife Pro to the rescue, a modern lightweight travel trousers. The NosiLife Pro streamlined stretch design offers optimum agility, while the Insect Shield® insect repellent provides protection against bugs.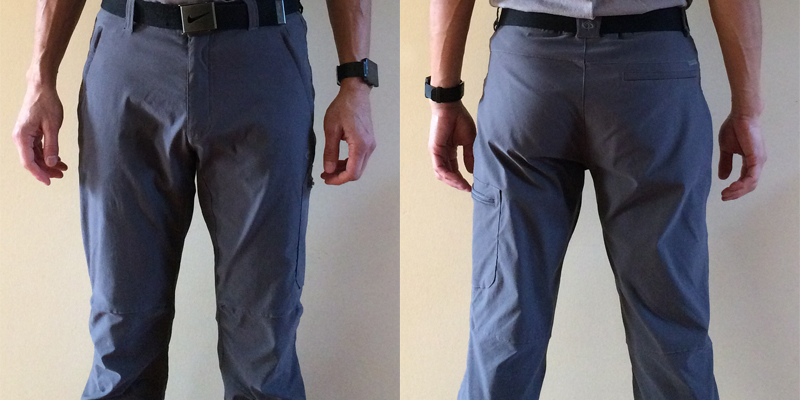 Made of 94% polyamide and 6% elastane, this fitted (active fit) trousers has a built-in sunglasses wipe, drying loop, and a security clip. Unique to the NosiLife Pro trousers is the hidden RFID pocket (within the side zippered pocket) and four zippered pockets (two on the front, one on the side, and one in the back).

The NosiLife Pro trousers has a slightly looser fit than the Kiwi Pro Long shorts (at least 1″ difference) and a longer length than regular pants – perfect when folded! Note the added heel tape for added durability. The RFID shield helps prevent unauthorized use (or stolen data) of credit cards and passports.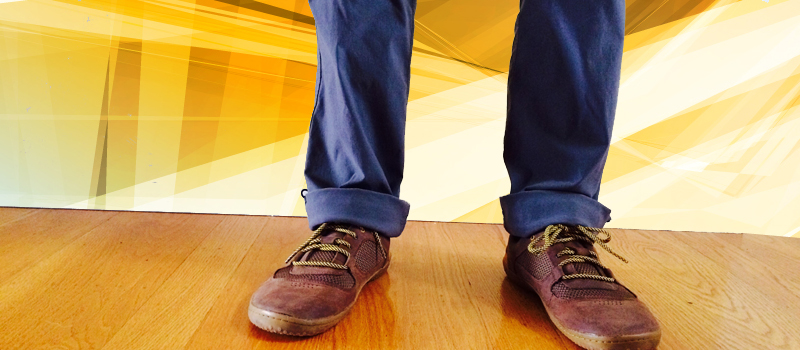 Pro Lite Vest
From Craghoppers comes this season's hot favorite for women, their stylish and super-light Pro Lite vest top, an absolutely indispensable outfit. The innovative two-layer construction teams a textured outer with a soft and stretchy inner for cooling comfort. Ideal for active pursuits but looks just as good with casual shorts and trousers when you're not hitting the trail. 100% polyester outer with polyester/elastane inner, this fitted (active fit) vest has a long 24″ length and scoop-neck.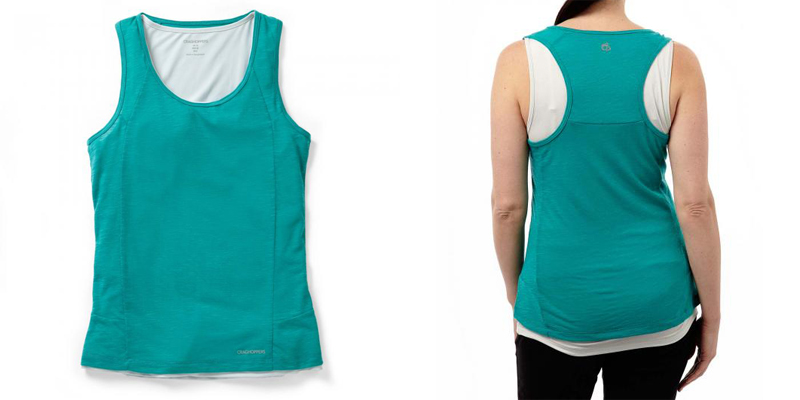 Utilizing the same Moisture Control technology as in the NosiLife Albert shirt, the fabric is engineered to move moisture away from the skin and quickly evaporate it over a large surface area. This moisture management ensures an even core temperature.
My wear tester already run and workout in layers of performance apparel. A fully integrated outfit that work together like the Pro Lite vest makes it a great starter outfit for those who are new to base and mid layers. The integrated outfit keeps her warm during the start of a morning run and when the weather or her body heats up during or after the run, she can take off the outer layer for faster cooling – she does not most of the time as the outfit is breathable enough to cool down quickly and naturally.
Kiwi Pro Shorts
The Kiwi Pro shorts will give your legs plenty of freedom to move and expose them to the outdoors. Incorporating the same active styling and practical properties of their Pro Stretch trousers, these shorts are sun-protective, water repellent and stain-resistant for easy care and easy wear. Made of 96% polyester and 4% elastane with DWR finish, these fitted (active fit) 8″ shorts also come with a built-in sunglasses wipe and three zippered pockets.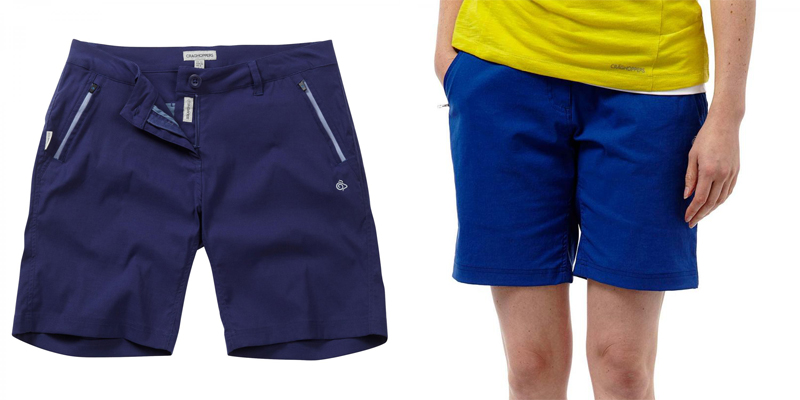 The stretch fabric allows for unrestricted movement with an improved fit. The Smart Dry technology makes it water repellent and most important of all, spills simply run off – great for grab-and-go when on the road.
Perfect for a short hike or walk or getting around town, the unpredictably warm or wet weather for the past few weeks in Northern California makes this a desirable pair of shorts! When travelling on vacation or a day trip, the three zippered pockets and sunglasses wipe are must-have features.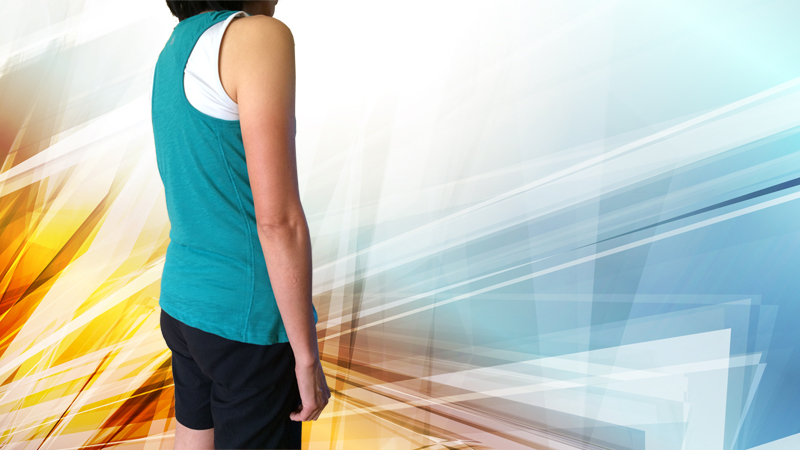 Craghoppers did not disappoint and delivered on quality and function in eye-catching designs every single season!