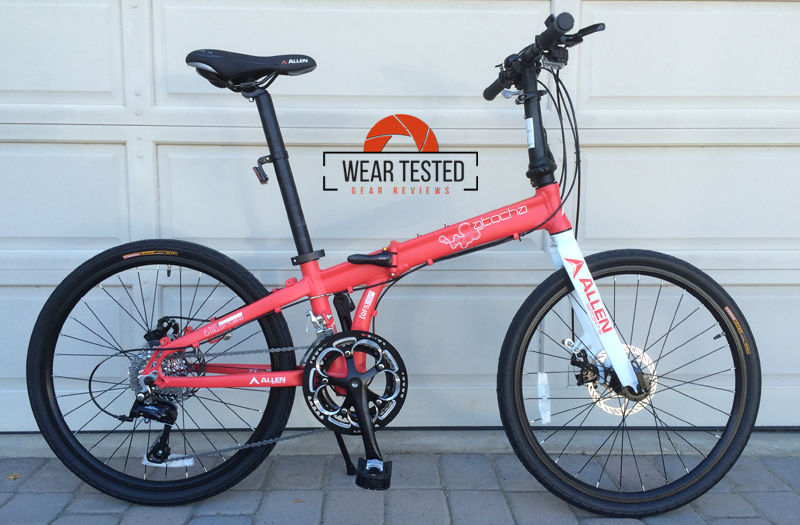 Allen Sports is known for bike carrier racks, bicycle trailers, joggers, and folding bikes. We have recently reviewed our first Allen Sports product, the Allen Sports Child/Jogger Trailer, a well-built and ultra-functional trailer. With about a dozen folding bikes already in their portfolio, the latest Allen Sports Atocha model breaks new ground as their first folding bike to feature 24″ wheels. Additionally, it also feature 18-speeds, trigger shifters, disc brakes, alloy frame, and alloy fork – these features are not normally found in folding bikes!

Since folding bikes are designed for commuting (small size when folded, flat city streets), testing it on flat ground does not truly highlight the features packed into the Allen Atocha. So I decided to take it on a couple 15 to 20 mile rolling hill rides in the Bay Area. The Atocha 6061 aluminum bike frame and fork delivers a stiff and lightweight ride. With 18 speeds, I had the tools to attack flats, hills, and everything in between. The Atocha goes up hills like a regular road bike – other riders gave me 'the look' like I'm riding an electric bike!

The Atocha uses a patented folding system that allows the bicycle to be completely folded in under 7 seconds. The press linkage design creates an extremely rigid frame when the bicycle is set up which minimizes flexing when riding. I did hear some squeaking initially but after a few miles, it went away. The two wheels can be secured with the rear wheel lock and you can easily roll the bike for transportation. The 24″ wheels offers a far more comfortable and responsive ride. In terms of the looks and design, the Atocha is slightly smaller than a traditional road bike and looks more like a mountain bike or e-bike.

While unpacking, I did notice the unique folded pedals. I spent too many minutes reading the instructions and playing around with the pedal trying to 'unfold' it. I discovered there is a button to push (like a gun trigger) inside the pedal but it could have saved some of us some frustration if it was labeled. It was confusing how-to at first…
Lastly, the Allen Atocha is equipped with front and rear disc brakes. I don't have them on any of the road and mountain bikes I own so I was excited to try them out. It does have super stopping power without effort. There is also no rim wear damage. And you're ready for the upcoming wet weather season!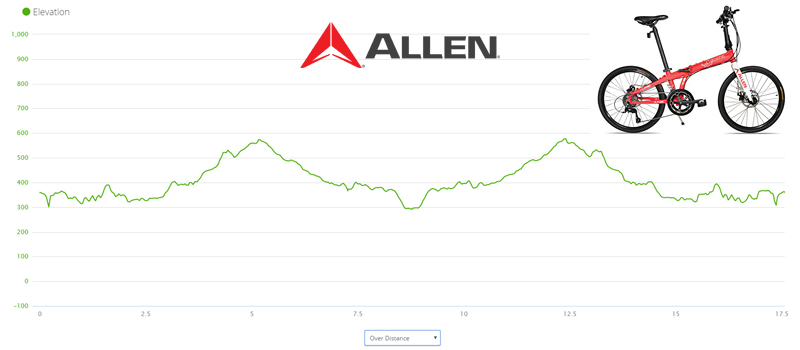 For folding bikes, one of the major issue is the FIT since it is a one-size fit all bike. But there are three points of adjustments available: saddle position, handlebar height, handlebar angle. I'm 5′ 10″ and had a very nice and comfortable fit on the Allen Atocha in less than a minute!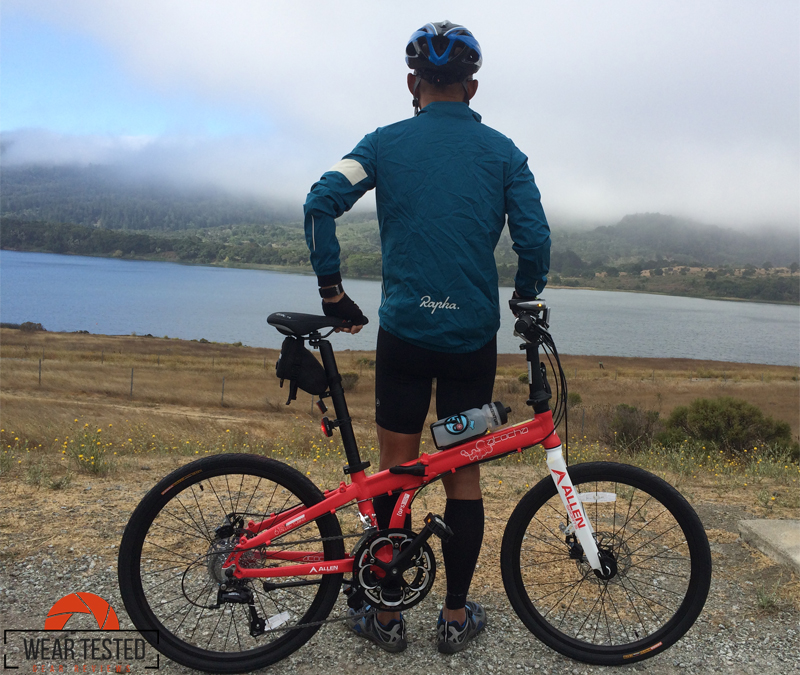 The only nit I have with the Atocha is the locking tab on the rear left wheel. It is situated a few inches too close to the pedal – the heel of my shoe may hit it depending on where I place my shoe on the pedal. I noticed that it is adjustable and I moved it as far back as possible (about an inch) to diffuse the situation as much as possible. Obviously, if I don't need to fold it for a while, I can leave it off for longer rides when not using it for commuting!

To confirm my findings, I caught up with seasoned and elite cyclist, Stanley Tsang (Triple Crown Winner and 2014 Hall of Fame Inductee), after he finished his daily 50+ miler. Stanley is the troublemaker that go me into cycling two years ago. He's about my height and after a minute of adjustments, he took the Atocha for a quick ride up and down the rolling hills. He went faster and braked harder than I did and he was amazed with the performance! And he also confirmed the heel clipping issue. He loved the quality, features, and design of the Allen Atocha! I had ridden his 16″ wheel folding bike two years ago and his felt like a kid's bike unfortunately…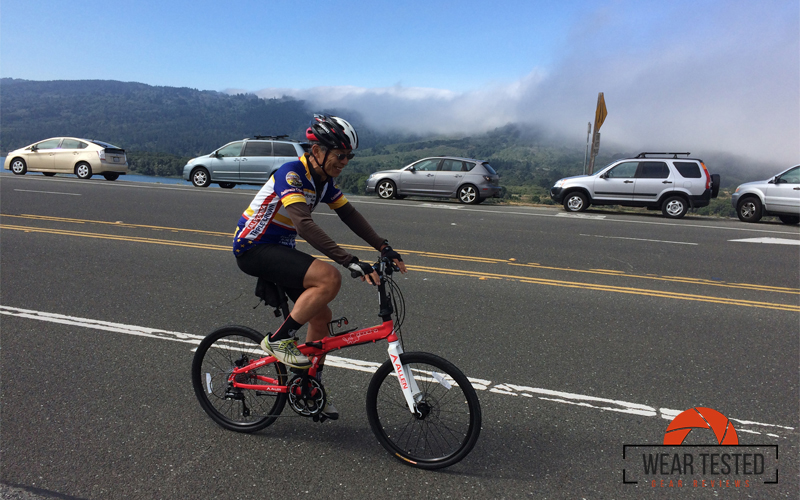 Weighing less than 30 lbs, the Allen Atocha is considered lightweight for a folding bike. The price is affordable (MSRP $1,099) and can be had for under $1,000 at Amazon. Who said a folding bike can only be used weekdays on city streets? You can also rule the weekends for long distances and hills!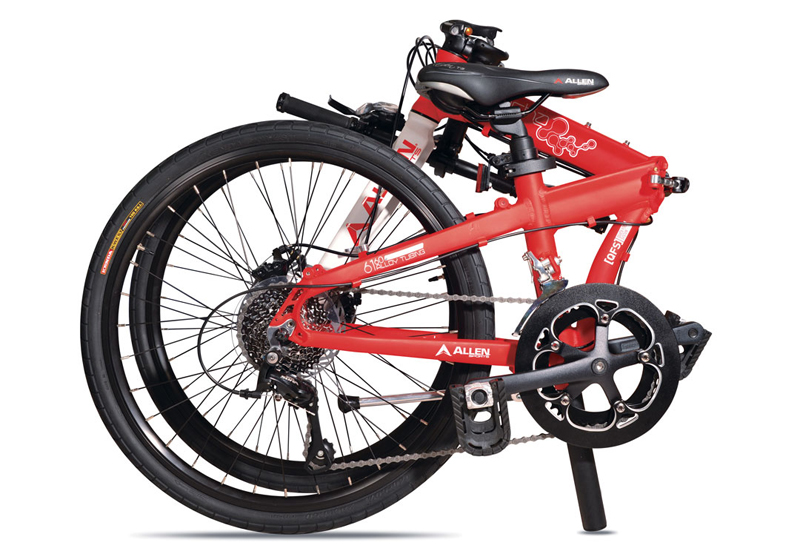 Technical Specifications
Frame: Alloy
Forks: Alloy
Front Derailleur: microSHIFT FD-R42
Back Derailleur: SORA Shimano RD-3500
Rims: GLEDE 24″ 1.5″ 14G CNC
Crank Set: Jiankun L2-421A
Speed: 18 (2×9)
Tires: CST K193 24X1.5″
Wheel Size: 24″ x 1.5″
Brakes Levers: Sram FR5
Front Brakes: Jocund RDM2.0D
Rear Brakes: Jocund RDM2.0D
Shifters: microSHIFT TS83-9L Trigger
Weight: 29 lbs.
Folded Dimensions: 33.4″ x 13.7″ x 27.5″ (85cm x 35cm x 70cm)