Whether you expect a cycling computer to be simple for enjoyment, affordable for your budget or powerful for your training, the Bryton Sport Rider 310 answers them all. Out of the box, fully charge the Rider 310, mount it on your handlebars, and off you go. Featuring 'Power On and Go' with 'Auto Start/Stop', it's as simple as it get for your cycling needs. Supporting ANT+ Heart Rate, Cadence sensor and Power Meter, the Rider 310 can also take your cycling workout to the next level. To round it out, Bryton Sport new train & test features not only enables you to plan workouts ahead but keeps track of your training progress.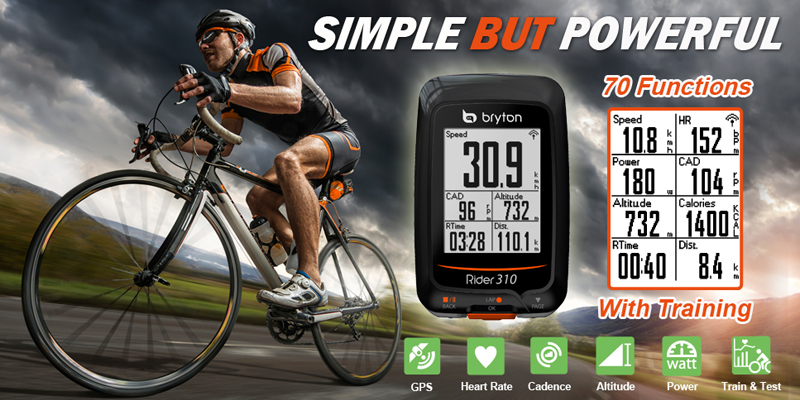 The large easy-to-view screen displays up to 70 real time data with customizable data pages. The GPS route recorder (your cycling log) allows you to compare and compete with other cyclists by sharing your FIT files. Just plug it into your computer and select files from your device. Workout files are automatically saved in FIT format, which can be uploaded to popular training sites including STRAVA, Training Peaks, Endomondo, Map My Ride, Garmin,  and many more.

Power On and Go
Designed for beginners and intermediate cyclists like myself, there is no need to fiddle with settings for wheel size, time and unit; no more installation and pairing with speed sensor. Rider 310 gets it all covered. Just get the device mounted onto the bike mount, turn it on and you are good to go. Get involved and enjoy the cycling. Rider 310 will take care of the rest. You simply want to go ride with your new gadget and not be frustrated with setting it up – you just want to ride!
Auto Start/Stop
If you don't feel like recording the ride but still want to view your ride data in real time (speed, time, distance, etc.), Rider 310 is what you need. With high-sensitivity GPS, Rider 310 syncs seamlessly with the movement of the bicycle. It starts when you start pedaling, and it stops when your bike stops.
But I wanted to point out that by default, the Auto Start/Stop (Smart Pause) feature is disabled. I didn't notice that until I started looking at my uploaded data on the Bryton Sport web site. And verifying it with my Garmin VIVOACTIVE recorded files.
Simple but powerful
Don't let the price of the Rider 310 fool you. The Rider 310 is a powerful cycling computer providing all the necessary data for your workout. Easy to use, yet it incorporates up to 70 functions including Time, Speed, Distance, Calorie, Cadence, Altitude, Power, HR and LTHR (Lactate Threshold Heart Rate). Without purchasing any additional accessories, you'll even get Temperature and Altimeter readings not found in other comparable and higher priced cycling computers.
If you have more than one bike or more than one user on the Rider 310, the unit can handle two bike profiles.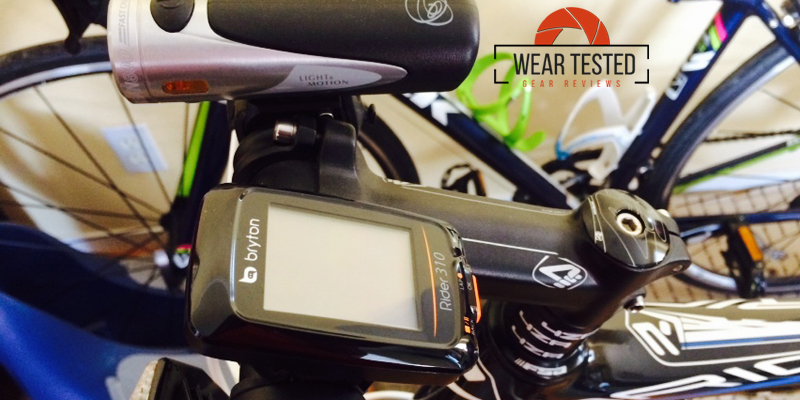 Rider 310 Features
Exquisite GPS Cycling Computer
High-sensitivity GPS receiver for fast positioning.
No speed sensor installation needed. Just power on and go.
IPX7 waterproof
Large and easy-to-read display
7 customizable data screen with maximum of 8 data per page
Built-in barometer for training with terrain
Bryton test pre-loaded to test your limits and train systematically.
Compatible with ANT+ Heart Rate monitor, speed, cadence sensors and power meter for advance training.
Anti-glare display for daytime and clear backlight for night rides.
Support for viewing stats on devices or uploading to Strava, Training Peaks, and Fit track.
One second recording
Optional accessories include an Out-front Bike Mount, ANT+ Heart Rate Monitor, ANT+ Speed Sensor, ANT+ Cadence Sensor, ANT+ Speed and Cadence Dual sensor.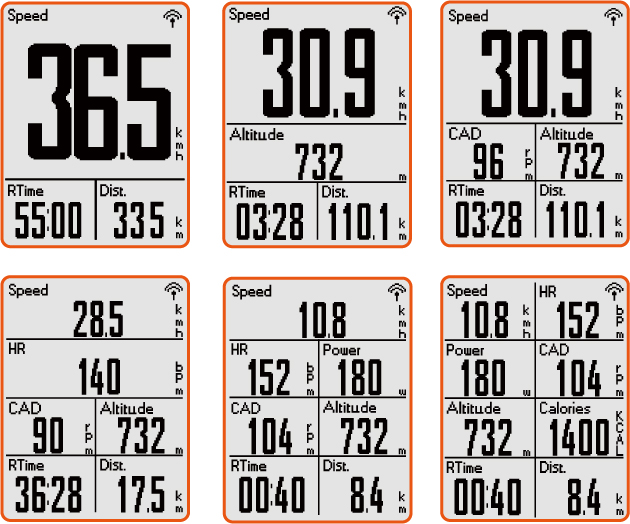 Bryton Sport Web
You can upload and manage your ride data on the Bryton Sport web site. Create a free account, install the Bryton software for your PC/Mac, and you're good to go. After uploading your ride files, the 'My Data' (collection, history) tab will show all your rides. Select one to see full details including a Google Map showing the route taken.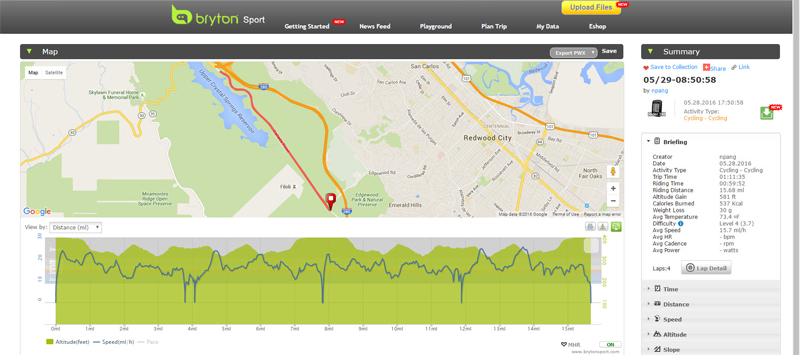 Depending on what accessories you have connected to the Rider 310, the detailed readings can be viewed for each ride. By default, your Time, Distance, Speed, Altitude, Slope, Calories, and Temperature are recorded and displayed.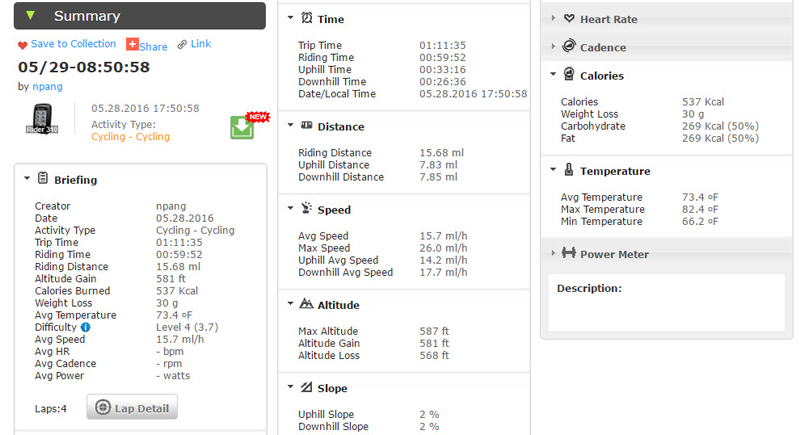 You can also see the lap breakdown if there is any set and recorded.

If you are using STRAVA or Garmin Connect or other training sites, you can also Export your files in PWX, GPX, BDX, or TCX format to be imported on those sites. Bryton Sport has direct imports to Fit Track, STRAVA, and Training Peaks within 'My Data' (collection, history). You can also Upload  GPX, KML, KMZ, BDX, and TCX files to your collection.

Additional Observations
To lock in your GPS signal, once the Rider 310 is turned on, it will automatically search for satellite signals. It may take 30 to 60 seconds to acquire signals so plan ahead before you start riding otherwise you'll miss accurate recording of the first few hundred feet. As for the GPS settings, there are two: Full Power and Power Saving. With Full Power, you'll get maximum position and speed accuracy at the expense of battery power. With Power Saving, you'll get less accuracy but tolerable with good GPS signal strength. You can also turn off GPS when training indoor – this will save your battery from unnecessary satellite searching…
Comparing the Bryton Sport Rider 310 versus other comparable (features) cycling computers like the Garmin Edge 25, the Rider 310 has a lower price, has a larger display, have longer battery life, have a larger ride history, built-in barometer (altimeter), temperature, interval training, and 1-second recording.
In summary, the Bryton Sport Rider 310 has more than 70 functions and some stellar specs, including a 36-hour battery life, 300-hour history log, Bluetooth Smart and ANT+ performing rapid data syncing to your power, cadence, heart rate, calories, altimeter, temperature, distance and average speed sensors. Who said a powerful cycling computer is not affordable?