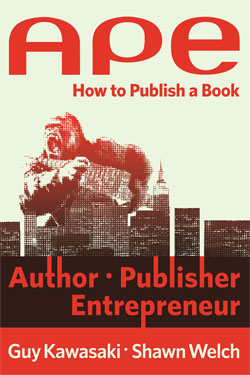 This is my review of the book, APE: Author, Publisher, Entrepreneur – How to Publish a Book, by Guy Kawasaki and Shawn Welch. I was fortunate to receive an advanced copy of his newly published book and decided to take on this review because I know a lot of runners and athletes out there are bloggers or have stories to tell in their adventures – marathons, ultra-marathons, triathlons, adventure racing, and much more. And this e-Book is so relevant and could be a major motivator to get you started or taking your writing to the next level.
Who is Guy Kawasaki and Shawn Welch?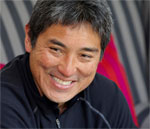 I've been a fan of Guy Kawasaki ever since I started working in Silicon Valley, California in 1983. My favorite book written by Kawasaki is 'Enchantment: The Art of Changing Hearts, Minds, and Actions'. For those who don't know who Guy Kawasaki is, he is the author of APE, What the Plus!, Enchantment, and nine other books. He is also the co-founder of Alltop.com, an "online magazine rack" of popular topics on the web. Previously, he was the chief evangelist of Apple. Kawasaki has a BA from Stanford University and an MBA from UCLA as well as an honorary doctorate from Babson College.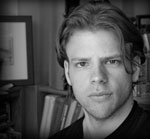 Shawn Welch is the author of From Idea to App, iOS 5 Core Frameworks, and iOS 6 for Developers as well as the developer of several iOS apps. Previously he worked as a senior media-editor for Pearson Education. He also helped pioneer many of Pearson's earliest efforts in iPad solutions. Welch has a BS from Kansas State University.
What is APE?
APE is a comprehensive 300+ pages of step-by-step practical advice to self-publishing. Kawasaki and Welch has created a clear and simple-to-understand blueprint for writing, editing, publishing, and promoting your book. There is a lot of work in every element of the process but the authors will show you the tools and resources required to complete each process successfully.
Who is this book written for?
For those of you who are thinking of becoming a writer but haven't taken the plunge yet, APE will help you decide whether to go with traditional publishing or self-publishing. For those of you who have already published books (printed or digital-only), you will learn even more ways to improve your writing, publishing, and marketing your books. For the self-published author, you can have already mastered 'A' and 'P' but moving on to 'E'.
What you will learn
For those un-familiar with the traditional publishing model, there is a brief description of the process and problems associated with it. And why APE is the future! Kawasaki will introduce you to 'artisanal publishing'. Artisanal publishing features writers who love their craft, and who control every aspect of the process from beginning to end. In this new approach, writers are no longer at the mercy of large, traditional publishers, and readers will have more books to read. Kawasaki explains in detail the ins and outs of self-publishing and why self-publishing in this generation (Publishing 3.0) is such a big deal.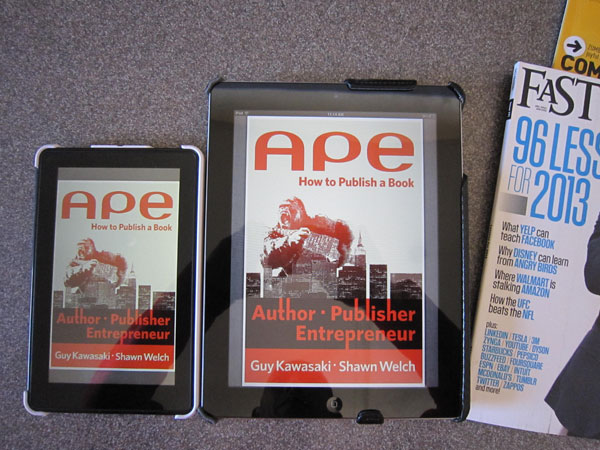 What I like
This book contains the most exhaustive list of online references available in a single spot, period. Over 350 APE links and also available online for those who bought the print version. This alone already justified the price of the book!
I've heard about the Espresso Book Machine but never dug into it. For those who want to print a single (or small quantity) copy of your book, the Espresso Book Machine can print and bind a softcover book in ten minutes for between $10 and $15. And all you need is a PDF of the cover and content!
What I don't like
There is a lack of coverage on publishing multi-touch or fixed-layout eBooks. I use Apple's visual iBooks Author software but that only creates PDF and iBooks format – no ePub format. And Amazon does not have a visual tool for publishing fixed-layout books yet even though their latest Kindle format (KF8) supports it.
Final words…
APE delivers as expected and much more. It reminded me of Apple's famous 'One More Thing' catch phrase. I have written print books (both traditional publishing and self-publishing) and dozens of e-Books in various formats (Kindle, ePub, HTML, etc.) and know most of the technical details since I'm an engineer/programmer/product manager by trade. What else can I learn from Kawasaki? Well, I was surprised! You will too.
Kawasaki and Welch complement each other (not that Kawasaki is not technical) with Kawasaki focusing on the business of book publishing, while Welch focuses on the technical aspects of online publishing.
I have been an Author and Publisher. But I still learned stuff that I would  never have found myself. Now I just have to focus on getting better on the Entrepreneur part. So go APE! As Kawasaki puts it, "Self-publishing isn't easy, but it's fun and sometimes even lucrative. Plus, your book could change the world."
Sold on Amazon exclusively for the next 90 days – KDP Select
ISBN: 978-0-9885231-1-1
Ship date: 12/10/12
Price: $9.99 Kindle e-Book