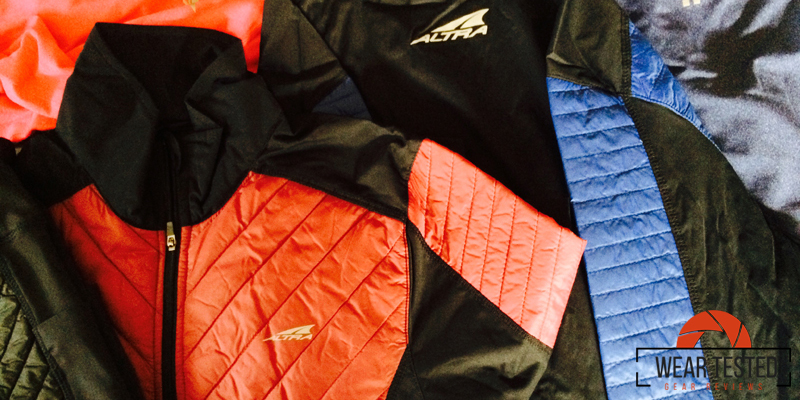 We first tested Altra apparel a few months back and the Altra Performance Running Shorts blew us away – it earned them our WTGR 2016 Best Running Shorts award! This time around, we wear tested the Altra Zoned Heat collection (jacket and tights) in addition to their Long Sleeve Running Top.
Altra Zoned Heat Jacket
Altra's Zoned Heat technology is a revolutionary way to stay warm and dry while still experiencing full breathability and mobility. Zoned heat uses thermal mapping that works with your body heat to bring you warmth where you need it and with no extra bulk – an intelligent blend of insulation and venting. The Zoned Heat Thermal Mapping is made of fabric that is 100% nylon ripstop whereas the insulation is 100% polyester. See Altra Apparel Technology section below for full details.

Note the Fit here is Athletic, true to size.

With the Altra ZeroLite fabric (90% Polyester and 10% PU coating), flat lock seams, logo reflectivity and two front zipper pockets, you have the perfect lightweight performance jacket for any day of the week.

Currently available in two colorways for both men and women.
The Altra Zoned Heat jacket kept us warm in the windy and cool weather (high 40s to 50s) – you might need more layers in harsher weather. The strategically placed zone heat panels allows maximum mobility (elbows) while keeping you warm in cold weather and cool in warm weather – the non-quilted panels are super breathable fabric. Top it off with a zip guard so that your neck and chin is protected.
Altra Zoned Heat Tights
Slip on these babies and step out in comfort. These form fitting tights with flat lock seams and logo reflectivity has a body fabric that is 92% Polyester and 8% Spandex.

The Zoned Heat Thermal Mapping are unique quilted panels that are strategically placed in the front of the tights to protect you from the wind and weather, while still allowing you full range of motion and exceptional breathability. Two side thigh pockets will help you conveniently store your run essentials, and the anti-chafe seams keep you comfy.
Note the Fit here is Athletic, true to size. There is also an exterior drawstring for final adjustments – internal drawstring for women.
Currently available in a single colorway (Black) for both men and women.
The Altra Zoned Heat tights are super lightweight, breathable, and has some compression – I would skip wearing my compression calf sleeves while wearing them. Having two pockets is definitely a blessing as I always carry a smartphone and car keys when running. I would also carry my drivers license, AAA card, and some cash – would be nice if there is a zippered (third) pocket. While wearing these tights, I can guarantee you that you will be running faster than your normal pace! The strategically placed zoned heat panels allows maximum mobility.
Altra Long Sleeve Running Top
Hit the road with confidence in the Running Long Sleeve. This tried and true long sleeve was built with flat anti-chafe stitching, tagless, thumb holes, and side mesh paneling to perform with you day after day while delivering unmatched comfort and durability. It also included front/back reflectivity to keep you running safely through the night, and UPF 50 sun protection for bright, sunny days.

The fabric content is 92% Polyester and 8% Spandex, moisture wicking, and has a merrow stitch construction (anti-chafe) that is unbelievably soft to the touch.
Note the Fit here is Semi-Fitted, true to size. There is also a drop tail in the back for better coverage.
Currently available in two colorways for men and three colorways for women.
For folks new to the Bay Area (Northern California), they have to adjust to the changing weather (+/- 10 to 15 degrees) daily. But that makes it great for wear testing running and cycling apparel. I get to test both cold and warm/humid weather all at one shot and see how the apparel perform. The Altra Long Sleeve running top kept me warm when it was windy and overcast – the thumb holes are my favorite added touch. When it got sunny during my run, it also got humid very fast. And I was sweating like a dog but the moisture wicking fabric kept me cool. I did have to roll up my sleeves a bit – the sleeves are about 2+ inches too long for me when not using the thumb holes. Overall, very light, comfortable, breathable, and love the drop tail too – it kept everything in place without bouncing around too much.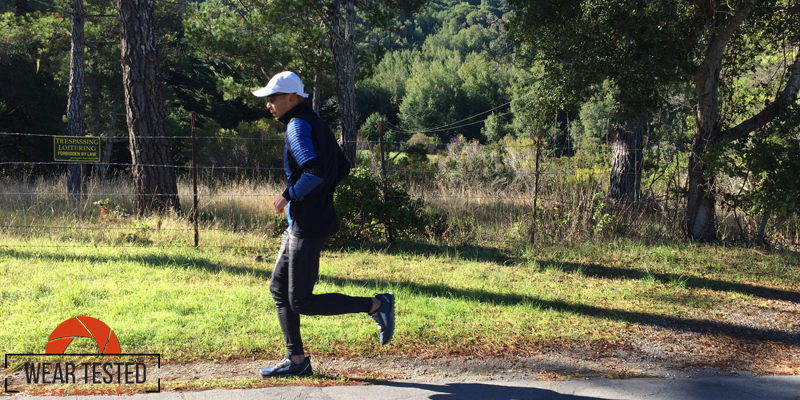 Altra Apparel Technology
Altra ZeroLite
Altra's innovative ZeroLite fabric was engineered with the runner in mind. The innovative 4 way stretch allows an athletic fit with room to groove. With features like UV protection and moisture wicking properties, this lightweight fabric offers a comfortable run.
Fully Welded Seams
A must-have for any runner, welded seams allow for the ultimate in comfort and range of motion. And while this technology aids in durability, it also protects against chafing and irritation, for a "barely there" feel.
Zoned Heat Thermal Mapping
Zoned heat provides an intelligent blend of insulation and venting where you need it most, while still allowing for full mobility. That means you'll get thermal protection as well as moisture management in even the coldest of weather, keeping you both warm and dry.
Tagless
Altra has gone ahead and removed the annoying, unwanted tag(s) from your clothes. Now you can run without that itchy swatch of fabric constantly irritating and scratching you.
Reflectivity
With life always on the go, many runners are left to log their miles in the dark. And one of the most important factors in any run is safety. That is why many of Altra's apparel pieces feature reflective hits, allowing the runner to see and be seen at all times.
Ventilation
Moisture wicking fabrics transfer moisture from the runner's skin to the clothing for faster drying. And ventilation hits and perforations allow air to flow freely and cool you down.