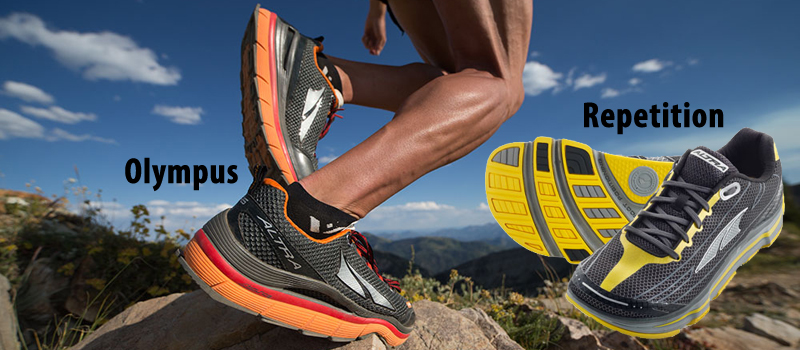 The Altra Olympus and Altra Repetition joins the rank of maximalist shoes that we touched on in our previous post, The Pendulum Swings… Fat & Flat Running Shoes?. The Olympus and Repetition are the only zero drop maximalist shoes currently available in the market. My mantra has always been to mix it up with both minimal and maximal shoes to work different muscles and prevent muscle imbalances thus preventing or reducing injuries. But I must also caution against sole long term use of maximalist running shoes as it may lead to muscle atrophy.
The Altra Repetition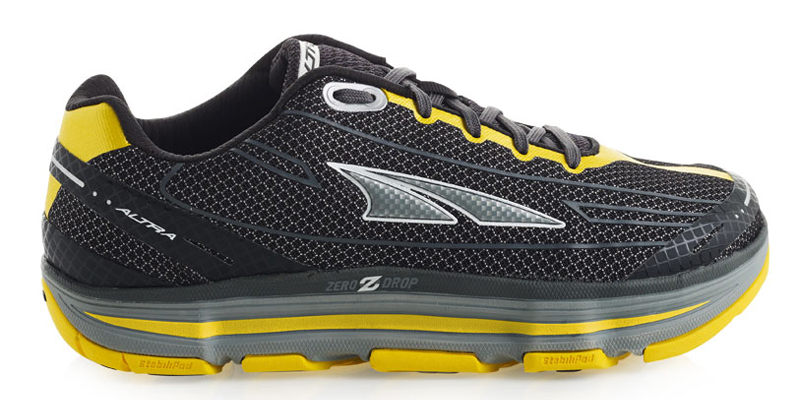 The Repetition is the world's first high cushioned, high stability zero drop running shoe designed to provide stability, support, and natural foot positioning for runners with collapsed arches, weak feet and excessive pronation. Using a revolutionary new feature, StabiliPod technology, the Repetition enhances the three natural stability zones of the foot. Combined with Altra's varus Stability Wedge, this shoe achieves maximum stability while placing the foot in proper alignment. As with all stability shoes, Altra recommends doing foot-strengthening exercises to naturally make the foot more stable and reduce the need for stability in the future. The Repetition comes with two insoles, so the shoe can be adjusted from a moderate amount of stability to a high amount of stability.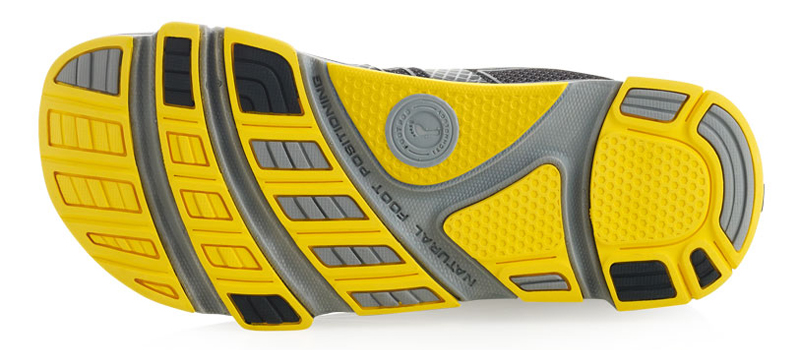 The Repetition is designed to reduce excessive pronation, shin splints, knee pains, forefoot pain, and bunions. The midsole has a dual layer EVA/A-Bound with StabiliPod technology and a StabiliPod outsole. The Repetition comes with two removable insoles – a 5 mm contour footbed and a stability footbed. The uppers are made of a quick-dry air mesh.
The Altra Olympus
Step into the only trail shoe with a foot-shaped toe box and max-cushioned zero drop platform. Named after one of the most prominent peaks in the Wasatch Mountains, the Olympus is designed to help trail runners conquer any terrain. The flexible, max-cushioned zero drop platform and foot-shaped toe box combine to place your foot in a natural position for an efficient, stable trail or road running experience. Two-layer A-Bound cushioning offers flexible protection from the gnarly terrain or open road, although Altra recommends learning and focusing on proper, low-impact technique. And because a max cushioned shoe reduces the workload on the feet, foot strengthening should be done to keep the foundation of the body strong. Dominate the trail, pavement and everything in between with the all-new Olympus.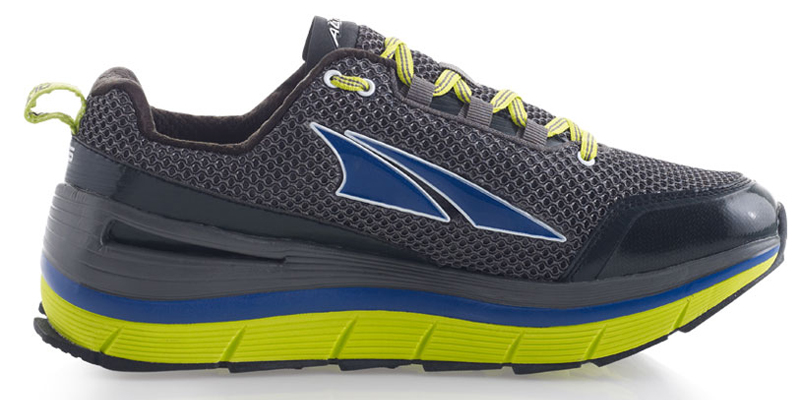 The Olympus is designed to reduce ankle sprains, stone bruising, over striding, knee pains, forefoot pain, impact, and fatigue. The midsole has a dual layer EVA with A-Bound top layer and a trail-specific sticky rubber outsole. The Olympus comes with a removable 5mm contour insole. The uppers are made of a quick-dry trail mesh.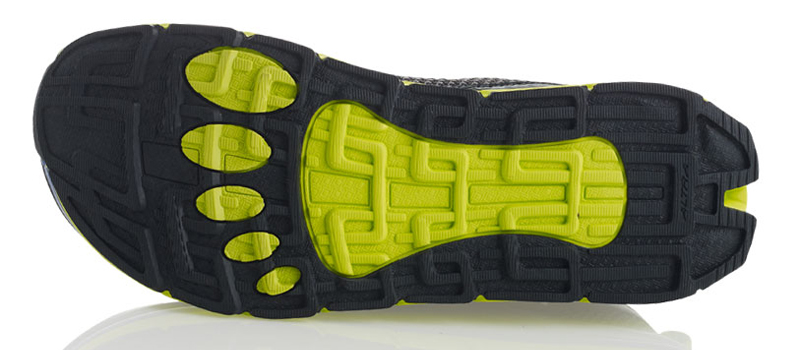 So how did the Altra Olympus & Repetition perform?
My pairs (US Size 10.5) of Altra Olympus and Altra Repetition both weighs in at 12.4 ounces with the insole (moderate stability insole for the Repetition). It has a really wide forefoot and both shoes are some of the most comfortable running shoes I have ever worn sockless! My digital calipers measured a forefoot stack height of 29mm for the Repetition and 32mm for the Olympus. Yes, they have a high stack height and high cushioning but after putting them on and moving around (walking and running), the zero drop and natural design of the shoe makes you forget that you are wearing running shoes. I did not feel like I'm prone to twisting my ankles in either the Olympus or the Repetition nor did I feel they are as bulky as they look. But my daughter did commented that the Repetition looks like the platform shoes of the 70s and 80s!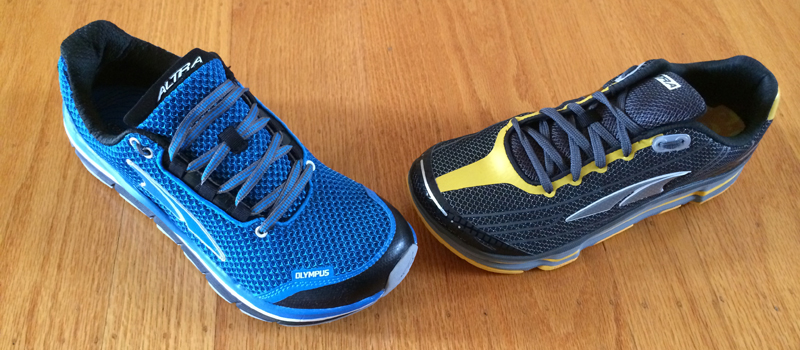 I put in about 10 miles a week wearing maximalist shoes like the Skechers GOrun Ultra to mix things up and work muscles that I don't normally touch when wearing minimalist shoes. Now the Altra Olympus and Repetition have joined the ranks of my shoe rotation. I did want to caution that I only wear maximalist shoes for less than 20% of my weekly activities.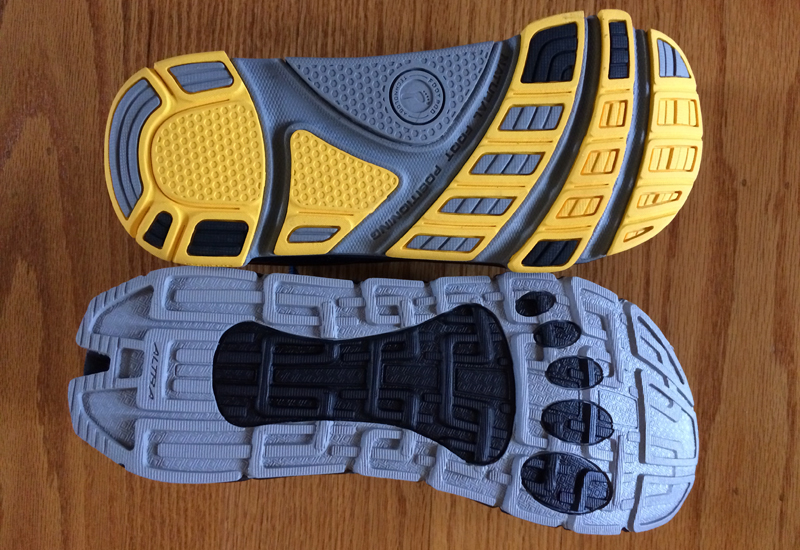 The Olympus is designed as a trail shoe with a softer outsole whereas the Repetition is a road shoe with a stiffer outsole. Personally, the Repetition felt like there is more protection in the shoe for trail running rather than road running. I actually prefer running with the Olympus on both trail and road! But I have to remember that the Repetition is a stability road shoe with increased support for runners with collapsed arches, weak feet or excessive pronation – it places the runner into proper alignment. For minimalist runners with strong and healthy feet, I would only recommend adding the Altra Olympus to your shoe rotation.

For those minimalist runners who have not tried maximalist shoes, you will feel different muscle pains when running in them. Just remember to mix it up like changing shoes, directions (clockwise and counterclockwise on a track), and terrains (trails, asphalt, concrete, rubber track). Running on  a rubber track with the Olympus, I felt soreness in my left and right hips in the first few miles. I ended up doing half my training run in the regular counterclockwise direction and the other half clockwise – my hips get a balanced treatment and stress this way.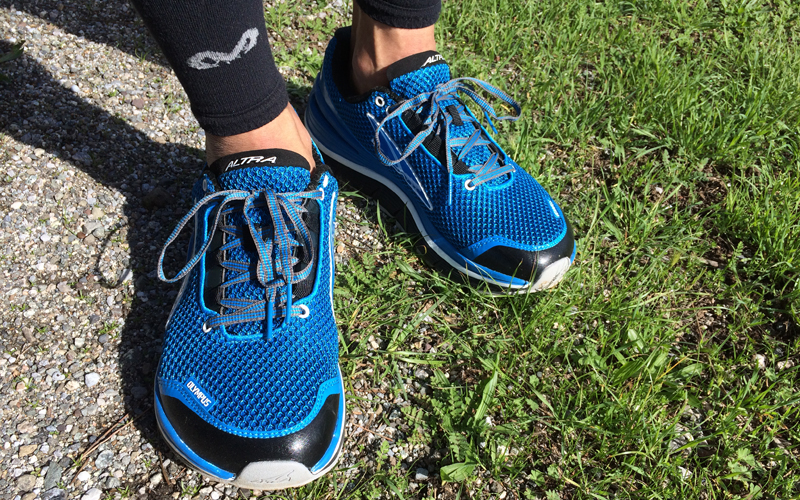 When testing the Olympus and Repetition, I wore them both full time for 3 consecutive days while running errands, walking, and running on the rubber track, asphalt, concrete, and non-technical trails. I started feeling lower back pains with prolonged wear… My recommendation is to alternate between minimalist and maximalist shoes but not wear maximalist shoes for more than a day each time. Maybe it's just my old body but I'll do anything for sustainable injury-free running – cross train, cycling, weights, etc.

The Altra Olympus is available in many colorways for Men,

and for Women:

The Altra Repetition is also available in many colorways for Men,

and for Women:

The Altra Olympus and Repetition is now available at: Zappos and Altra
*Product provided by Altra. CMP.LY/1 Review
If you have a product you'd like reviewed, contact me at info@weartested.org