Adidas may have been late to the minimalist running shoe category but they have been working on a solution for many years resulting in the adipure collection, a complete range of shoes for runners of all levels from beginner to advanced. And they might have just leapfrogged the competition.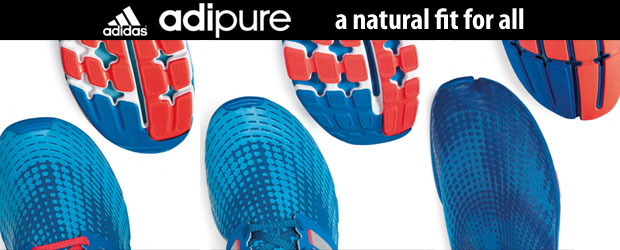 The adipure collection consist of three models with heel-to-toe differential from 11mm to 4mm: Motion at 11mm, Gazelle at 7mm, and Adapt at 4mm. Whatever your running style, you can choose the shoes that are right for you so you can improve your running technique step-by-step.

The adipure Motion is for the Beginner and is the first step in natural running and weighing in around 7.2 ounces. The Motion has good cushioning and a stack height of about 27mm. The adipure Gazelle is for the Intermediate runner or someone who already has already progressed into natural running. The shoe weighs in around 6.3 ounces and has a stack height of about 16mm. The adipure Adapt is for the Advanced runner or someone who can already run barefoot or is very comfortable with the barefoot-style of running. This shoe weighs in around 4.5 ounces and has a stack height of about 13mm.

First impressions after a few short runs in all the models are: WOW! They don't feel like anything I have tested from traditional to minimal shoes. I believe it is the 4-way stretch mesh Tech Fit uppers and the Pure Motion outsole that set these shoes apart from the rest of the offerings. I guarantee you that you will look at Adidas running shoes in a very different and positive light.
[polldaddy poll=6195123]
I will be wear-testing all three models extensively in the next few weeks and will have detailed reviews on how each fared very soon. Stay tuned or 'Like' us on Facebook for real-time updates.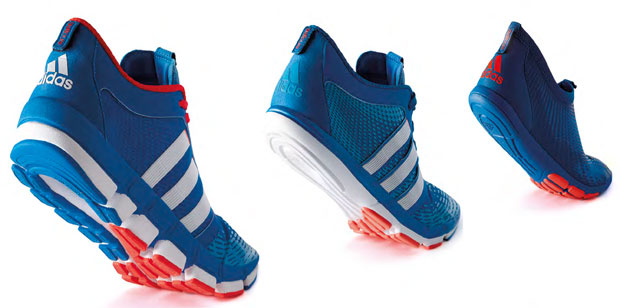 The Adidas adipure collection of minimalist running shoes will be available in August 2012 from select online retailers. Each model will be available in only one colorway for men and one for women. MSRP for adipure Motion is $110, adipure Gazelle is $100, and adipure Adapt is $90.